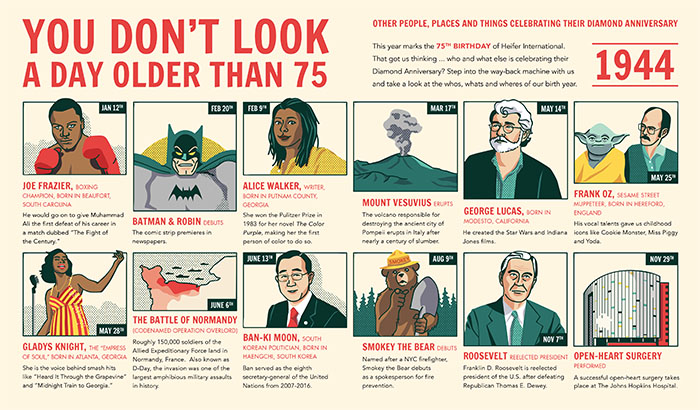 This year marks the 75th Birthday of Heifer International. What a milestone! And that led us to wonder: who and what else is celebrating their Diamond Anniversary? What else was happening way back in 1944? The short answer is "World War II." But the long answer is laid bare in the timeline below. Take a look and learn about the whos, whats and whens of 1944.
Historical Events
Jan 4th – Diplomat Ralph Bunche is appointed as an official in the U.S State Department. Two years later, he would accept a position in the U.N where his mediation of the Israeli-Palestine conflict would earn him a Nobel Peace Prize, making him the first person of color to receive the award.
March 20th – 2,500 women trample guards and floorwalkers to purchase 1,500 alarm clocks announced for sale in a Chicago, Illinois department store.
March 17th – Mount Vesuvius, the volcano responsible for destroying the ancient city of Pompei, erupts in Italy after a century of slumber. Lasting over a week and a half, the eruption rained down baseball-sized rocks on the nearby city of San Sebastiano and covered it in up to a meter of ash.
May 3rd – Meat rationing ends in U.S.
June 17th – Iceland declares independence from Denmark.
July 14th - Heifer International sends its first-ever shipment of animals to families in need. Their destination was San Juan, Puerto Rico.
October 5th – Suffrage is extended to women in France.
November 9th – The Red Cross wins the Nobel Peace Prize.
November 20th - The John Hopkins hospital performs the first successful open heart surgery. The ground-breaking procedure (also called the Blue Baby Operation) brought relief to a young girl whose heart defects caused her blood to be perpetually starved for oxygen, rendered her skin blue.
Inventions
Sunscreen

Did you know that the ancestor of the
sunscreen we know today was first invented for the United States military
? In 1944, pharmacist and airman Benjamin Green set out to create a tincture that would prevent soldiers in the Pacific tropics from roasting in the sun. Setting up shop in his own kitchen, Green eventually concocted a thick, red, unpleasant serum called Red Vet Pet (short for red veterinary petroleum). The goo blocked the sun's harmful rays through sheer brawn; the mixture was sticky with a texture similar to that of Vaseline. Sales boomed when Coppertone bought the product and improved on the formula.


Kidney Dialysis

Dutch scientist Willem Kolff
constructed the first artificial kidney
from wooden drums, Cellophane tubing and laundry tubs. The crude dialysis machine drew blood from the patient and removed toxins that poorly functioning kidneys were unable to catch. The device then pumped the toxin-free blood back into the patient. With this machine Kolff prolonged the lives of his first 15 patients for a few days. Later iterations of the machine were more successful and have resulted in the kidney dialysis process we have today.


Clue

Originally called "Murder!", Clue was created by
British composer and musician Anthony Pratt
during the long, boring blackouts of WWII. Pratt was a private musician who spent a lot of his professional time playing the piano in European country mansions where murder-mystery parties were all the rage. As he played, he took mental notes and, in 1944, he decided to recreate those parlor games in miniature form. Pratt's wife Elva helped by designing the game board on their dining-room table.
Birthdays
Jan 9th - Future Led Zeppelin guitarist Jimmy Page is born in Heston, Middlesex, England. Page is responsible for composing one of the band's most enduring hits – "Stairway to Heaven."
Jan 12th – American heavyweight boxing champion Joe Frazier is born in Beaufort South Carolina. Famed for his devastating left hook, he would go on to defeat Muhammad Ali in a match dubbed "The Fight of the Century." This was the first defeat of Ali's career.
Feb 9th – American novelist, poet, short-story writer and activist Alice Walker is born in Putnam County, Georgia. An internationally celebrated author, she won the Pulitzer Prize for Fiction in 1983 for her novel The Color Purple, making her the first woman of color to win the award.
May 14th – Famed creator of the Star Wars and Indiana Jones films, George Lucas is born in Modesto, California.
May 20th – English rock vocalist Joe Cocker is born in Sheffield England. The singer was famous for his gravelly voice and his most famous tunes were "You Are So Beautiful" and his cover of The Beatles' song "With a Little Help From My Friends."
May 25th – Muppeteer Frank Oz (Frank Richard Oznowicz) is born in Hereford, England. One of the primary puppeteers responsible for the development of Him Henson's Sesame Street and The Muppet Show, he is also famed as the voice of popular characters like Yoda, Miss Piggy, Cookie Monster and Grover the lovable, blue muppet.
May 28th – The "Empress of Soul" herself, Gladys Knight, is born in Atlanta, Georgia. A celebrated artist with staggering talent, she began her career as a member of Gladys Knight and The Pips, a band that produced smash hits like "Heard It Through the Grapevine" and "Midnight Train to Georgia." Knight has 38 recorded more than 38 albums over the years and has a star on the Hollywood Walk of Fame and a BET Lifetime Achievement Award.
June 13th - South Korean politician, Ban-Ki Moon is born in Inj, Japanese Korea. A career diplomat, Ban served as the eighth Secretary-General of the United Nations from 2007-2016. Under his leadership, in 2015the 17 Sustainable Development Goals (SDGs) were adopted in 2015.
July 13th – Architect Ernö Rubik, is born in Budapest, Hungary. A talented inventor, he is responsible for creating mechanical puzzles like (you guessed it) the Rubik's Cube.
August 9th - Actor Sam Elliott and his famous mustache are born in Sacramento, California. More than 20 years later, he would make his film debut in Butch Cassidy and the Sundance Kid (1969) and would go on to appear in films including The Legacy (1979), Roadhouse (1989) and The Big Lebowski (1998).
September 12th – Three-time Grammy award-winning singer, songwriter and producer Barry White was born in Galveston, Texas. His hits include "Can't Get Enough of Your Love, Babe" and "Never Gonna Give You Up."
September 25th – American actor, Michael Douglas, is born in New Brunswick, New Jersey.
November 12th – Songwriter, producer and frontman of Booker T. & the M.G.'s, Booker T. Jones, is born in Memphis Tennessee. He is the man behind the only cool organ song you know, Green Onions.
November 17th – Actor Danny Devito is born in Neptune Township, New Jersey.
November 17th – SNL Producer, actor and comedy writer Lorne Michaels is born in Toronto, Ontario Canada.
December 11th – American actress Teri Garr is born in Lakewood Ohio. She is widely known for her breakout role as Inga in Mel Brooke's Young Frankenstein (1974) as well as her role in Steven Spielberg's Close Encounters of the Third Kind (1977).
Entertainment
Jan 5th – The Daily Mail becomes the first transoceanic newspaper. It is still running today.
Jan 18th – The Metropolitan Opera House In New York hosts a jazz concert for the first time with an all-star lineup including Louis Armstrong, Benny Goodman, Lionel Hampton, Archie Shaw, Roy Eldridge and Jack Teagarden.
Feb 20th – The Batman & Robin comic strip premieres in newspapers
May 4th - Actress Angela Lansbury makes her film debut in "Gaslight" alongside Oscar-winning Ingrid Bergman and Charles Boyer.
Aug 9th – Smokey the Bear debuts as a spokesperson for fire prevention named after NYC fireman Smokey Joe Martin
Dec 16 - Yosemite Sam, the gunslinging, rabbit-hating adversary of Bugs Bunny, makes his first debut in Looney Tunes.
December 26th – Tennessee Williams' play "Glass Menagerie" premieres in Chicago