Heifer USA
Supporting small-scale farmers to serve local communities in-need.
COVID-19 has revealed the glaring gaps in our food system and the need for local farmers to serve our local communities. While food banks face food shortages, farmers are destroying their harvest. With enough food to feed everyone, we need a localized food system that works for farmers and consumers, even in times of crisis.
Heifer USA supports small-scale farmers to deliver fresh, nutritious food to reliable markets by providing them with training, education, and resources needed to sell their products for a fair price.
Since 2014, Heifer USA has supported more than 2,500 U.S. farming families to build small-scale, sustainable produce and livestock businesses. Its model is made up of three separate entities– Heifer Ranch, Cypress Valley Meat Company, and Grass Roots Farmers' Cooperative. From providing training and education on regenerative agriculture methods to the use of small-scale, safe, sustainable, and humane meat processing methods, these groups support farmers' needs from farm to table. Heifer USA represents an ideal value-chain, where farmers are supported and earn a fair wage, the land is improved, and consumers have access to high quality food to feed their families.
This work is critical to helping small-scale American farmers lift themselves out of poverty.
How we are responding to COVID-19:
As countless Americans are facing sudden job losses, we have donated thousands of pounds of nutritious food to local foodbanks and are proud to be offering employment to food service workers who have lost their jobs. Heifer USA is also working to quickly integrate more small farms into our value-chain system.
Heifer Ranch
The Ranch is a 1,200-acre training lab and educational facility nestled in the foothills of the Ouachita Mountains.
See Details
See the farmers of Grass Roots
Heifer USA is proud to support Grass Roots Farmers' Cooperative
Grass Roots is a small-batch meat company delivering monthly shipments of responsibly raised meat to your door. They farm small and dream big, and they are passionate about making sure you know where your food comes from.
Visit the Grassroots website
Using Cooperatives to Change the Way We Farm
Farming, especially on a small scale, is a hard way to make ends meet. Most farmers are forced to supplement their income with off-farm jobs, taking time away from the farm and their families.
Heifer USA helps bring farmers together to build rural, farmer-owned cooperatives in communities that need them most. These cooperatives provide shared services such as marketing, packaging, distribution, credit and loan services.
Farming without a Co‑Op
Farmers receive only an average of 16 cents out of every dollar of food sold.
Farming in a Co-Op
Heifer USA co-ops return an average of 75 cents of every dollar back to the farmer.
Farming without a Co-Op
Farmers are responsible for their on-the-farm tasks, plus whatever it takes to sell that product.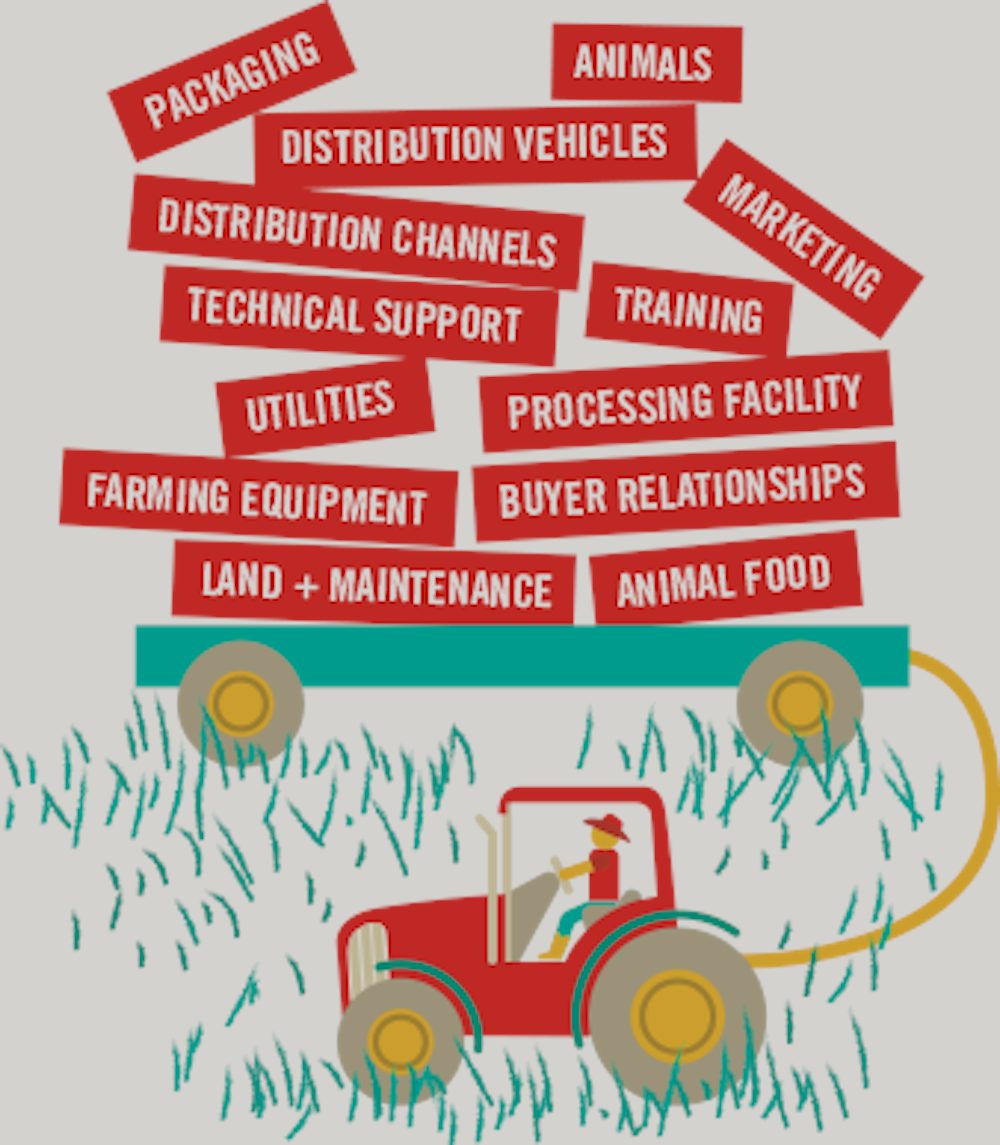 Farming in a Co-Op
Co-ops provide shared services, allowing farmers to concentrate on growing fresh local food.