In This Article
Heifer project participants are cornering the poultry market in Cambodia with their high-quality meat and eggs.
Women are the ones brave enough to break the cycle of poverty.
As opportunity and hope emerge, alcoholism and domestic violence ebb.
The potential was there all along, but Hoy Lin was too sick and overburdened to tap it. Raised in the rural Cambodian province of Takeo by a single mom, she dropped out of school after 8th grade so she could help support her two brothers by working in one of the countless rice fields that make up the bulk of the landscape in this waterlogged southern edge of the country.
Married young, Hoy Lin continued working in the rice fields of Thmey village and had two daughters. All the while, her body grew weaker from stress, exhaustion and malnutrition. Work in the paddies demands squatting, stooping and hefting heavy bundles on shoulders, all while trekking barefoot through the sucking muck. After a day of farm work and caring for her daughters, there's little wonder Hoy Lin had nothing left.
"In the past I didn't have the motivation to run a business because I didn't have the energy," she said through a translator. "I didn't pay much attention to my health." Anemic and weighing less than 100 pounds, Hoy Lin tended the rice and ran her tiny roadside shop in a fog of fatigue and malaise.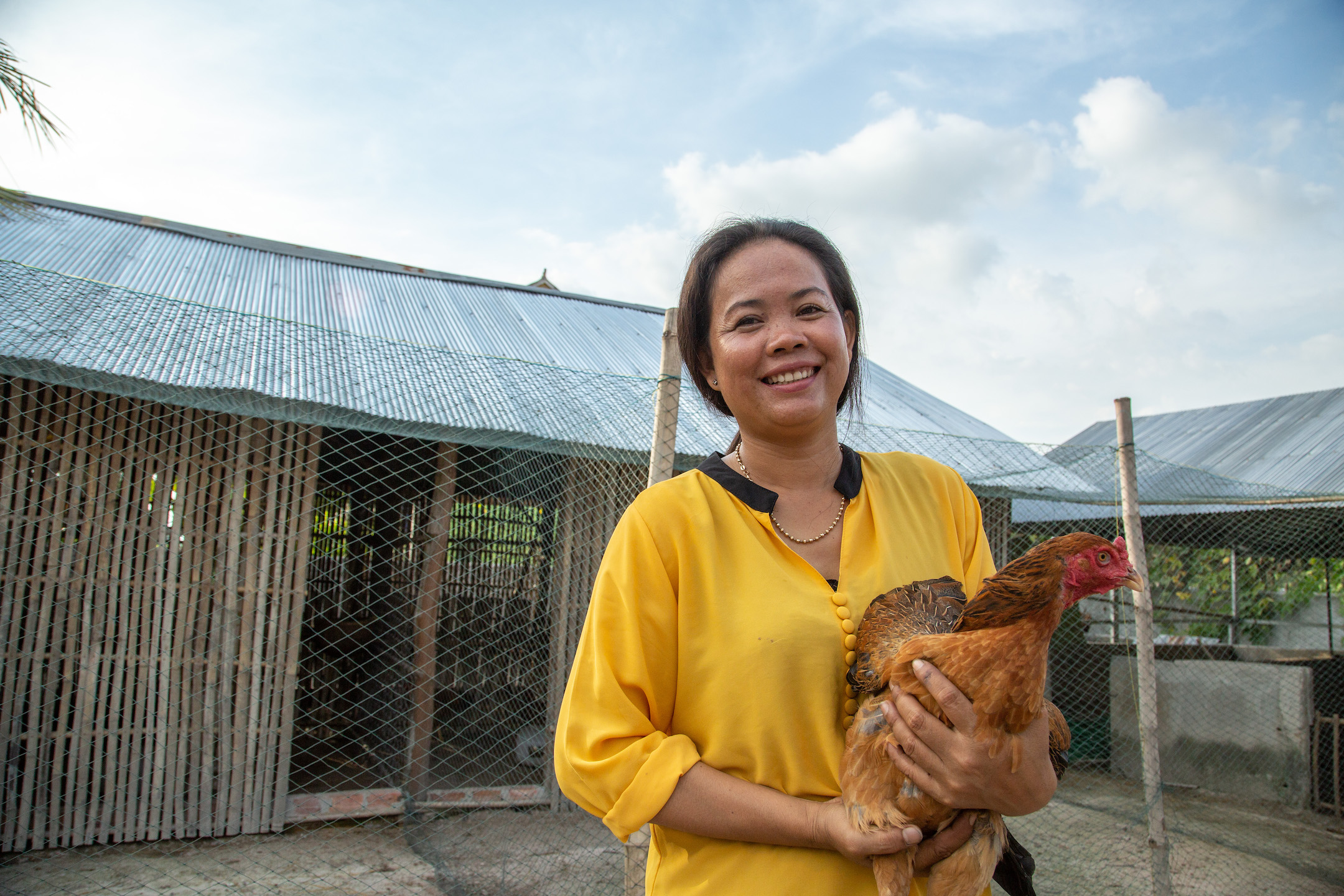 Fortune Favors the Bold
Even had she felt up to it, big opportunities in this rural part of the country were difficult to find. That is, until 2016, when Hoy Lin joined forces with a group of similarly ambitious farmers to start a Heifer-supported co-op. Hoy Lin signed up and showed up for every single class Heifer offered. "I like learning," she said with a shrug. "Whenever there's a training, I go."

She also offered up her home as the collection site for the eggs, chickens and ducks co-op members would raise for sale locally and at restaurants and markets in the capital city of Phnom Penh, a two-hour drive away. Borrowing money to improve her house so it could be used as a collection and processing center for poultry was a bold risk that has paid off.
It turned out Hoy Lin had quite a brain for business and is already making more money than she expected. "I used to not know what a business plan was," she said. "I've learned management, leadership, accounting and money management." Over the past couple of years Hoy Lin folded profits into further investments, buying up a swath of roadfront property and setting up a shop there where fellow farmers can buy fertilizer, feed and other supplies.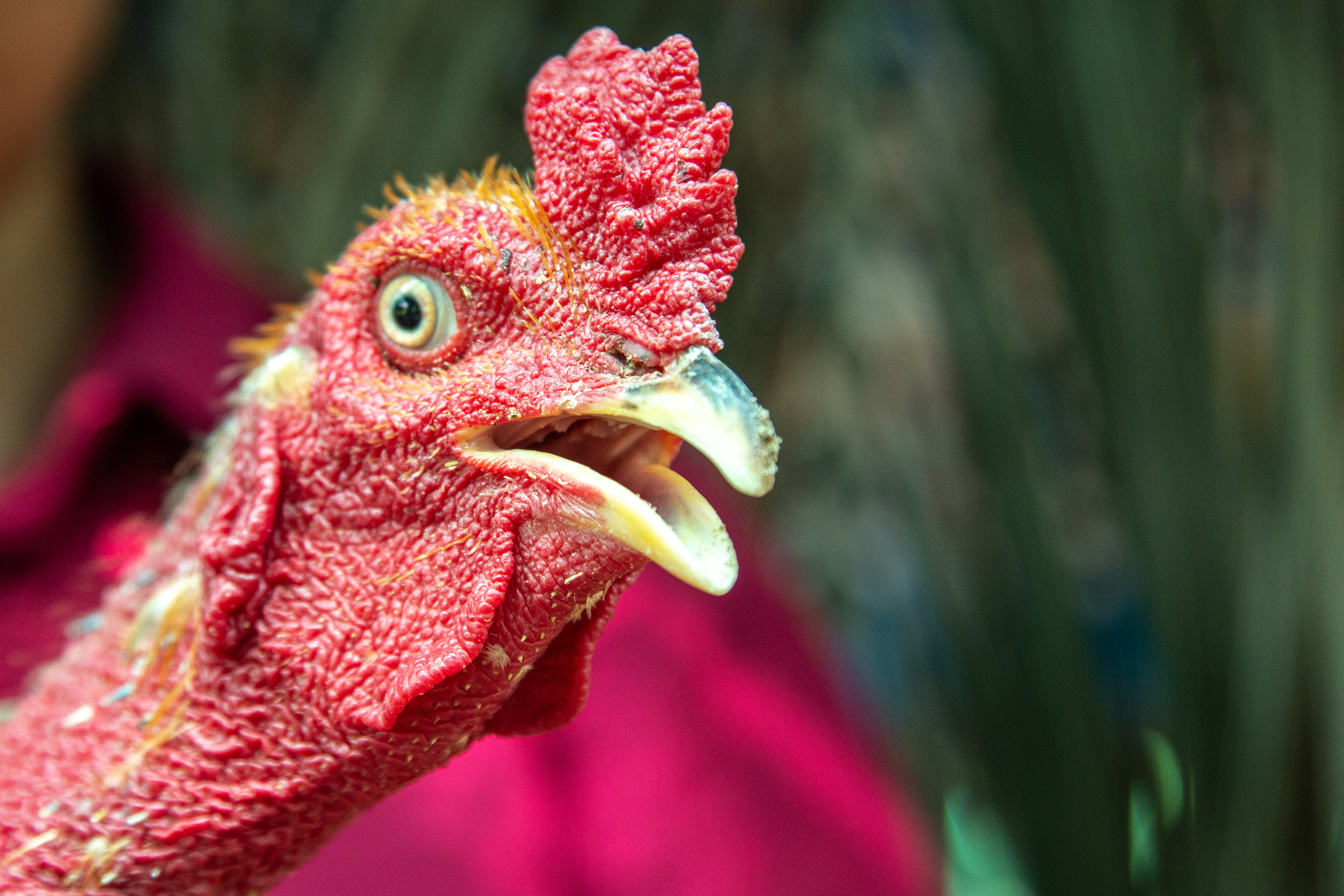 Now 39 and a healthy 120 pounds, Hoy Lin oversees the collection and processing of eggs, ducks and chickens while also running her shop and tending the accounting ledgers for her 129-member cooperative. Her two daughters, Yorn Baramey, 20, and Yorn Socheata, 16, help out when they're not in school. Both daughters report they have better clothes now, and they much prefer their cleaner, larger home with cement walls and a metal roof to the small wooden house they lived in before. All three women seem surprised at the sudden success that's so fundamentally changed their household.
Socheata marvels at the progress her mother made in the last few years. "I'm surprised, and I'm also very happy for her," she said.
"My mother seems very active, different from a lot of mothers," Baramey said. "She works harder." Baramey admits she feels pressure to be as successful as her mother but also relieved to see that it's possible thrive without depending on anyone else.
Perhaps the most baffled by the phenom that is Hoy Lin is her husband, Check Sela. Not a member of the cooperative, he continues to work in the rice fields. He also tends the family's chickens, pigs and cows that live in tidy scrap wood sheds behind the house. His work, however, is not nearly as lucrative as his wife's.
"He's not very successful because he's not good at communicating," Hoy Lin explained. She could help him, she said, but so far, he hasn't asked. "In Cambodian culture, husbands find it difficult to accept training from wives."
Piecing the sustainability puzzle together
"From vulnerability to sustainability" is the mantra for Heifer Cambodia, and that goal steers the work that spreads over 15 of the country's 25 provinces. Heifer International partners with farmers in 63 of the country's 880 agricultural cooperatives, providing not only livestock but also guidance and encouragement to ditch the habits and antiquated thinking that impede progress. "Women are getting more decision-making power. We're addressing domestic violence and alcoholism," said Sar Sanphirom, a program manager at Heifer's office in Phnom Penh. Better sanitation is part of the agenda, too. People used to keep cattle and pigs under their houses. It was very smelly," Sanphirom said. "Now the animals are kept separate."
Some of Heifer's project participants in Cambodia focus on growing vegetables. Others raise and process eggs, chickens and ducks, then sell them locally or send them on to capital city of Phnom Penh, where a farm-to-table restaurant and green grocer offers up healthy food fresh from the countryside.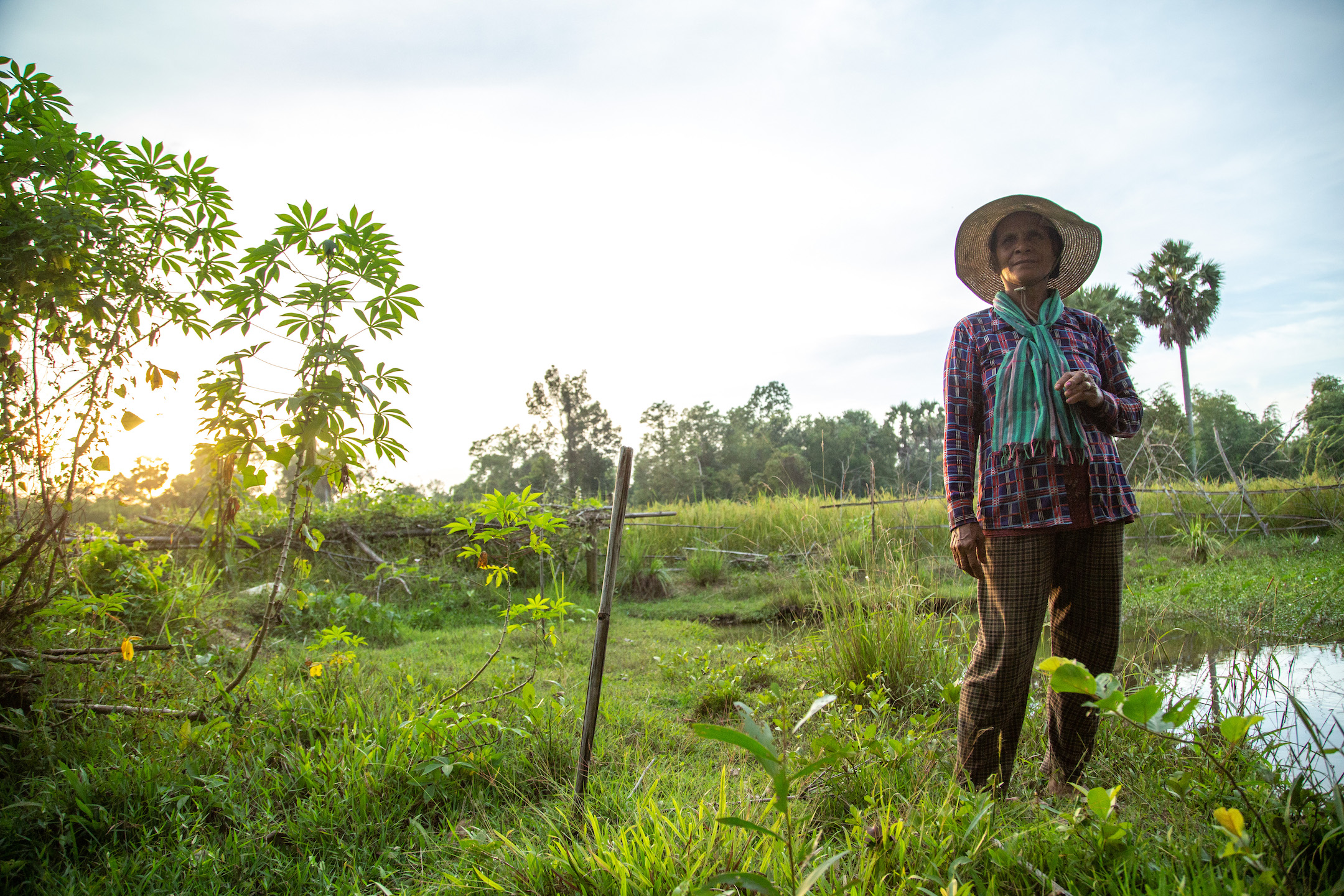 For Ouk Sokrn and her husband Vay Ren in Takeo, the investment from Heifer International was small. She trained in organic vegetable farming and raising chickens. Her yard is trellised with tall poles and fishing line hung in perfect diamond shapes, all draped with healthy runners of long beans and gourds. Closer to the ground, she grows eggplant, tomatoes and lemongrass. Before the training, she grew only cucumbers and brought in the equivalent of about $500 per year. Now, thanks to a clever crop rotation plan that keeps her harvesting year-round, she can count on earning $200 per month.

Vay Ren still works in construction, but he says he's softening to the idea of staying home and helping his wife on the farm, especially now that she's bought more land to grow more produce. "Every morning when I wake up, the money arrives," she said.
Choosing Life
Mao Neng and her husband Prak Bon spend their energy on chicken farming, an endeavor that suits the family quite well. Like an estimated 40,000 Cambodians, Prak Bon lost a limb to a landmine in 1984 during his second stint of service as a soldier during the civil war that plagued Cambodia through the 1970s and 1980s. He was 23 at the time, already married and expecting his first child. The injury kept him in a military hospital in Phnom Penh for an entire year, and plunged him into misery. "After I lost a leg I was about to commit suicide, but I decided if I end my life it would be difficult for my child," he said. "But there would be a lot of difficulties ahead, and maybe I would cause those difficulties for my family. I worried." The depression continued for three years, until the pain subsided and Prak Bon mastered walking with the use of a cane.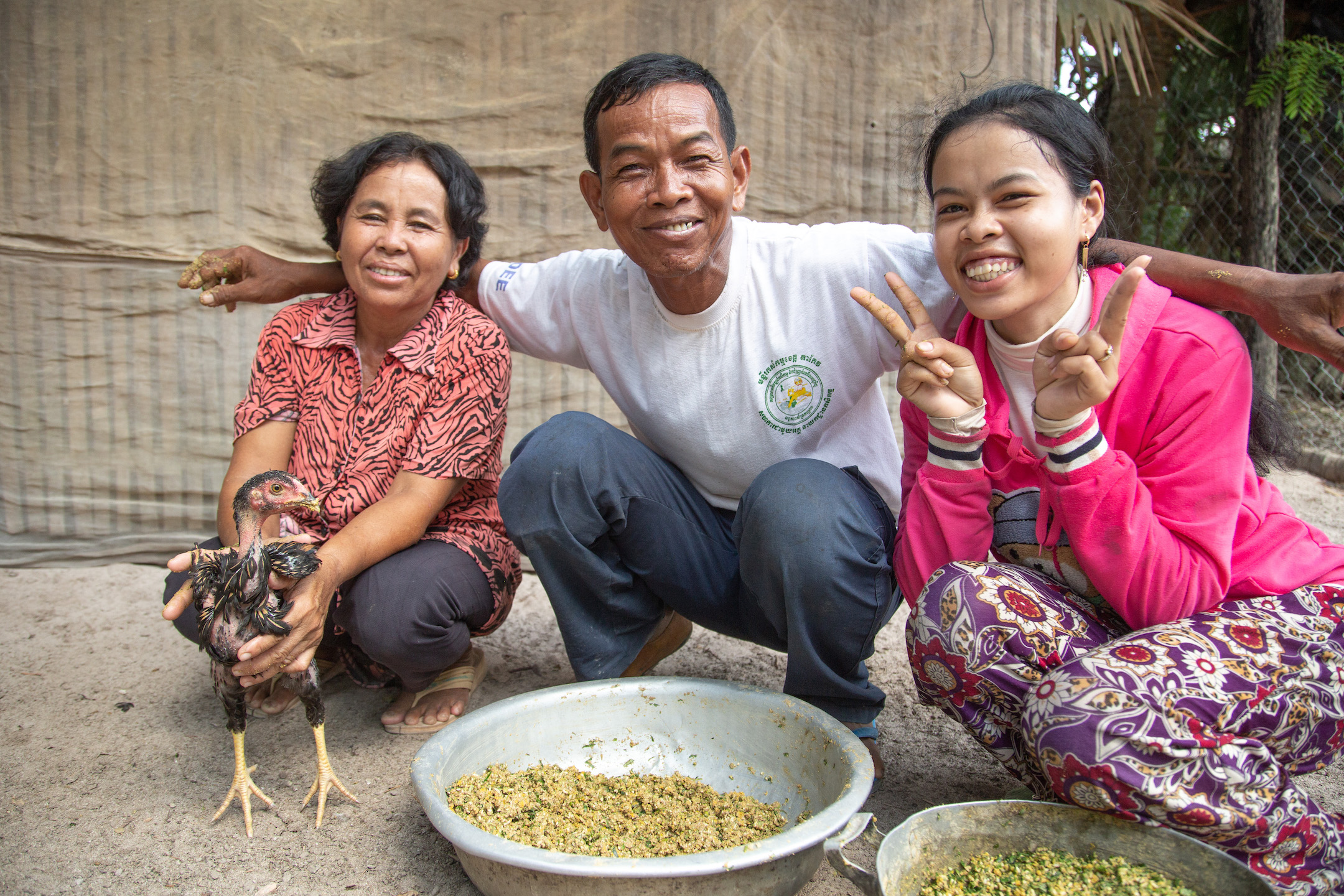 Employers in Cambodia are usually reluctant to hire amputees, and for many years the couple worried and struggled to provide for their three children by selling coconuts and making do with a small military stipend. In 2016 the family joined a Heifer-supported self-help group and Prak Bon signed on to become a chicken fattener in a community-wide value chain that begins with egg hatchers, continues with fattening and ends with a local chicken processor, who then distributes the ready-to-cook birds to markets both local and in the capital. Prak Bon built his airy, screened-in chicken house himself.
Mao Neng helps, too, by growing and chopping chiya and mixing it into a special fodder that fattens chickens quickly. With the right diet, a hatchling can be ready for market in four months instead of the usual five to six, she said. The business is growing enough that they've called their daughter home from her office job Phnom Penh to help them with their growing chicken business.
Moving on Up in Kampong Chhnang
It took a lot of time and convincing for Rith Chantha to convince her husband that he should support her plans to raise vegetables, pigs and chickens. The family of five was living in a thatch-roofed wooden home not much larger than a lawnmower shed, raised up on stilts with a smelly pen of pigs underneath, when Rita Chith signed on with a Heifer project that would supply piglets and training. At the time, patching motorbike and bicycle tires was the family's only source of cash. "If we had a meal in the morning, we would not have one in the afternoon or evening," Rith Chantha remembered.
Husband Sun Sitaol was reluctant to change. Like so many men in their rural community in the Kampong Chhnang province, he was tangled in a cycle of drinking, family neglect and domestic violence. He wasn't interested in going to farmer trainings, and he didn't want his wife to go either.
"I convinced him by saying that if you do the training, you get a free piglet," Rith Chantha said. Still, he was nervous. What if the three gifted piglets died? Would they be on the hook to replace them? He also worried about the time his wife was spending away from home at her group savings meetings. Shouldn't she be home, cooking and sewing? "It was tense in the household," she said. Still, she put her efforts into fattening the three piglets she'd gotten and organizing other women in the group savings meetings.
Looking back, Sun Sitaol said it was fear that kept him from embracing an opportunity to become a livestock farmer. "I was reluctant and worried about lack of capital," he said. "I didn't see the hope and possibility." Watching his wife successfully raise and sell the first batch of piglets and pass on a cash gift from those sales so another community member could get started on a similar endeavor put Sun Sitaol at ease.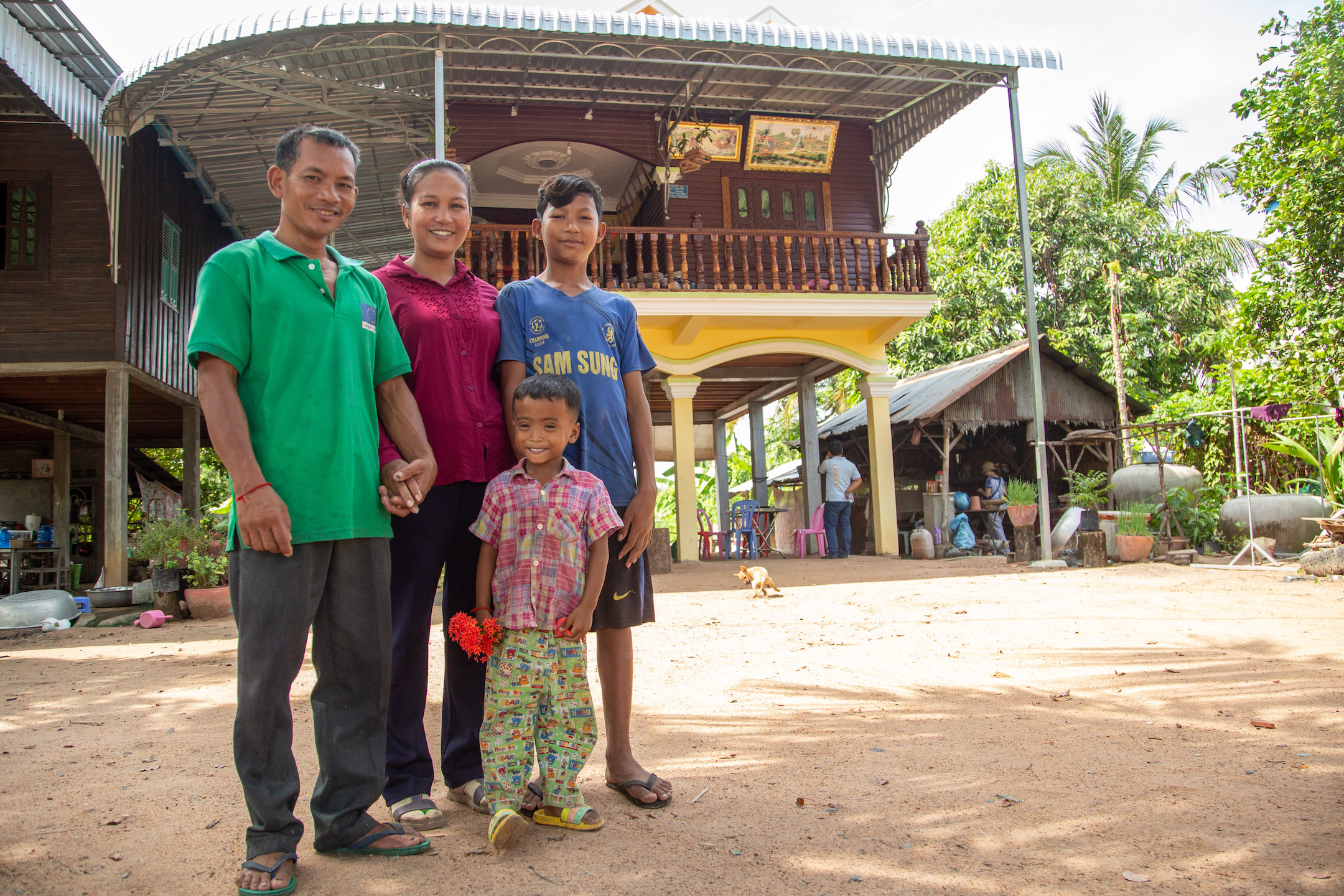 New Growth Conquers Old Habits
As the family's finances improved, so did their relationships. An aggressive drunk, Sun Sitaol curbed his drinking. His anxiety eased when the pigs and chickens in the family's care thrived, thanks in part to attention from a community animal health worker. And he locked steps with his wife, who had been leading the family from poverty to prosperity. It was time for the partnership to become equal. "I was happy to see her transformation," he said. "I started to admire how hard she worked, and I decided to stop drinking and join her efforts."
Other women in the community faced the same challenge with dubious, drunk husbands who not only did not help, but contributed only insults and naysaying. Sun Sitaol and Rith Chantha tell the story of a man who berated his wife after every meeting of her savings group because he said she should have been home cooking lunch for him. Rith Chantha and other women in the group approached this husband and invited him to their meeting.

It took four months before he agreed, but when he finally came, he was surprised at what he saw. He expected to learn that this women's group had been coaching his wife on how to ignore her husband. In fact, they had been working together to pool their resources, and his wife had managed to save the equivalent of $90, even in the face of the humiliation and shame he rained on her. So while women continued to be the driving force of the livestock and savings cooperatives, more and more men signed on in hopes of claiming a piece of the success.
Successful pig and chicken enterprises, along with clever saving and investments, are behind a big move for Rith Chantha's family. They abandoned their raised wooden shack and now live in an airy tiled home raised high on stilts, with a tall, pristine staircase and a roomy yard beneath with enough room for a kitchen, hammocks and storage. The home is among the most beautiful in the neighborhood, spotless and perfectly maintained. Rith Chantha is far from selfish about her success. She wants her neighbors to join her in chicken and pig production and organic farming to make the markets stronger and more reliable, and she routinely sets up makeshift classrooms to teach any and all comers the secrets to successful meat and egg production.
Success builds upon itself, and Rith Chantha stays busy recruiting new members to the cause. "The market is not the problem. The problem is production," she said. "We cannot produce enough."