Forty-three-year-old Basmati Budamagar recalls her daily journey to the forest, a three to four hour walk, with her baby tied to her back.
"I had to go to the forest to [gather food for] my goats and buffaloes, despite heat or cold or rain," she says. "The [animals] would graze in the forest, while I would feed my son. We would make the same journey back home before dusk."
With her husband working in the Middle East as a wage laborer and her in-laws too old to herd the animals, the task was left to Basmati.
"The forest would be swarming with mosquitos and other insects," she says. "My arms, neck and legs would be covered with bites. I would try protecting my son with a blanket, but he, too, would be bitten. One time, he had a serious infection and had to be taken to the hospital."
Her flock of goats eventually perished. Some succumbed to disease, and others were killed by tigers in the forest.
When Heifer Nepal approached families living in Fattepur village, in Nepal's Banke district, with the prospect of implementing the Strengthening Smallholder Farmers in Livestock Value Chain Enterprises project, Basmati was hesitant.
"I neither have time nor the energy to raise goats," she recalls saying to herself when she heard about the project, which aims to improve livelihoods of smallholder rural families through the development of agriculture and livestock-based value chain enterprises.
Eventually, she felt encouraged by the prospect of receiving capacity building and income generation trainings and agreed to join a group within the project. Basmati's group, the Pragatisil Women's Group, was formed three years ago. Since then, its members have received trainings on many topics, including capacity building and income generation.
Your gift can help empower families such as Basmati's.
From the first training, Basmati started implementing lessons she learned in her daily life. When she received seeds and saplings for various fodder and forage, she planted them on the edges of her farm and in fallow land. When she was confident the plants would flourish well enough to feed goats, she agreed to receive two goats from Heifer. She was relieved that the fodder and forage production on her farm was plenty to feed her goats, making long treks to the forest unnecessary. Just this year, Basmati has sold five goats, earning NPR 50,000, or about $500.
Through the project, Basmati was trained to become a community agro-vet entrepreneur. With her newly acquired skills, she artificially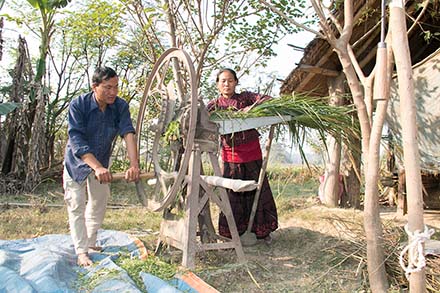 inseminated her buffalo, increasing milk production for the family. The dairy buffalo, which used to produce around one gallon of milk per day, now gives more than two gallons. She has earned NPR 60,000, or about $600, so far this year from selling milk. Basmati also sells fodder seeds and forage saplings, which has brought it NPR 27,000, or about $270, this year; and her green chilies have netted NPR 8,000, or about $80.
With the additional greenery, Fattepur's landscape has been transformed since Basmati settled there in 2008. She says it feels more peaceful now.
"This entire place was sand, there were no trees and it was very hot," Basmati says. "I used to cry because of despair. Now, there is green everywhere. I have planted the fruit saplings I had received from the project, and it gives us shade and fruits now. The fodders add to the greenery. It is helping to heal the land."
Not long after Basmati joined the project, her husband returned to Nepal to join his wife in her livestock enterprise. They now happily work together on their farm and raising their son, who is in fourth grade. Basmati's husband says he is very proud of his wife.
"Because of her, I don't need to go abroad, far from my home, for work," he said. "We can make a comfortable living in our own country."
The couple shares the dream of becoming commercial goat farmers, and to help that dream along, they are building a new goat shed that can accommodate up to 50 goats. Equipped with the right skills, working to accomplish the same vision, we have no doubt their dream will come true.