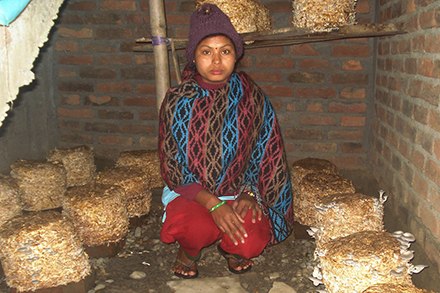 At first, the 29 members of the Jayadurga Women's self-help group (SHG) were shy and reluctant to open up. One partner shared that they would hide behind each other, afraid of being asked to speak. But, two years have passed, and things look completely different. Today, these women are true leaders. Their confidence and determination to work together toward their collective well-being is changing their lives and the world.

The Strengthening Smallholder Enterprises Project in Paroha Village Development Committee Rupandehi, began in March 2012 in the small village of Kusma. The families involved in this Heifer Nepal project have used valuable resources, knowledge and skills to develop action plans–blueprints for transforming their homes and their lives.

The SHG members quickly organized community-wide cleaning campaigns twice a month. The campaigns were designed to inspire unity and spread awareness about the importance of cleanliness.

In line with this cleanliness and sanitation platform, the women collaborated with the Paroha Village Development Committee to build 46 improved toilets in Kusma. Fourteen of the toilets were constructed with money from the group's revolving fund of 6,000 Nepalese rupees, or about $60. To recognize their environmental conservation efforts, the Paroha Village Development Committee presented the group with 10,000 Nepalese rupees, or about $100.

"Before our group started the campaign, there were only three or four toilets in the whole community," said Maya Chaudhary, the group's treasurer. "It was particularly difficult for us women because we would have to wake up early and go out to the bushes. Fear of snakes and worms during monsoons would make the situation worse, but now there is an improved toilet in every household."

Besides conducting cleaning campaigns and outfitting residences with improved toilets, the SHG members placed trash bins in public areas; started using improved cook stoves, which eliminated exposure to toxic smoke; and dug canals around livestock sheds to collect manure for organic compost. They also joined other farmers in the community to plant a variety of 16,800 high-quality fodder and forage plants to improve the nutrition of their goats and bucks.

Members of the Jayadurga SHG are known for their organic farming methods. Well aware of the harmful impact of chemical fertilizers and pesticides on the environment, they choose to use organic compost. Each member maintains a kitchen garden that measures approximately half an acre. Group members grow mushrooms with assistance from the Paroha Agro Center, and they started a communal turmeric farm on a small plot of land.

Charles Caleb Colton once said, "Imitation is the sincerest form of flattery." And imitation–or replication, to be precise–is exactly what seems to be happening as a result of the many successes achieved by the Jayadurga women's group. In fact, other self-help groups have traveled from 12 surrounding districts to learn from these incredible women.

Before the Heifer project, Kusma village farmers had to travel south to Butwal, a larger city, to sell produce. Now they are able to sell crops to neighbors in their community thanks to a farmer's market created by the Jayadurga group. The people of Kusma enjoy weekly access to fresh, locally grown food, and the farmers benefit from increased income in their own community.

The last time the women traveled to Butwal, they didn't need to sell anything. They went to participate in an agricultural festival. "We presented folk songs and a drama based on the theme of organic farming," member Sharmila Chaudhary said. "We were awarded 7,000 Nepalese rupees (about $70) for placing second in the cultural talent show."

Now, the women of the Jayadurga Women's self-help group are no longer shy and reluctant to speak. Through the Heifer trainings and support of each other, they aren't just talking more to their families and each other, they're spreading the joy and information about farming, Heifer and their newfound empowerment anywhere they can.

Equip a woman today and give her the opportunity to put her own blueprint for transformation to work.

Story by Chitra Kumar Gautam, Program Coordinator, Community Welfare Program

Photos by Uma Gurung, Community Facilitator, Community Facilitator