Malawi is currently experiencing Southern Africa's worst drought in 35 years, according to the United National Office for Coordination of Humanitarian Affairs. The drought, combined with unprecedented flooding in January 2015, has devastated the country's harvests.
Malawi's Southern district, Thyolo, where we work with nearly 5,000 farming families, is the most impacted where farmers are already facing food shortages. We also work in three districts that are at high risk of being affected by the extreme dry conditions; Mchinji, Dowa and Lilongwe, which could experience shortages soon.
Help Heifer families endure the drought crisis.
Because weather significantly affects our farmers' success, we train them in practices to not only sustain their farms but also help them continue to feed their families—and communities—during lean times.
By promoting climate-smart agriculture, we focus on water harvesting, management and utilization. To further build our farmers' resiliency in dealing with climate change, we educate them on conservation agriculture, forest management, appropriate irrigation and the use of sustainable, efficient energy sources.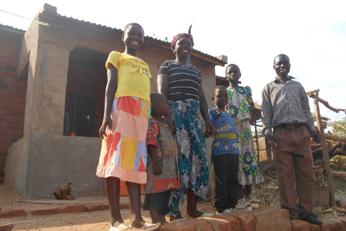 Thanks to our farmers' dedication, the drought's effects are not yet as severe as it would have been before training. But we need to ensure it doesn't get worse for them.

While we are not a relief organization, we need to continue this vital work with our farmers. Right now, every dollar you give will be matched by a $1.25 gift from a generous donor. So every single dollar you give turns into $2.25 for families facing this terrible drought.

Participants Kelvin Haji in Thyolo district and Chrissy Charles in Dowa district continue to manage, despite the conditions.
Haji became interested in dairy farming when he saw the success of other farmers. He joined the Mtambanyama Milk Bulking Group in 2010 and received a heifer in September 2015. Since then, Haji has helped improve the nutrition of his family and his community.
"Even during the lean period when maize was scarce, we could just drink milk but did not lose our condition as it happened to some who do not have dairy animals," he said. "Milk has all the nutrients that are required by the body."
As a member of the Namwiri Milk Bulking Group, Charles—mother of four—received a heifer in 2015.
"Most families in this area do not have food to last them until the next growing season," she said. "But my family has because we used manure from our animal, which has even increased our annual maize yield from 2,200 pounds to nearly 5,000 pounds."
"Most families in this area do not have food to last them until the next growing season." Chrissy Charles, Dowa District, Malawi
"Both my family and close relatives are enjoying the fruits from dairy farming," Charles added. "The milk left for home consumption is shared with relatives. The money realized from the sales has helped me to pay school fees for my kids at a private school and support them with other needs."

With irrigation and use of organic fertilizer for their diverse crops, Kelvin and Chrissy enjoy higher fruit and vegetable yields for their families and to sell for income. Manure and compost improve the soil's ability to hold moisture and improve fertility, which is essential when facing drought conditions. Also, their cows provide more than three gallons of milk daily, which is used for nutrition and income. Both families eat three meals every day and can afford to send their children to school.
Malawi is the hardest hit among Southern Africa countries including Lesotho, Mozambique, Zambia and Zimbabwe. Nearly 40 percent of the Malawi population—6.5 million people—are in need of emergency assistance.
Our work in Malawi began in 1998 after identifying a great need for development. Now, we serve more than 14,000 families in five projects throughout the country.

Please help ensure that our families remain resilient in the face of this drought.