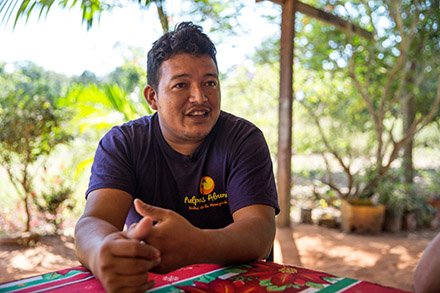 Editor's Note: Life in the rainforest is colored with glimmers of danger and flashes of magic. While I was visiting an açai project in Bolivia, one Heifer project participant told me this story of a mystical creature with a taste for fresh meat. While it is called a tiger in this story, the beast to which our storyteller refers is known in the United States as a jaguar.

We don't know that much of what's in the forest, but our ancestors say there's a small species of plant that people rub on their bodies, like a ritual, and then they do three somersaults backward. At the third one, when they land, they land as a tiger. And they say that the head of the person becomes the back part of the body of the tiger.

The man who became a man-tiger, every night he would go out and hunt, and every day he would have meat to eat. He always had meat. But then, he started to steal meat from the people in the village. He would take their pigs. And nobody could kill him because, since he was a man-tiger, he had the intelligence of a person. So he knew when people were waiting for him, and he knew where to hide. And the people in the community were afraid.

Finally one person said, "I'm going to catch him," and began to lay in wait for him one day after the next after the next. And that man was able to shoot him, but he shot him in the head and the tiger took off.


But who was the man-tiger? The person who shot it had a guess, so he sneaked into a man's house and he saw that the man had a rifle bullet in his backside. And then he knew the man was a man-tiger, and he came back with all the people in the town, and they said, "if you don't leave, we're going to burn you." And then the man-tiger had to leave that home and go to live somewhere else. And until today, there is still this species of men who turn into tigers.

As told by Edwin Paz Vasquez, Heifer project participant in Primero de Mayo, Bolivia
Illustrations by Boya Sun