Editor's note: Elyse Gordon, winner of the Garnet Hill-sponsored sweepstakes of a trip to visit Heifer projects in Peru, shares reflections on her trip in this guest post.

What began as a sweepstakes quickly became much more. On August 18th, my mother and I boarded a plane in Newark, NJ, bound for Lima, Peru. A seasoned traveler, I was more excited than nervous. My mother, new to traveling, had many pre-trip jitters. I did my best to put her at ease. Traffic and noisy airports were no match for my demeanor. We were on edge, full of excitement.
That afternoon, syncopated by the noise of the airport, set the tone for the trip. As I look back at the week in Peru, I remember it by the soundtrack: a distinctive buzz of unique experiences. Our time in Lima was brief, having arrived late at night to meet up with the rest of the group. Our hotel, in the coastal neighborhood of Miraflores, is found above the cliffs that border the Pacific Ocean. Waves crashed as our taxi zoomed to our hotel room. The next morning, we met the rest of the group for breakfast: Suzanne and Allison, our Heifer International hosts, who had arrived from Little Rock. Russ, Garnet Hill's CEO, and his daughter Libby, who is on her way to a committed life of service around health care access and equality, were also part of the travel party. We departed for the Heifer International office for an orientation and tour of the facilities. Then back to the airport, to board a short flight to Cusco. What takes roughly one hour by air would take 20 hours by car. We chose to fly.
Crunchy snacks, Peruvian soles in our pockets, we were ready to embrace what 11,000 feet of elevation felt like. I was nervous about this; despite my mother's urging, I was not able to take the altitude sickness meds (in Peru, altitude sickness is called soroche). So, armed with only local coca tea and stubbornness, I did my best to not fall victim to soroche. Lucky for me, I was ok!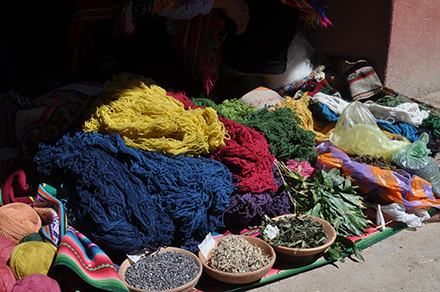 In Cusco, our time was spent sampling delicious Peruvian cuisine, seeing some of the ancient sites, and walking around the town center. There are a handful of sites that make almost everyone's must-see list in Cusco, and there's a reason for this. Saksaywaman[1], where we spent the bulk of one morning, is an extensive open air complex, said to have been the former capital of the Incan Empire before the Spanish invasion. There are temples, impeccable stone work, open plazas, and slides. We also visited Qurikancha, the temple of the sun, which was later taken over by the Spaniards to build a cathedral. Descriptions of this place as 'post-modern' are accurate. I have rarely been anywhere with such a mish-mash of cultural, spiritual, architectural and practical incongruity. Needless to say, at both of these sites, tourists snapped photos, and the multiple languages of tour guides and translators bounced off the walls of the ancient sites.
Despite Cusco's amazing cultural sites, we were, of course, in Peru to see the work of Heifer International! For two days, we awoke at 7, ate a quick breakfast, and boarded our little van for a 3 hour drive out of the city. The first day, we drove southeast through the valley to the village of Pitumarca, where a beautiful ceremony of music, dancing and flowers greeted us. The villagers there, especially their local mayor, were eager to tell us about their project, Alpaca Biodiversity in High Andean Communities, teaching us about making artisan crafts from alpaca wool. Our lesson took 4 parts: the sorting of alpaca wool into categories; removing imperfections so the wool could be spun; the spinning machines that dramatically increased productivity; the natural products used for dying the wool (including some very interesting and, dare I say, "unconventional" means!). Local artisans showed us the finished products: beautiful woven creations, running the full spectrum of color. Many of us purchased hats, scarves and fingerless gloves. Then, we ate a delicious feast of locally prepared trout and potatoes alongside our hosts. The visit ended much as it began: to the sounds of music, and with much dancing. This time, we were the dancing partners to many of our hosts! We left Pitumarca with the whir of the spinning machines and the sound of flutes and drums echoing in our ears.
The next day started out similarly, but we took our van up along the highway that leads to Sao Paulo, Brazil (with miles and miles of steep switchbacks. At one point I think we hit 14,000 feet elevation on that road!). We were going to Upis, a small village nestled in the highlands, under the shadow of Ausangate, one of the holiest mountains in the region. Here, we were learning about alpaca husbandry and care. We were again greeted with pomp and circumstance (and an enormous amount of confetti). The town leaders welcomed us and shared their pride for the work their community is doing. We partook in an annual ceremonial offering made to the Mountain, to ask for a healthy year for the animals. The local experts taught us an extensive amount about alpaca selection, the breeding process, pregnancy and birthing, record keeping, medical care, and eventually, shearing the animals. The alpacas hummed, brayed and sneezed, marking our visit with the sound of their daily lives. We didn't tell them that for lunch, we consumed some of their brethren alongside a variety of Peruvian potatoes.
Each of these days ended with a long drive back to Cusco, and then a dinner with the group. Our Peruvian hosts, Katia, Julia and Rosaluz, were excellent guides and friends. They translated our local hosts and guides, and taught us about the work of Heifer in Peru. They shared about their families and their lives. They asked about the work of Garnet Hill and our own families. The quick chitter chatter of Spanish that I failed to understand served as a reminder that despite how comfortable I felt with these new friends, I was not, in fact, at home in Seattle. We were in the Andes, scaling switchback roads and mountain passes.
So, with our little cohesive unit, we departed Cusco for the final highlight of the trip: to see the ancient ruins of Machu Picchu. While we waited for our train, our excitement mounted. The route along the Urubamba river is stunning, and I would say, worth the trip just to take the train ride. We spent the night in Aguas Calientes, the tourist town at the base of the mountain. The next morning, awaking (early!) to the sound of thunder and heavy rain, we donned ponchos and took the 20 minute bus ride to the top. Our guide for the adventure, Leo, told us much about the history of the ruins[2]. We explored, marveled, and took many beautiful photos in brightly colored ponchos.
Certainly, the trip cannot be accurately shared in 1500 words. Yet, thinking back on the sights and sounds, I am struck by how universal these experiences are. Regardless of what home we returned to, what job we resumed, what family welcomed us home, our group shares this common soundtrack to our time in Peru. For my mother and I, this shared experience was truly a gift. By the end of the trip, her nerves had subsided. We had grown closer and challenged one another. I shared my love of traveling, and she got a chance to see a new expanse of the world. We both reflected on how universal it can be to live, see and listen with those around us.
---
[1] This could be spelled a variety of ways, but regardless of spelling, most travelers remember it because it sounds invariably like, 'sexy woman'.
[2] I cannot do such history justice here, but I can recommend reading Turn Right at Machu Picchu. A dear friend sent it to me as a travel gift, and it was invaluable for helping supplement my understanding of the incredible site, not to mention a very funny, well written read.