Story by Dan Bazira | Senior IT & Communications Coordinator | Heifer Uganda
Photos by Dr. Ponsious Mutesasira | Project Staff | Heifer Uganda
An estimated 125 households participating in two Heifer Uganda projects lost livestock, crops and even their homes in the floods that hit the Kasese district in the beginning of May 2013.
Farmers in these projects, Improving Livelihoods of Vulnerable Communities and Kisinga Women Dairy Goats, cannot go back to their original homes as they were washed away or completely destroyed. They are staying with relatives or in nearby camps established for the displaced flood victims. Water supply infrastructures in many villages were damaged, limiting access to clean drinking water. The futures of these families are still in a sorrowful state, and these communities are bound to be food insecure in the near future.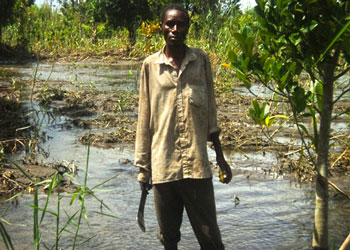 In all, more than 25,000 people in the Kasese district were displaced by the floods. Crops including bananas, cassava and beans were destroyed, raising fears of famine in the area. An estimated 30 people have died so far. Domestic birds and animals were not spared either.
Musa Ecweru, minister of state for disaster preparedness, said, "I am scared. If the situation here is not controlled it may result into the outbreak of cholera because people don't have safe water for drinking. The whole water system has broken down." He further noted that the magnitude of the problem can only be solved by collaborative efforts to come up with a lasting solution.
The floods have left the Kilembe population worried about their futures. Approximately 195 patients in the Kilembe hospital were evacuated after floods hit the Kasese district and washed away medical stores, the kitchen, mortuary, pediatric ward, a private wing and other equipment in this main hospital. Electricity in the district was cut off. The floods washed dead bodies into the rivers, and an unknown number of people are said to be missing. One of the access roads to the district was shut off, and taxi drivers say they cannot reach Kasese.
Many toilets were damaged as well, resulting in health and hygiene concerns. In total, 817 latrines and one sewage treatment unit were completely destroyed.
Although this information might seem to be devastating, what we know is only preliminary information. We will keep you updated on any development taking place.