Every week we highlight some of the people who are funding our work creatively or helping us spread the word of our mission online. If you spot Heifer International while you're surfing the web or know of a fun or creative fundraising effort, please share it with us here in the comments.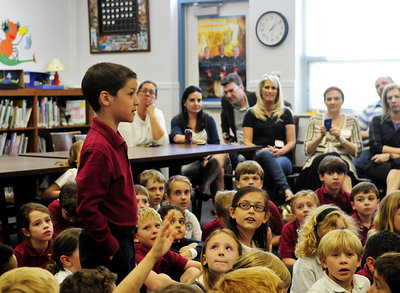 Photo credit: NeighborNewspapers.com
For months now, second-grade students at Our Lady of the Assumption Catholic School in Brookhaven, Georgia, have been doing various odds and ends, including holding lemonade sales and homemade baked cookie sales, babysat siblings, prepared lunches and cleared neighbors' backyards. They easily surpassed last year's total of $1,200, with $2,000.
Thanks to Nancy for her fundraising efforts on her blog, Realizing I Can Help...my journey of trying to make a difference. She's on her way to reaching her goal.
Heifer international was mentioned as the best in three separate categories in Little Rock's Sync Weekly Who's the Best of the Metro: Green Business, Local Cause and Non-Profit Organization.
Photo credit: TheMaguirehouseBB.blogspot.com/
What's happening in and around Maguire House? 100 Things to Do and See Within 100 Miles, including Heifer's Learning Center at Overlook Farm in Rutland, Massachusetts.
Another local publication, Little Rock Soiree, featured Heifer this week in 4 Fabulous Ideas To Put a Little Spring in Your Step which shines a spotlight on Feast in the Field, a special dinner to be held May 18 to raise funds and awareness for sustainable agriculture benefiting Heifer projects in the Arkansas Delta and Nepal.
Photo credit: Longmont Suzuki Strings
Kids from ages 2 to 11, students of Longmont Suzuki Strings in Colorado, performed at a concert to benefit Heifer International on May 11. The instructor, Erron Lacy, said, "I enjoy watching the students get excited about helping others. They do it with such a pure heart and love for children across the world they will never meet. Their dedication to the benefit concert, through careful practice, is so inspiring."
Photo credit: The Gadsden Times
"Kindergartners and elementary students at Coosa Christian School 'raised the roof' so their teachers would have to sit on it." These students were part of the Coosa Coin Challenge, donating spare change to different charities chosen by each grade. The third graders chose Heifer. They beat last year's total, raising the roof, and their reward was sending teachers and faculty up to the roof for the day.