Story and Photos by Anna Arakelyan | Business Education Expert | Development Principles NGO
Translated by Liana Hayrapetyan | Communication and PR Coordinator | Heifer Armenia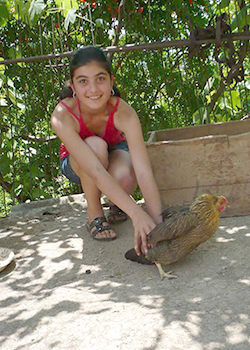 "Last year I received 40,000 drams ($100), from Heifer Armenia and started my own small poultry farm," said 13-year-old Lusine. "With this money I bought 10 hens. Two of my hens have already hatched out little chicks; one of them had 15 and the other had 20. I fed them well and grew these 35 chicks into pullets and sold 20 of them for 1,800 drams ($4) each, and generated 36,000 drams ($95). The rest of the chicks have also grown into pullets. Currently I have 10 hens and 15 pullets. This month, after the cold winter, my hens have started to lay more eggs. I feed them very well and the weather is warm in spring; that's why they have started to lay more eggs. I get six to seven eggs daily. In a few days I am sure I'll get good profit, because soon the Easter holidays will start and it's no secret that eggs have very high demand at Easter. To tell the truth, I'm going to raise the price a bit since the demand for eggs will be high on those days. I already have orders from certain customers from our village. Many families appreciate the value of organic eggs and know that they are healthy. That's why even if I sell the eggs for a bit more I know they are ready to pay for it."
Lusine lives in the Zorakan community of Armenia's Tavush region. She is one of the young entrepreneurs engaged in Heifer Armenia's YANOA (Young Agriculturalists) project. In the framework of this project, the youth involved in the business direction (area of study) of the Heifer-supported YES! (Youth Empowered for Self-Reliance) Clubs, received seed grants to realize their business plans. Lusine saved the money she generated from selling the chicks, and will add a little more from the egg sales to be able to pass on the same amount of money she received to another member of the YES! Youth Club in her native village. She'll use the rest of the money to purchase feed and medicine for her poultry.
This young entrepreneur has firmly decided to extend her poultry farm to generate more money to pay for her clothing, stationery and other necessary expenses. This will help her parents lighten the family's financial burden.
The Heifer Armenia Team wishes everyone around the world a very happy Easter!
Learn how you can support youth in Armenia to achieve their goals.