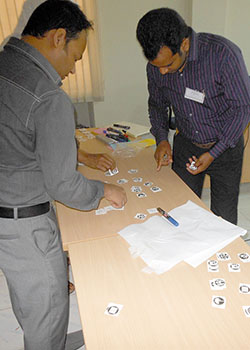 Story by Muhammed Abu Hussain | Program Manager | Heifer Bangladesh
Photos by Monira Sultana | Assistant to Country Director | Heifer Bangladesh
Heifer Bangladesh organized its first workshop on the 12 Cornerstones for Just and Sustainable Development for 23 project participants from four project partners March 7-10, 2013.
Program Manager Muhammed Abu Hussain and two senior staff project partners, Abdus Shukur, program coordinator of the Wave Foundation, and Sayeed Islam, program manager for Pally Bikash Kendra (PBK), facilitated the training. Heifer Bangladesh Country Director Siddiqur Rahman welcomed the participants with a speech and laid out expectations. Participants also welcomed one another with flowers, encouraging everyone to stay focused and eager during the Cornerstones training.
Throughout the training, participants learned about the 12 Cornerstones, Heifer International's history and its current practices worldwide. The training also covered leadership, values and principles, attitude and behavior, Values-Based Holistic Community Development (VBHCD) and Participatory Self-Review and Planning (PSRP) at the partner and self-help group (SHG) levels.
The PSRP session gave participants the chance to review and evaluate themselves based on their own 12 Cornerstones practices in life. This exercise helped them to make clearer personal and collective visions. Creating SHGs was another vision-building exercise the staff enjoyed.
Relative, interactive examples about social fabrics and the necessity of value-based living made the training more exciting for participants. They understood each Cornerstone clearly, which will drive them toward sustainable development, solid teamwork and good relationships with co-workers and their communities.
Daily training evaluations helped participants gain the knowledge needed to grow in these topics. Participants said the training was valuable, provided the confidence for constructive and healthy living and taught them to help others through sharing and caring.
The training concluded as participants prepared action plans to use the knowledge and experience they gained. The staff thanked Heifer Bangladesh for arranging the training, which will certainly help them begin successful projects in Bangladesh.