Win a Trip of a Lifetime to Peru from Garnet Hill and Heifer International!
I've been there; trust me, you want to win this!
Trip for Two Includes Visit to Heifer's Alpaca Projects Near Cuzco
Life Changing Chance to Live and Learn for Seven Days in Ancient Peru
Garnet Hill and Heifer International are proud to announce the Pass on the Gift® in Peru Sweepstakes, which will award one grand prize winner with an all-inclusive trip for two to the ancient Incan Empire capital of Cuzco. For seven days, they will work hand-in-hand with Heifer to foster sustainable development in the community while experiencing the country's colorful culture through exclusive guided tours. To learn more or to enter the Pass on the Gift® in Peru Sweepstakes, please visit garnethill.com. Visit the site every Wednesday through March 12 for a chance to win a $500 Garnet Hill gift card, and earn up to five extra entries toward the grand prize.
"We have designed a trip that will be inspirational and transformative, not only for the vibrant and historic culture of Cuzco, but also for the opportunity to work alongside and break bread with a Heifer International family. The winner will participate first hand in one of Heifer International's projects in Peru that, like all of the organization's global initiatives, aims to significantly improve the livelihoods of families and communities," said Marleen New, Director of Corporate and Foundation Relations for Heifer International.
The trip includes an introduction to Heifer International's alpaca projects in the Andean region near Cuzco. The winner will participate in and learn about all facets of alpaca care including feeding; tending to pasture; and the business associated with the sale of their exceptionally soft wool to make blankets, ponchos, hats and carpets, which ensures a sustainable way of life for struggling families.
For Heifer International, development is about creating a world free of hunger and poverty, where families in need thrive under their own energy and entrepreneurial spirit—on their own terms.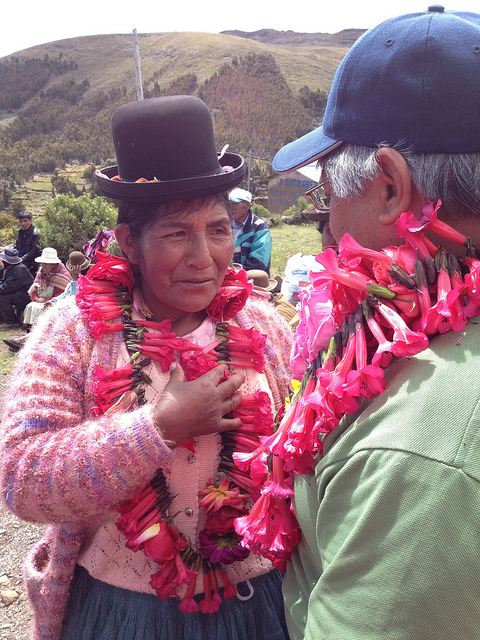 Wendy Thayer, public relations manager for Garnet Hill, added, "This really is the trip of a lifetime. It's a remarkable opportunity for the winner to play a role in helping to end hunger and poverty for a Heifer family. Garnet Hill is thrilled to offer such an authentic way for our customers to engage with our partner in Cuzco."
Heifer International began activities in Peru in 1963 and continues to support urban and rural communities and small-farmer organizations to improve their quality of life. Peru's diverse cultural patterns are based on solidarity and reciprocity. Thus, Heifer's approach to sharing resources is a key element to achieve just and sustainable development. Today, Heifer Peru works in Piura, Lambayeque, Cerro de Pasco, Lima, Junin, Huancavelica, Cuzco, Apurimac and Puno, and has assisted more than 40,000 families. Heifer's partnership with Garnet Hill began in 2009.
To learn more or to enter the Pass on the Gift® in Peru Sweepstakes, please visit garnethill.com.
Who would you take? Tell us in the comments section!