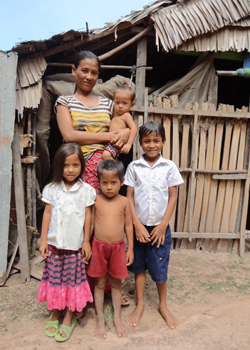 Story by Kheang Sokleng | Planning, Monitoring and Evaluation Manager | Heifer Cambodia
Photos by Kheang Sokleng and Phy Thea | Project Coordinator | Chamroeun Cheat Khmer (CCK)
Prok Mom, 38, is a mother of nine children and a member of the Strey Aphiwat Self-Help Group (SHG) in Peany, a village in Cambodia's Takeo province. Mom's family is considered to be the poorest in the village. Her husband and one of their sons work in Thailand. The couple has a daughter who works at a garment factory in the city and another son who works on another family's farm. Prok Mom stays busy raising their six small children, the youngest of which is a one-year-old girl, at home in their village.
Prok Mom, along with 24 neighbor women and their families, formed a SHG in June 2012. In the first few months, the members saved an average of 2,000 Riels, or about 50 cents, per month. By August, Heifer's Improving Income and Nutrition through Community Empowerment (INCOME) project was introduced, and the Strey Aphiwat SHG was selected to participate. The group received a series of trainings on topics including self-help group management and leadership, animal raising, microfinance, and Heifer's 12 Cornerstones for Just and Sustainable Development.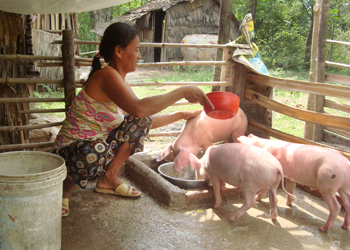 Following the microfinance training, Prok Mom's group decided to increase its monthly savings to 6,000 Riels, or about $1.50, and improve its recording and money management practices. While some group members started preparing animal shelters and home gardens, Prok Mom, without her husband and adult children home to help, did not. Although she completed animal training, she was not confident to start such a project on her own and decided to wait for her husband to send her money so that she could hire someone to do the construction for her.
After consulting with a community facilitator (CF) and staff from Chamroeun Chit Khmer (CCK), a local project partner, Prok Mom started thinking that maybe she could start building a standard animal shelter and a home garden to feature 10 banana trees, lemongrass, morning glory flowers, papayas and melons. She also plans to build a basic latrine for her family. "At first, I didn't know who would help me," she said. "I really worried about it. Sometimes, I think a poor woman like me can't do it. With support and encouragement from CCK staff and Heifer to have a habit of 'I can do it,' and I am thinking about exchanging labor with others. I can help other families in exchange for help to do the things that require heavy labor, such as digging a latrine and making animal shelters."
Moung Mao, 37, a neighbor and fellow group member, heard about Prok Mom's plan to build a latrine and said her husband and two sons could help.
Prok Mom's confidence in her abilities has increased through participation in Heifer's trainings, support she receives from project staff, and successes she has received thus far. She actively considers the future and works to improve life for her family. "Three months from now, I will have a complete home garden and animals," she said. "I have to plant vegetables to improve my family's consumption and for my animals' feed. I am so excited that I changed my habit of waiting for money from my husband and children. Now, I can do it."