Story and Photos by Knarine Ghazanchyan | Program Coordinator | Heifer Armenia
Translated by Liana Hayrapetyan | Communication and PR Coordinator | Heifer Armenia
The Kocharyans family lives in Azatan village, Armenia. Azatan's 5,630 residents make up 1,800 families—a large community compared to surrounding villages. It has a school, a church, several cheese entrepreneurships and large livestock farms.
The people of Azatan diligently cultivate their gardens, harvest crops and tend to their animals. The Kocharyans family participates in Heifer Armenia's Milk for Money project implemented in partnership with the Center for Agriculture and Rural Development (CARD).
"I really appreciate Heifer's assistance," Artur Kocharyans said gratefully. "I'm glad I became a project participant."
Artur and his wife Shahan have one daughter, 21-year-old Termine, and twin sons Garik and Grisha, both 20. Artur's parents, 81-year-old Grandpa Grisha and 70-year-old Granny Roza, also live with the family.
Artur and Shahan work at the local school. Artur is head of the teaching department and Shahan works as the school's accountant. Their sons recently returned home from serving in the military. And their daughter studies at a university in Gyumri in the center of the Shirak region.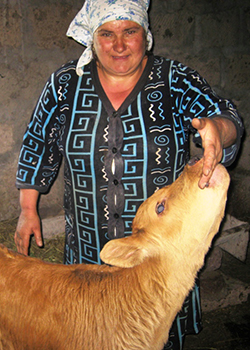 Before joining Heifer Armenia, the Kocharyans owned only one cow and 20 hens and generated income through milk and crop sales. On a small plot of land, they grow potatoes, wheat and fruit, as well as alfalfa to feed their animals.
Last year the family of seven produced about 32,000 pounds of potatoes, about 5,000 pounds of wheat and 200 bales of alfalfa. But the income generated from the harvest and milk sales was not enough for the large family.
Their living conditions improved, however, when they received a cow from Heifer Armenia. Now, with two cows, they have enough milk to prepare dairy products for themselves, as well as sell at the local market.
Nazeli, one of their cows, gave birth to a bull calf, which increased the milk's quality. Now, Nazeli gives about four gallons of fatty milk daily.
"Heifer not only gives livestock, but also teaches us how to correctly care for the animals and efficiently run a farm," Artur said. "I also encourage my sons to participate in these trainings because learning today will make good farmers tomorrow."