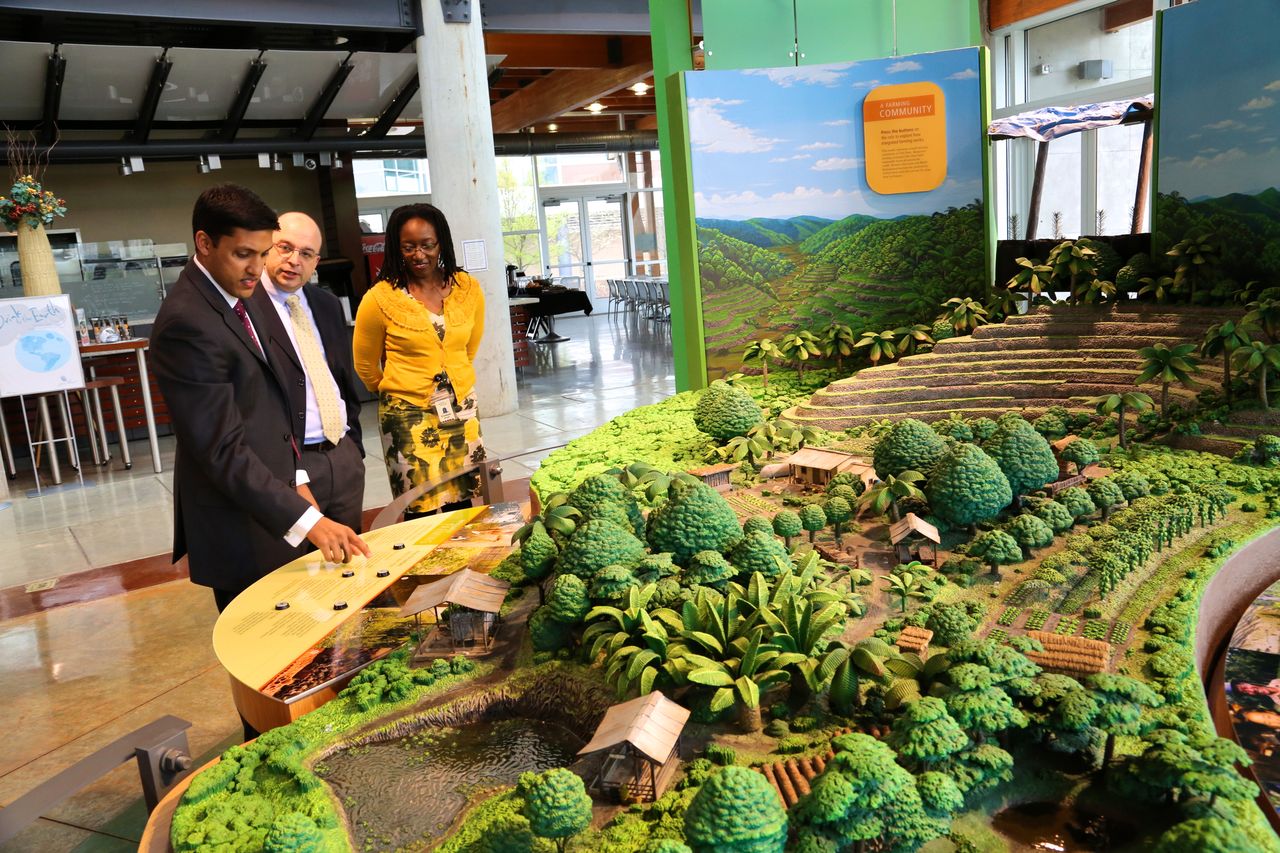 Dr. Raj Shah, USAID Administrator, reviews Heifer Village's integrated farming model. He was escorted by Pietro Turilli, Vice President for Partnerships and Business Development and Elizabeth Bintliff, Vice President for Africa Program
Rock stars are in the eye of the beholder, and last week week I met a rock star of the development kind when Dr. Rajiv Shah, Administrator to the United States Agency for International Development (USAID), came to visit Heifer Village. Dr. Shah, although he informally goes by Raj, was visiting Little Rock at the invitation of U.S. Senator John Boozman. When greeting him, I noticed three immediate attributes: He has 1) a warm smile, 2) a very firm handshake and 3) a deep and unabashed commitment to ending hunger and eradicating extreme poverty.
Raj Shah, USAID Administrator, holds weighted water buckets used to demonstrate to Heifer Village visitors the heavy burden of fetching water daily.
As he toured Heifer Village, he was sincerely impressed with the interactive and informative exhibits created to be interesting and dynamic for visitors of all ages. He even remarked that an exhibit like ours would make for a welcome addition the USAID headquarters in Washington D.C. (imitation, they say, is the most sincere form of flattery).
An hour after his time at Heifer Village I sat in the second row for his lecture at the Clinton School of Public Service, where he again focused on the "achievable" task of eradicating extreme hunger and poverty, but that "we must speed up the transition from dependence to self-reliance."
I've only recently become aware of Dr. Shah and his impressive resume, but in his short tenure at USAID he has established an important and impactful partnership between private and public investors leveraging many billions of dollars transforming the lives of many with regard to better nutrition, sustainable development and health education. I believe Dr. Shah when he states that the partnership aspect is imperative to successfully ending hunger and extreme poverty -- its a partnership that involves us all from business, to donors, to non-profits to participants, we each have a role to play.