Story by Sutheera Phimolthitikul | Administration Manager | Heifer Thailand
Photos by Heifer Thailand Staff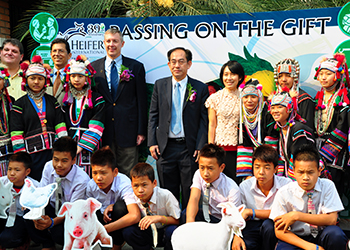 Since 1974 Heifer International has been working with families in Thailand. The first project, Beef Cattle Project for Lahu (1974-1977), provided 74 cattle and six Brahman bulls, to 60 families in Chiang Mai and Chiang Rai. From that small beginning, Heifer Thailand expanded to different areas of the country.
On April 10, 2013, Heifer Thailand celebrated 39 years of achievements and impact at its offices in Chiang Mai. Today, Heifer Thailand has helped more than 20,000 farm families become self-reliant with almost 100 projects focusing on livestock raising, food security and integrated agriculture.
The celebration began with a colorful dance performed by the Akha youth group. Country Director Isaree Khreusirikul and Heifer International COO Steve Denne then welcomed attendees, stating that Heifer Thailand's positive impact should be celebrated and its achievements enjoyed. They also expressed appreciation to all participants and encouraged them to connect with other development members, share best practices and turn projects over to the hands of self-help group (SHG) members, project partners and government agencies.
Rittipong Tachapunt, vice governor of Chiang Mai, presided over the event. More than 300 distinguished guests happily enjoyed the festivities. They included Heifer International headquarters representatives Padma Singh and Noel Mace; Deputy Director General of Livestock Development Department Ayuth Harintharanon; Gifts for Life Foundation board members led by Associate Professor Dr. Boonloom Cheva-isarakul and project partners, educational institutes and communities.
Heifer Thailand's positive impact was highlighted when four representatives from SHGs and project partners exchanged their insights and experiences in the "Holistic Development to Achieve Sustainable Community Development" seminar. They expressed how the lives of farm families were transformed through Heifer Thailand projects. Moreover, project exhibits and community products were shown by 12 active project partners.
On this occasion, Heifer International also passed on the gift of office property to the Gifts for Life Foundation for use in their continued mission in Thailand. Heifer also recognized all project partners with a certificate and words of appreciation.
The celebration concluded with a memorial ceremony called Rod Nam Dam Hua. This traditional ceremony celebrates Thai New Year's Day, the Songkran festival, on April 13. The youth express their love and respect for their elders by sprinkling scented water on them and wishing them happiness, success, prosperity and good health.
This unforgettable event was filled with tears of joy and smiles and friendship. It is certain that the capable SHGs, committed project partners and related government agencies will continue their work to pass on the gift of animals, capital, thoughts and development tools to other needy farmers with the mission of ending hunger and poverty.