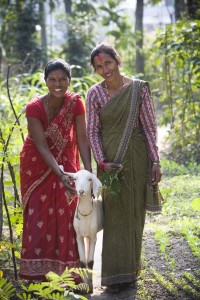 Anju Chaudary (left) received a goat from Devake Adhikari in a Pass on the Gift ceremony. Photo by Geoff Oliver Bugbee
Heifer's President and CEO Pierre Ferrari, along with several key executives of the organization and a voting quorum of Heifer's Board of Directors, are traveling this week to Nepal to meet the small farmers, partners and Heifer Nepal staff leading the $23.8 million goat value-chain project.
Through this innovative project, that includes an investment of nearly $5 million from local supporters in Nepal, Heifer aims to reduce live goat imports by 30 percent and milk by 10 percent by 2016. The project will involve 138,000 farmers in 28 districts.
Stay tuned this week for posts from Nepal from World Ark and photographer Geoff Oliver Bugbee. Click here to learn more about how you can contribute to the transformational change in Nepal.