Story and Photos by Anna Arakelyan | Business Education Expert | Development Principles NGO
Translated by Liana Hayrapetyan | Communication and PR Officer | Heifer Armenia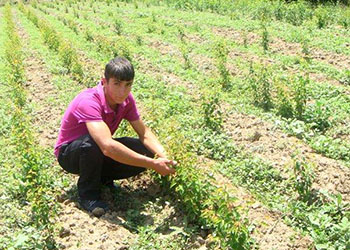 Young entrepreneur Nairi Hakobyan lives in the Getap community of the Vayots Dzor region of Armenia. Over the last year, he has attended the business education direction (area of study) of Heifer Armenia's YES! Youth Club and was among the first members who developed a business project to establish a nursery with a small seed grant.
Nairi's business plan was very interesting and well-planned. He received $100 through the Young Agriculturists Network of Armenia (YANOA) project and started his small business. He invested 40,000 Armenian drams, or about $100, into his business and expects to get 200,000 drams, or about $500, in net profit.
Nairi conducted market research and analyzed his and his competitors' strengths, weaknesses, opportunities and threats. He appreciates his customers' trust and loyalty and does his best to provide quality produce. The young entrepreneur purchases seeds from his partner, who has been working with his father for many years.
Nairi planted around 480 fruit trees in his nursery including various types of pears, apples, peaches, apricots and plums. Nairi plans to enlarge his business as soon as he sees the first profits from his work. He wants his business to occupy 80 percent of the market, but he knows he'll need about 15-20 years for that to happen.
"I'm still very young, but since life has granted me with such an opportunity of running a business, I mustn't miss my chance," Nairi said. "My two main goals are to run a successful business and be the leader in the market."
The green seedlings are quickly growing in Nairi's nursery. Soon these trees will be sold and Nairi will replace them with new seedlings. The boy hopes his small nursery will grow into a successful business, and he invests all his efforts and heart into his work. He fully believes in his motto, "With small steps towards the big future."