Editor's note: story by Chheang Sokmao | Program Officer – Northwest Region | Cambodia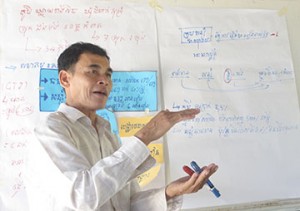 From August 13-15, 2012, Heifer Cambodia and two project partner organizations from the northwest region conducted an exchange visit to two successful farmer cooperatives. The exchange facilitated by Heifer Cambodia staff and executive directors from Cambodian Human Resource Development Organization (CHRD) in Banteay Meanchey province and Farmer Organic for Development Association (FODA) in Siem Reap province entailed visits to two successful farmer cooperatives in Kampot province: Rattanak Pol Rort Samaki and Samaki Sang Kroh. In attendance were 11 key community leaders and project management committee representatives, two community facilitators, one project coordinator and one commune council member.
During the visit, participants learned about cooperative businesses, including credit, rice bank and rice business cooperatives, and the provision of other services for self-financing. The visitors enjoyed a firsthand look at the cooperation among community members on activities such as mobilizing social capital for local infrastructure, education, food security, sanitation and healthy hygiene, as well as strategies to reduce poverty for sustainable community development. The day-long sharing allowed the exchange of experiences and best practices between key community leaders and host cooperatives in Dong Tung and Chhouk district, Kampot province.
"Their cooperatives have been established for a long time, and they have good experience in leading the communities and their business development," said Ms. Krouch Suk, a community facilitator from CHRD. "My team and I will bring experiences and best practices on business credit cooperatives, rice cooperatives, development themes and their leadership to improve my community." Suk's community group was organized two years ago, and she is proud of its achievements and looks forward to a future of close cooperation and continuing progress. She hopes that over the next few years it will grow even stronger.
"At my community, the rice interest rate set by private lenders is very high, 50 percent per season, and this is a challenge for us," said Ms. Rean Sokhom, a commune council member from FODA. "I want to have a community rice bank in my village where it will help the community during rice shortages." The topic of business credit cooperatives was also a point of interest for Sokhom. She wants each self-help group to work together to have a larger savings fund at the commune level, as demonstrated by their hosts. She will propose these ideas at the next commune council meeting.
After the exchange visit, project partner representatives made a stop at Bokor Mountain Resort, where they took many photos. On the way back to their respective provinces, they shared experiences, built relationships and showed a strong commitment to use everything they learned to propel their communities toward prosperous business communities in the coming year.