Editor's note: Story and photos submitted by Heifer Romania team
The official launch of Heifer Romania's Chance for All project started at noon on October 18 in Zimnicea, the southernmost region of Romania. The $2,464,300, or 1.9 million Euro, program was developed in collaboration with Heifer International, Heifer Romania, Bóthar Ireland and Danone Romania, with strong financial support from the Danone Ecosysteme investment fund.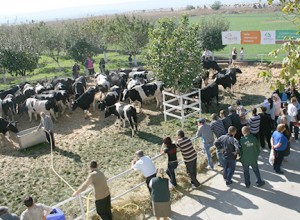 The four-year Chance for All project is a socioeconomic program that will assist small farmer communities in five underdeveloped areas of the country.
The project aims to encourage small producers to work together to have long-term profitable businesses based on the production of high-quality milk. This initiative has a major training component, whereby farmers will participate in specialized courses on health, nutrition, and cattle reproduction and milking. This knowledge will enable them to obtain milk that is of European Union-quality standard.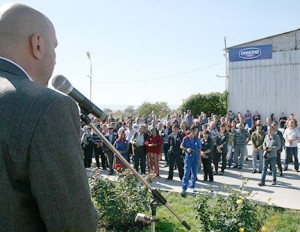 In the first two years, more than 200 heifers will be distributed to 200 farm families. By the end of the project, 800 families will have benefited from the gift of heifers.
Chance for All will be implemented in two stages. The communities of Zimnicea, Cocorastii Colt and Belin will be assisted during the first year. The two remaining areas will be added at the beginning of the second year.
"Danone has made a long-term commitment to Romanian farmers and its partners. Year after year we have invested in sustaining milk production through programs oriented toward all types of farms, such as Danone Farm or Reaching West," said Dieter Schulz, Danone CEO for Eastern and Southern Europe. "Chance for All is a new investment made by Danone for the sustainable development of Romanian zootechny and an aid for rebuilding, economically, families with low incomes."
"The project follows Heifer International's main principle, Passing on the Gift®," said Ovidiu Spinu, country director for Heifer Romania. "The families who receive heifers will pass on the gift, thus the initial support will multiply and the chain of beneficiaries will grow. By sustaining animal breeding, the milk quantity at European Union standards will grow and so will the families' incomes."
Bóthar Ireland sent 50 Irish heifers to Romania. They arrived on September 16 and were transported to a quarantine farm by a convoy of two trucks. The 50 farm families were determined by lottery draw and each heifer was sent to its new home on a small specialized vehicle.
"One month ago we sent the first heifers for the Chance for All project," said David Moloney, CEO of Bóthar Ireland, in his message for the farmers of Zimnicea. "We loaded the animals somewhere in central Ireland, we crossed the sea to France, we drove over 1,800 miles, stopping twice at the 'animal hotels' and finally reached our destination: the quarantine farm in Oradea. Ten-thousand artificial insemination (AI) doses from the Holstein Frisian breed were also sent for this project, to maintain the pure Irish breed in the project's locations. We hope that the gift from Ireland will bring you only satisfaction and aid you to develop your farm and that over the years, you, too, will be able to make such a gift."
"Chance for All is a landmark project for all of us, bringing together a diverse set of partners to work with disadvantaged communities to achieve lasting economic and social impact," said Pietro Turilli, vice president of Heifer's Central and Eastern Europe program, in his letter of congratulations to the beneficiaries and partners involved in the complex project. "As you are all aware, the challenges for this project are significant, but then again, so are the potential rewards: building more resilient communities and linking them in a sustainable manner to markets through the provision of high-quality livestock, organization of community groups, social and technical training and assistance, and providing access to recognized and reliable market partners."
With 30 journalists and bloggers attending, the celebration enjoyed good media coverage. Besides comments from local and regional authorities and messages sent from the USA and Ireland, two project members publicly expressed their thanks and commitment to achieving the objectives set for Zimnicea. "It was hard for me to believe that this place where nothing ever happens could become the pilot community for such an important people-oriented project," said Mariana Moldoveanu, one of Heifer's newest beneficiaries.
As the ceremony drew to a close and the first animals reached their new homes, we followed Alexe Ilie as his family welcomed their Irish heifer into its new home.