This weekly post shines a light on a handful of stories from Heifer.org's "From the Field"
section.
Heifer projects are filled with leaders, and they're easy to spot. They typically have a grand vision that will improve their entire community. It's their vision, combined with a passionate dedication to see it through, that inspires others to join the effort and, ultimately, reap great rewards.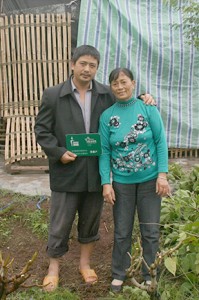 In China, Tang Fuming took the initiative to expand on her family's small silkworm farming business by joining a Heifer project in her community. Once, her family earned barely enough to get by, but now they raise chickens and can afford medicine for their epileptic grandson. Today, Tang teaches her neighbors skills to empower them to improve their lives, too.
Anthonio Louis Fritznel has been blind since age 12, but that doesn't stop him from doing what he can to make life better for residents of La Sucrerie community in southern Haiti. For two decades, Anthonio has inspired fellow community members with his true vision.
Schoolchildren in Armenia's Lukashin village understand and appreciate the value of the leaders who teach them how to be the best they can be. During a Teachers' Day celebration earlier this month, students showered their instructors with gifts and heartfelt thanks.