This weekly post shines a light on a handful of stories from Heifer.org's "From the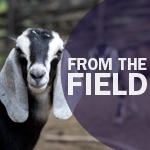 Field" section.

No matter where in the world you go, Heifer's there, and success is just a project participant away. Heifer empowers families to escape poverty, surpass sustenance and achieve significant success.
Rolly, from the Philippines, has realized huge success by using and selling vermicast, an organic fertilizer made with the use of African nightcrawler earthworms. Learn more about Rolly and his family in Project Participant Makes Compost Into a Sustainable Family Livelihood.
A group of determined fishermen and women in Ecuador no longer pay exorbitant fees to rent a boat and dock. They developed a plan to purchase their own and, within two years, did just that. Read Sustainable Fishing on the Ecuador Coast to learn how they are planning to expand their fleet.
Choratan is a beautiful, yet dangerous, cross-border village in Armenia. Despite living in the constant shadow of Azeri snipers, residents continue to work hard for a better life. Cow Becomes 'Helper and Feeder' for Lazaryan Family tells the success story of one tight-knit family and their cow.
In 2009, Heifer's Sierra Leone program and Pennsylvania's Arcadia University formed an intern partnership. Since then, seven students have interned in Sierra Leone. Check out Heifer Sierra Leone Hosts Visitors from Arcadia University to learn more about this successful collaboration.