Story by Magdalena Wos | Resource Development Officer | Heifer South Africa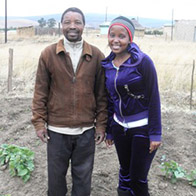 Photos by Buyani Khumalo | Livestock Coordinator | Heifer South Africa
Working closely together and sharing a spirit of unity is one of the reasons Heifer International farmers succeed. Three agriculture students from the University of KwaZulu-Natal learned this firsthand when they spent several weeks living and working with members of the Zusiphe Project in South Africa over the summer. The three women and one man left comfortable lives in the city to learn how residents of Nqundu village are fighting poverty and food insecurity on a daily basis.
During their stay, the students participated in training activities and spent time collecting data, analyzing soil and planting vegetables. They saw the obstacles residents deal with every day and learned how, as a group, community members overcome them.
"I have learned that group members are taking care of each other and are united," said 19-year-old student Inamandia Mngadi. "When the group received seedlings, some members did not have gardens yet, but they could plant their seedlings in the garden of one of the group members who are close to them. They are very supportive of each other."
Living in Nqundu village helped the students understand that Heifer's model is not to give a handout, but a "hand up." Gifts such as seeds and livestock are a significant part of the project, but only through sharing the same values and being committed to working together and helping each other does the project succeed. The Zusiphe community is a great example of that.
The Zusiphe Project in northern KwaZulu-Naltal began in early 2012 and will lift approximately 1,000 people out of poverty. Participants have already received seedlings and started vegetable farms. Over the next few months and years they will begin farming goats and chickens.