Editor's note: The following update on Heifer Haiti's Hurricane Sandy recovery efforts comes from Heifer Haiti Country Director Hervil Cherubin.
Today Heifer International's Haiti country office team will be distributing emergency help to 400 families affected by Huricane Sandy. Each one will receive a kit (bag), containing rice, corn, sugar, milk, beans, flour and cooking oil. The distribution will be in Solon (a community in Saint Louis du Sud) where Heifer Haiti has a rabbit project and various communities in Les Cayes where the office is located.
Some of the kits will be distributed to a group of people with handicaps (many as consequences of the 2010 quake) in collaboration with the Haiti office for the Integration of the Handicap in Society. It is worth mentioning that being handicapped here in Haiti is very complicated and stigmatized. We will be helping 100 families.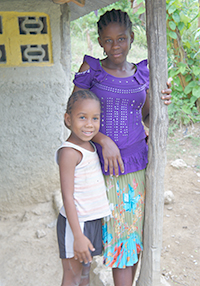 At 2:30 p.m. we will go to a very poor community named Sous Roche, which is close to the ocean and a river, to help 150 families. These people were hit hard by the storm because of their location. Their houses were flooded. Later we will go to small communities (Pelerin and Fond Fred) to distribute kits to 50 families each.
Tomorrow morning we will go to Solon to distribute kits to 100 families. This community was devastated by the storm. Many houses were flooded and crops destroyed. It is very sad to see all these plantain and pigeon bean plantations completely wiped out by the water.
All these activities are in coordination with the local emergency committee, Centre d'Operation d'Urgence (COU), on which Heifer is a sitting member. They work with partners to assist different communities. The communities Heifer Haiti is helping today and tomorrow have not yet received any help.
We started the process yesterday morning after receiving emergency funds from Heifer International headquarters. Yesterday afternoon we bought the goods, and with the help of some volunteers we put together the kits. We stopped at midnight, and this morning we started again to get them ready by noon.
These are the first of our emergency assistance plans. We will also assist many of our beneficiaries who lost their animals and crops with replacements and seed for the next planting season. These activities will happen in the coming days as things get back to some kind of normalcy.
Our Heifer Haiti colleagues and participants need your continued help. Please consider donating to our Disaster Rehabilitation Fund so we can provide the best assistance possible.