Story and Photos by Heifer Guatemala Staff
The week of September 24-28, 2012, Heifer Guatemala was pleased to welcome colleagues from Heifer's U.S. staff. The colleagues who visited were: Connie George, Lindsey Tellefson, Patty Reed and Megan Moss, all from the department of Marketing and Resource Development (MRD), in an effort to give our new fundraisers a deeper understanding of Heifer's work and model. The projects they visited were PRODESAN (Economic Development, Education and Food-Nutritional Security Project), PRONATURA (Campesino Families Increasing Rural Productivity While Preserving the Natural Forests of Alta Verapaz) and Peasant Farmer Alternatives for Food Production in San Carlos Alzatate, Jalapa.
The visit was an important one in terms of the Heifer staff achieving experiential understanding of Guatemala's projects. Carlos Hernandez, project coordinator, said the visit was important because they saw people committed to people and projects.
"It would be ideal if they (also) visited whichever project after eight or more months of implementation to capture a photograph of the present and the future," he said.
Byron Lopez, project coordinator, added, "The organizations that were visited received (the visits) as a form of encouragement to continue the work they do."
The visitors observed different stages of projects, including the beginning of one and another that has been going on for three years. Commitment to communities was stressed, as well as the work being done in communities by the Heifer team and the challenges that exist in the implementation of projects.
The visitors had positive and encouraging comments:
"The Guatemala team did an incredible job."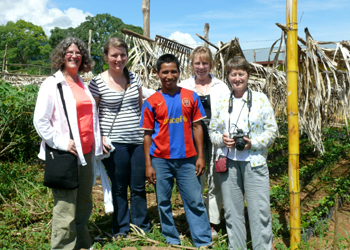 "I was blown away by how everything went and how they (the Guatemala staff) work with our partners in the field."
"The system works–the staff in the countries is amazing; I can't say enough about them."
"The Heifer model [explained] in a travel itinerary."
It was an enriching and pleasant shared experience to meet the MRD team members. It will be good news to hear about the changes, progress and impact of the projects in a few months in the Guatemalan communities.