Photos by Russ Powell
In Chiponde Village, in the brushy savannah of western Malawi, 38-year-old Nashoni Zimba is celebrating the success of a local Heifer project in his own small way. The father of five is delighted by the improvements that reforestation efforts and improved cook stoves brought since Heifer started the Kasungu Sustainable Agriculture and Natural Resource Management Project here last year.
Zimba spent roughly a week crafting two miniature versions of his village out of mud.He said he hoped the model would show that someone who cares for trees and forests is better off than someone who doesn't take care of natural resources.
The first version of the village, the "before" model, includes a barren stand of stumps to depict deforestation resulting from the constant need for firewood. Without enough trees to serve as wind breaks, the grass roof on the miniature house in this version is blowing away. An open fire is stacked tall with kindling, and a truck hauls away more wood to produce charcoal.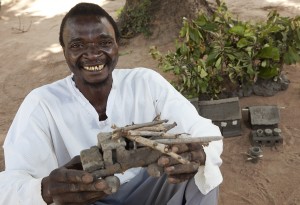 The "after" model features improved stoves, both the fixed version made of bricks and the portable clay stove. Both use only about a third as much fuel. A larger house features a metal roof, and a raised corral keeps goats from roaming free. Animals drink water beneath a healthy stand of trees.
Although the project is only a year old, participants say the benefits are already easy to see. Women report the amount of time they spend hunting firewood is significantly cut thanks to their new, more efficient stoves, which not only use less fuel but also cook more quickly. Many of the participants who received meat goats already have kids to pass on and plans to sell future offspring. These sales will produce much-needed income in a tobacco-growing region where farmers are finding the market for their crops is quickly drying up.