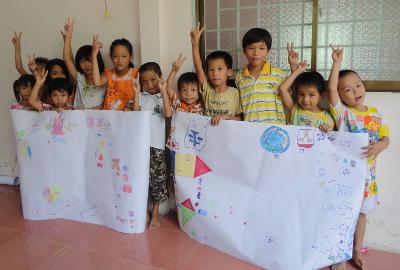 Story and photos by: Phan Nguyen Khanh Trang, Program Officer, Heifer Vietnam
Heifer's 12 Cornerstones for Just and Sustainable Development are the key values and principles of Heifer's work to improve the livelihoods of poor farmers and build communities holistically. Over the past few years, the Cornerstones have been the compass that guides project activities to achieve the greatest possible impact.
On July 22, Heifer Vietnam and its project partners held a Cornerstones introduction in Vietnam's Tan Long village, Vinh Long province. The audience consisted of children ages 4-12, who attend local primary and secondary schools. "Our children enjoy learning about the 12 Cornerstones," said course instructor Mr. Hai. "This is a useful activity for the children, especially during the summer."
At 90 minutes, the introduction was brief enough for the children to understand the Cornerstones. They learned how to practice and apply the values in their everyday lives. Specifically, they were taught that they can study hard, assist their parents with chores, help friends in need and contribute to keeping their homes and environment clean.
The training included many games, giving the children an opportunity to play and practice the Cornerstones. They enjoyed drawing and coloring, solving jigsaw puzzles, and question and answer sessions. "I love the puzzle game," said Chi, a student. "This is the first time I've played it. I will improve the environment by sweeping our house and growing more flowers regularly."
The children's eyes shined with eagerness when they talked about their plans. Seven-year-old Cuong said, "I would like to be a good person. I'll help elder people cross the street and give my friends a lift when they have to walk to school." Twelve-year-old Dinh Phat Loc added, "I would like to become a doctor to help cure as many sick people as possible."
Tuyet Nga, the father of a project participant, used to think the 12 Cornerstones were reserved for project members. "Now I know that the 12 Cornerstones are applicable and practical for people of all ages," he said. "Thank you, Heifer, for caring not only for our physical lives, but our spiritual lives, as well. I hope Heifer will have more meaningful activities for us in the future."