Written by Akhilesh Pandey and Ibtada Alwar | Heifer India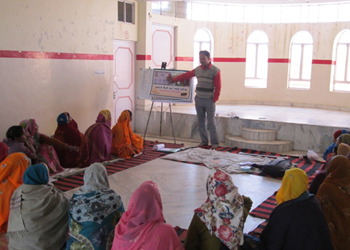 In India, Heifer has taught its 12 Cornerstones for Just and Sustainable Development values to several women's groups. The groups were so inspired by the power of these principles that they are helping to train other groups in their villages. The training has now reached hundreds of women.
How it began:
The initiative was taken by Heifer India's country team. The objective was to extend the Cornerstones training to cover entire villages. In order to achieve this, a co-mentoring plan was developed under which the women formed resource groups to train the untrained village groups in the just and sustainable principles of development.
To roll out this program, extension groups were formed from the members of the existing Self-Help Groups (SHGs), which are at the core of Heifer's projects.
Seventeen such extension workers were selected and given a "Training of Trainers." From them, 13 were selected as the extension trainers.
These extension trainers then further broke into smaller teams of two trainers each and gave a two-day Cornerstones training to the non-Heifer community groups.
Achievements:
13 trainers are now ready
The training module has been further developed and simplified
The entire village has received the training
A total number of 394 women have now joined our program
An unexpected impact has been that there has been improvement in participants' household income
Challenges:
In the project area, the Cornerstones training was associated with the Heifer program and thus the receipt of goats was the next logical step. The challenge was that in this case there were not going to be any goats to follow. But we decided that we would give them the inputs for kitchen gardens and fodder plants.
This strategy has worked. Now, instead of 37 SHGs, we have an additional 32 groups with 394 women. This had an impact on the function of the SHGs, and the women's commitment to their groups grew. A noticeable difference is an improvement in the hygiene of the village.