Former Maoist Recruits Build a New Life in Nepal
Conscripted by Maoist rebels at a young age, Ganga Gharti and Rudra Pun spent years tangled up in the Nepalese civil war against their will. But when the opportunity finally presented itself, the two ran away from that life, together. What came next presented a new challenge, one that they met head on with the help of Heifer Nepal.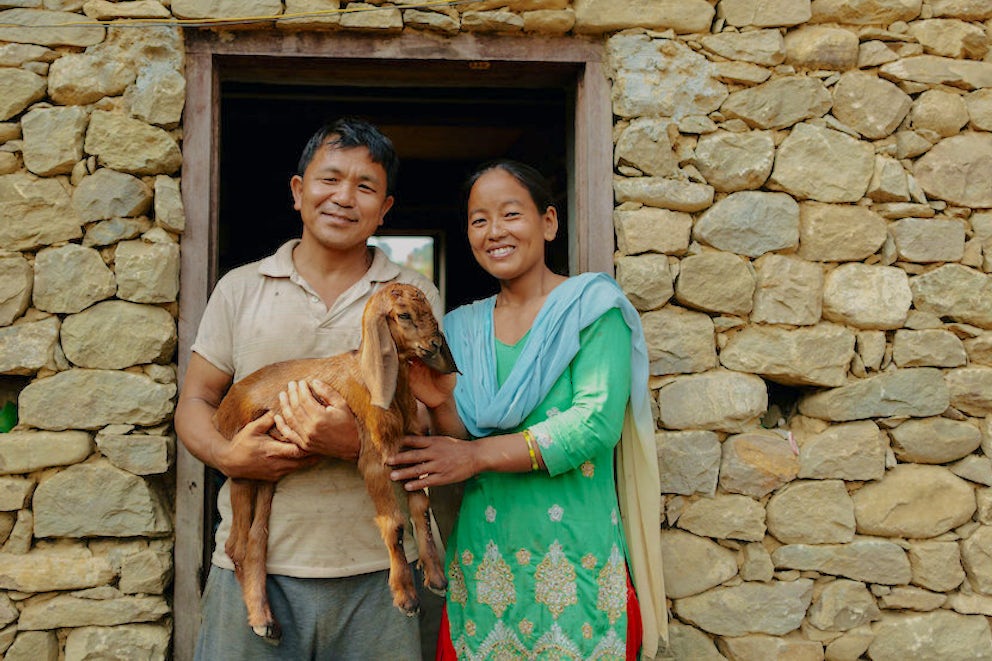 As a reprieve from an arduous day of work in the stifling heat of southern Nepal, Ganga Gharti and her husband, Rudra Pun, sit in the corridor of their nearly finished home. "It always has a breeze like this," Pun said. "Even if it's peak summer, even if it gets really hot, we don't use a fan."
The new house is a significant upgrade from the old, a smaller thatched-roof house, which termites eventually infested. Now, Gharti and Pun live in a two-story house with four bedrooms and a sturdy roof. But enjoyment of the new home doesn't last long this day, not with two children to raise and a thriving goat business to run.
In 2012, Gharti received a couple of goats from Heifer Nepal. After taking care of them for six months, she thought, "We had to look after the goats whether we reared one goat or two goats or more." So why not turn it into a business?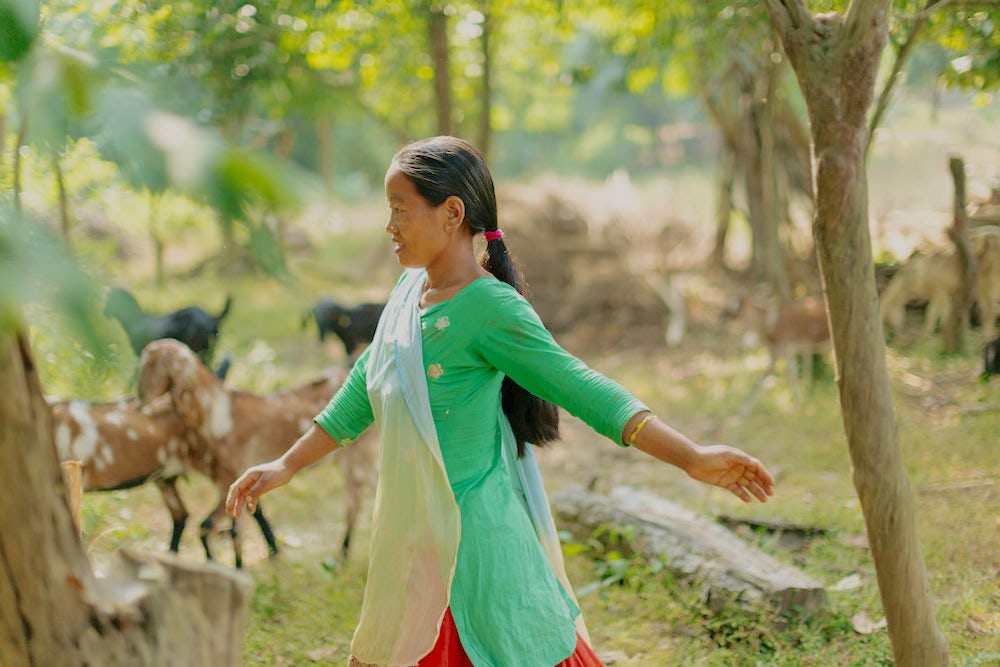 Now, Gharti and Pun have about 55 goats, and they spend the better part of their days raising and caring for them. It's hard work, but it's a far cry from the difficulties they both faced early in life.
From 1996 to 2006, a civil war swallowed rural Nepal, and families were caught between state forces and Maoist rebels. During the 10-year period, 18,000 people died in the conflict, and, according to a 2006 article in The Guardian, Nepal also led the world in number of daily abductions. It was during the middle of the civil war that Maoists recruited both Gharti and Pun.
"It's quite fresh," Pun said, "and I would never ever want those days to return again."
Children of War
In the latter part of the 1990s, an offshoot of the Communist Party of Nepal launched what they called a "people's war" to overthrow the constitutional monarchy and establish control of the country. Inspired by Chinese Communist revolutionary Mao Zedong, the insurgents fought a guerilla war against police and the army in the Nepalese countryside. Each side routinely suspected the people living and farming in those areas were siding with the other.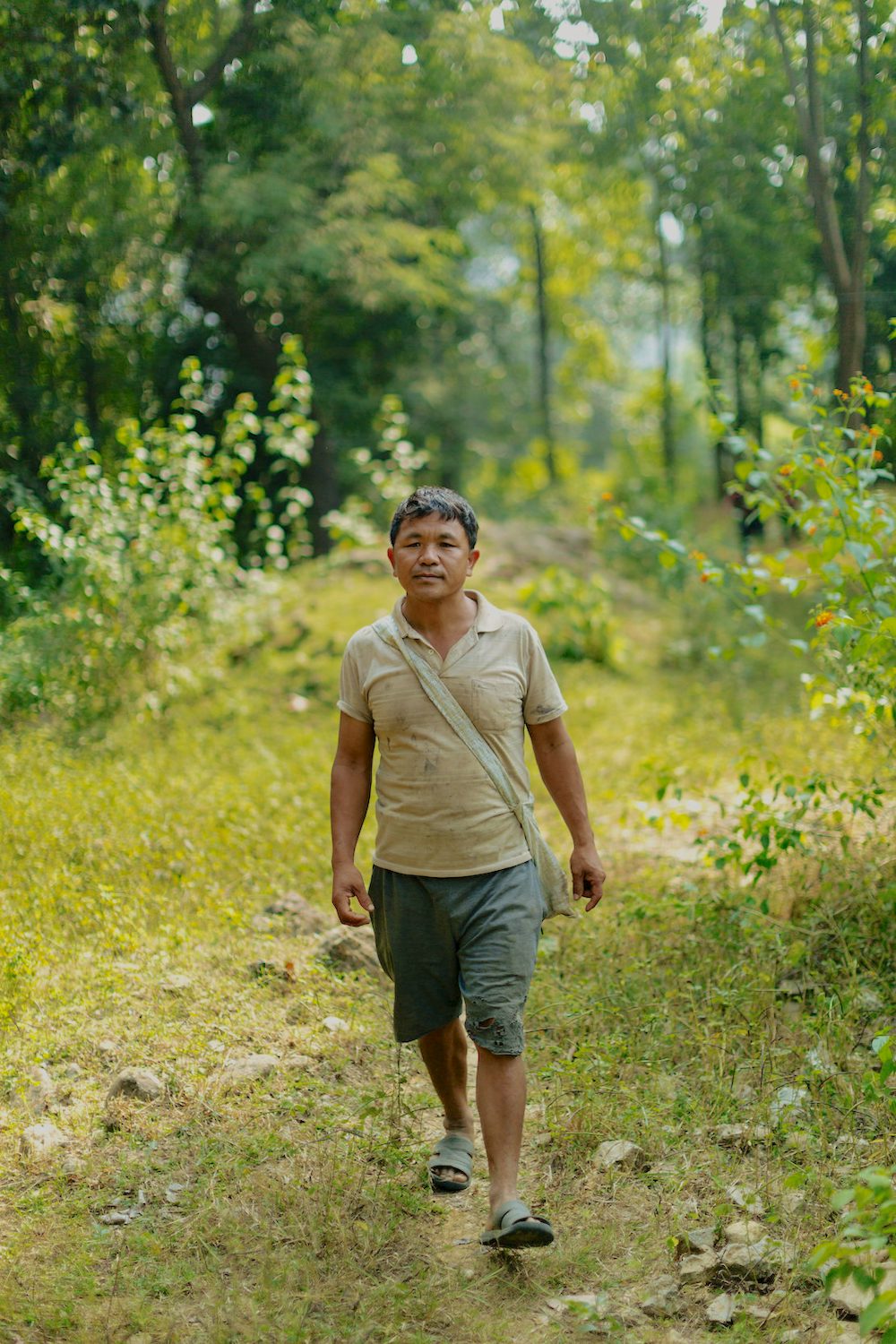 "I got severely beaten by police and insurgents both," Pun said. "I am somebody who was almost killed. The police thought I was dead." Eventually, Pun felt he had to choose a side to survive.
"I was trapped between the Nepalese army and the Maoists," he said. Forced to make a decision, Pun acquiesced to Maoist recruitment. "It's better to get mad than die," he said.
One of the strategies the Maoists employed was the recruitment of children. According to human rights organizations, the group recruited around 4,500 children, sometimes by force. Other times, rebels recruited children for participation in "cultural conservation activities" like dancing or singing, or for education. But in some instances, the roles of the children would quickly shift to the battlefield.
The Maoists forced Gharti to join them when she was just 12 years old. She wrote propaganda music for recruitment purposes. "We used to make songs," she said, "which would suit that particular moment. We also had to learn the songs, and we had to teach people."
Pun oriented new recruits, showed them around. "It was not strenuous work," he said. "But at times we had to carry arms, at times we had to carry bags."
The insurgents moved often, and when they did, it was by cover of darkness. Both Pun and Gharti said traveling throughout the night was the most challenging part of their routine. "At the time of confrontation, we usually had to run away from places and protect ourselves," Gharti said. "We had to look for places where we could be safe and protected."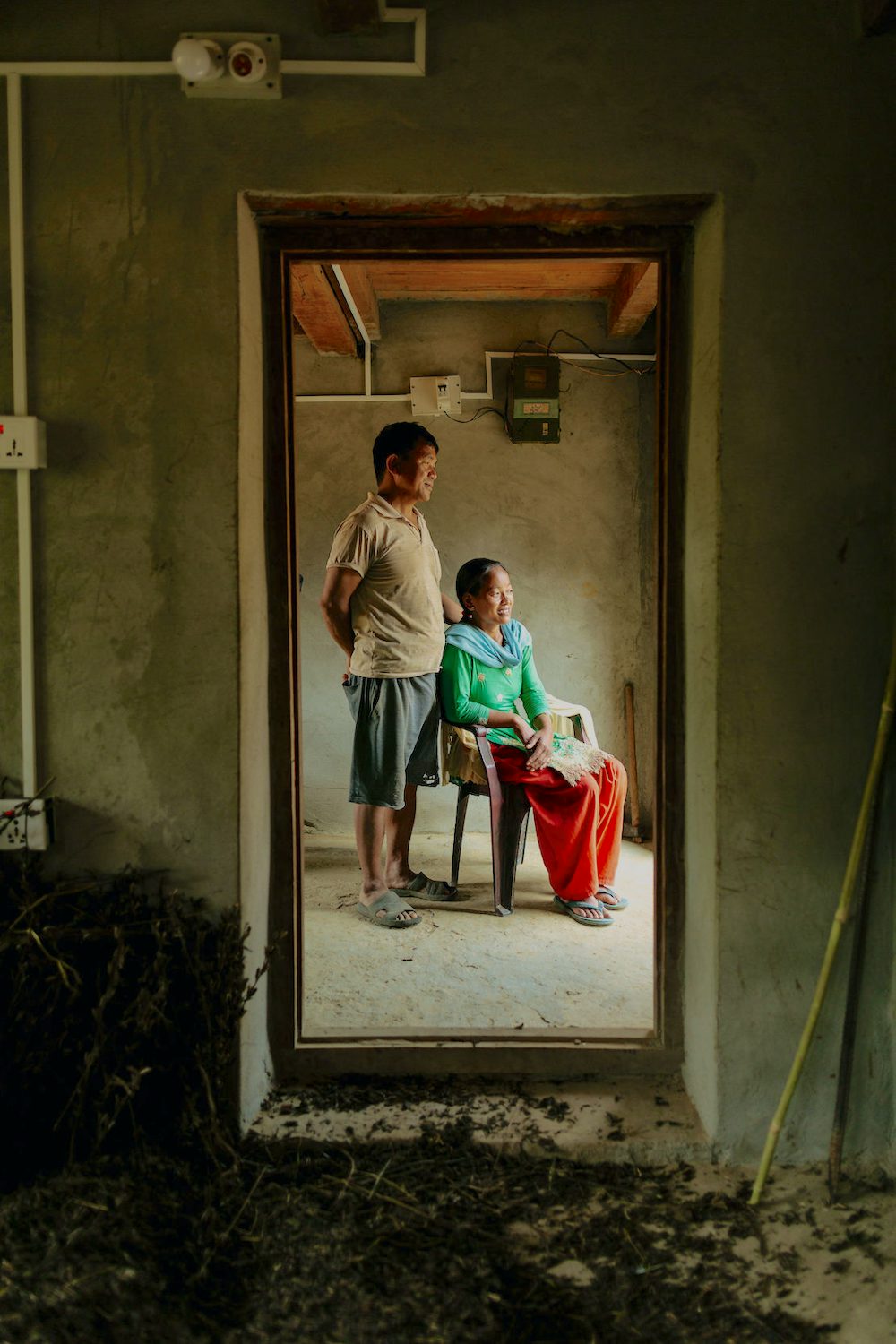 Initially, Gharti bought in to the message presented to her and her peers. But over time, that faded. "They said … people like us should contribute to the country, we should sacrifice to the country. Since I lacked awareness at such a young age, I went. So for a year or two, I just went along with the flow. But I realized there [were] so many confrontations, and I didn't get to meet my relatives or family members … and I could see friends of my age going to school and living a normal life.
"I tried so many times to go back home and study," Gharti said. "But the organization did not allow us to do so."
Pun added, "[Our families] looked for us. But our families considered us dead. Many people disappeared, and they thought we [had too]."
During their time with the Maoists, Pun and Gharti met and felt a bond. They agreed on their desire to leave the rebels, but it didn't feel like that was a viable option.
"If we had quit the organization, then there would be a threat to our parents," Pun said. "They would have been abducted, they would have been killed. So we had to stay for them as well."
But as both sides of the conflict neared a comprehensive peace agreement, and as international human rights organizations began holding more sway in the country, it seemed the Maoists lost some of the power they held over Gharti and Pun.
The two took the opportunity to escape from the Maoists and start fresh. "You can call it marriage or really any sort of agreement," Gharti said, "but we just left, together."
A New Life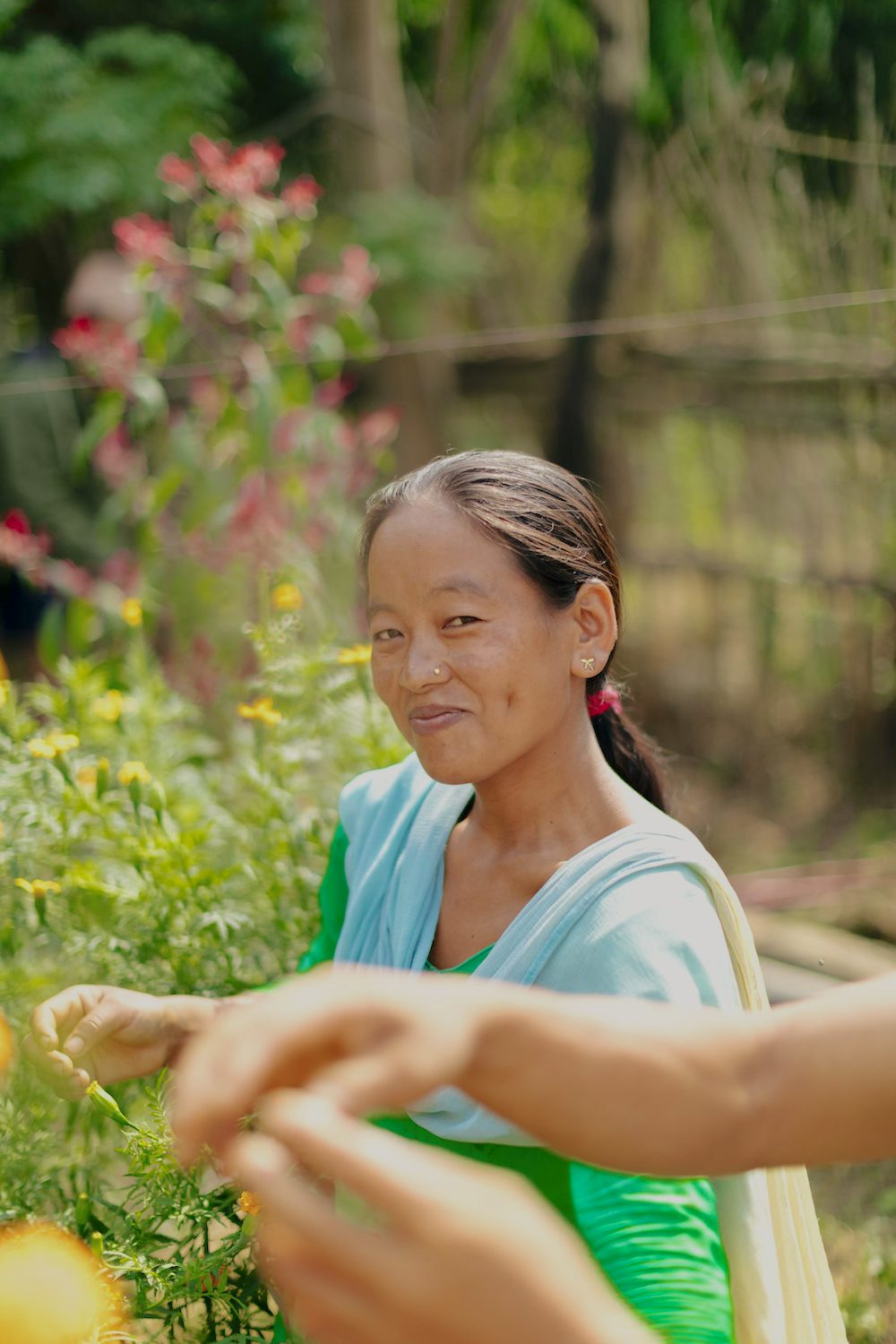 For six months, Pun and Gharti moved around while working in a paper factory and avoiding contact with anyone they knew. After that time, with the war nearly at an end, they finally reunited with their families.
The two decided to restart their lives in the rural town of Rihar, a place where they could find land to buy, and where Pun knew a distant relative.
"On the very first day that we came here, we faced so much hardship," Pun said. "We didn't have income. We had to sustain ourselves by cooking [a kind of wild radish], which is mostly eaten by goats."
Pun tried his hand at rearing pigs, but it wasn't profitable. Then the couple heard about Heifer Nepal.
"We had some discussion between ourselves whether to be in the group or not," Pun said. "Because there were some other organizations that didn't have such a good reputation in this area, so we were generalizing Heifer." But Gharti and Pun decided to move forward, and their fortunes changed.
Seven years after receiving two goats from Heifer, Gharti and Pun spend portions of their days escorting 55 goats through the jungle, making sure they have enough to graze on and keeping them as safe as they can from leopards and other dangers. The couple spends another portion of their time helping their 12-year-old son and 7-year-old daughter with their studies.
"I feel like their life should be different," Gharti said. "I want them to have the education that fits the generation that we're in right now. In [this] era, if you're not educated, it wouldn't be possible to do anything."
The profits from the sale of goats are enough to cover regular payments of the loan they took out from a local cooperative to build their new home, which has enough space for two growing children and hosting guests. And on occasion, Gharti and Pun even get a chance to sit down and enjoy the summer breeze.
"We decided that we wanted to stay here forever," Pun said. "We won't be going elsewhere from here."