Glen and Marj Thompson
Fort Dodge, IA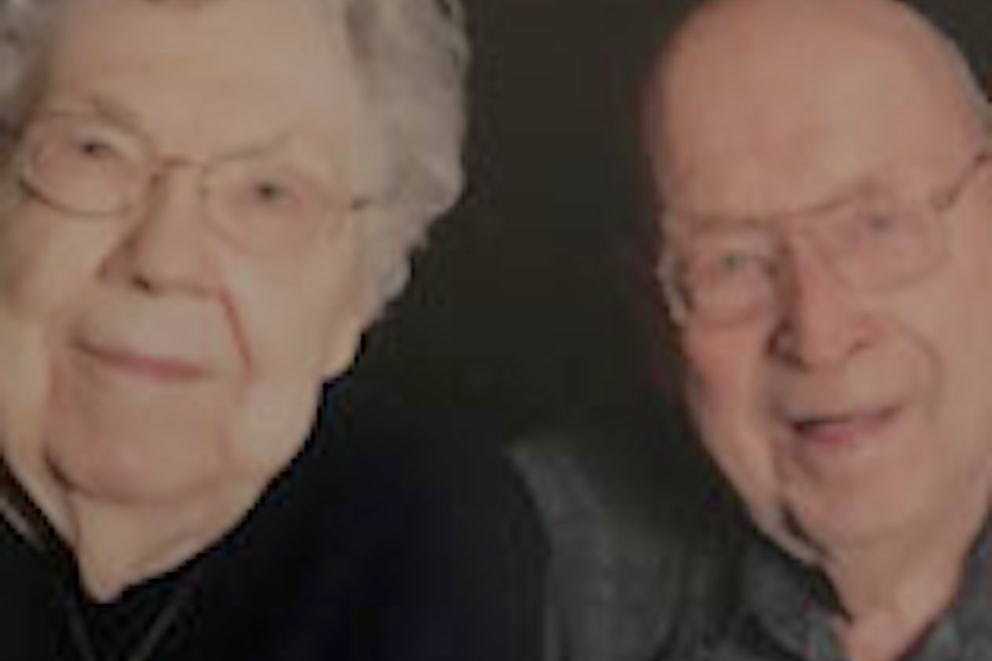 Marjory Jean (Crisman) Thompson passed away on Nov 16th, 2019 at Friendship Haven. She was the daughter of DeVere and Bertha (Pollack) Crisman, born on July 12, 1924. She was united in marriage to Glen Oren Thompson on August 29, 1943. Glen Oren Thompson passed away on April 1, 2020 at Friendship Haven. He was the oldest son of Oren C. and Mae (Ricke) Thompson. He was born on August 18th, 1922. His marriage to Marjory lasted for 73 years. These are the facts.
But there is so much more about them that made them almost "forces of Nature" when it came to the influence they had on the family and friends that were around them.
Their influence rested on a foundation of Faith in God and their fellow human beings; trust in the goodness of people; and a commitment to leave the world a better place.
They were very active in the United Methodist Church with Marjory serving in a variety of positions in the EUB and United Methodist women's groups. Her ability to organize and provide leadership in a variety of settings was amazing. Those ranged from the Athletic Dept at the University of Iowa, the Dean of Students office at the Iowa State University; the administration of Heifer Project International to the Lord's Cupboard in Ft. Dodge. She was her own person, loving and caring, but did not condone bad behavior or bad language. Her love of music and art, of being of service and helping others colored everything and every word she said and did.
Glen joined her in these activities. He served the church in a variety of ways, but his contribution was more about making life fun! He was on the staff of the Iowa State Extension Service for 25 years. He was always laughed that he got to get paid for playing games! Yet his contributions go far beyond calling Square Dances. He was heavily involved in the Rural Young People program; wrote the first national 4-H leadership development plan; helped create Hawkeye Recretory; was heavily involved in Heifer Project International; and was often referred to as the "Mayor of Friendship Haven"!
Their 3 children, Gayle, Beth and Mike, plus spouses, grandchildren, great grandchildren and one great, great grandchild are joined by hundreds of friends around the world in honoring their work and their memory by keeping the values and faith that sustained them alive and well.
The family of Glen and Marj Thompson want to fully acknowledge not only the legacy that the left behind, but also want to express their deepest gratitude to Friendship Haven. Friendship Haven as an organization provided a safe and compassionate place for Glen and Marj to live out their final years. That could only have happened because of the wonderful, loving, compassionate staff that made it all possible. The nursing staff, aides and administration were so wonderful, but we cannot forget the kitchen staff, the grounds crews, the maintenance and laundry staff, the volunteers at the front desk or in the gift shop. Glen and Marj knew them all by name. When they were able to walk around the grounds, it took them forever, because they would stop and visit with each person they met. Each staff person knew them by name. The words THANK YOU cannot fully express our love and appreciation for Friendship Haven and all who work and serve there.
Finally, I suspect that the following scenario might well have happened: On April 1, when Glen reached the Pearly Gates, St. Peter welcomed him with open arms and opened the gates wide. Marj was waiting for him, giving him a big hug, but also wondering why he took so long! Glen just grinned and rolled his eyes! Then she said, "Come on, I've picked out the perfect mansion for us. It is near my favorite hair salon and a wonderful golf course! To which Glen's response was, "Whatever!"
May they rest in peace! AMEN