In This Article
Tihar festival honors Hindu gods with days of dancing, family feasts and animal worship.
It's also the moment toward which Nepal's rural farmers have been working all year long.
This time of year across Nepal, as the high altitude air turns crisp and the days short, the country swells with the sights, sounds and smells of celebration.
Thousands of lanterns perched on doorsteps and windowsills set the dark blanket of night ablaze. Firecrackers whistle and burst as revelers sing in the streets below. And Nepal's rural farmers walk their animals to market so families can share gifts and quality time over platters of food by candle flame.
It's festival season in Nepal, and this is Tihar.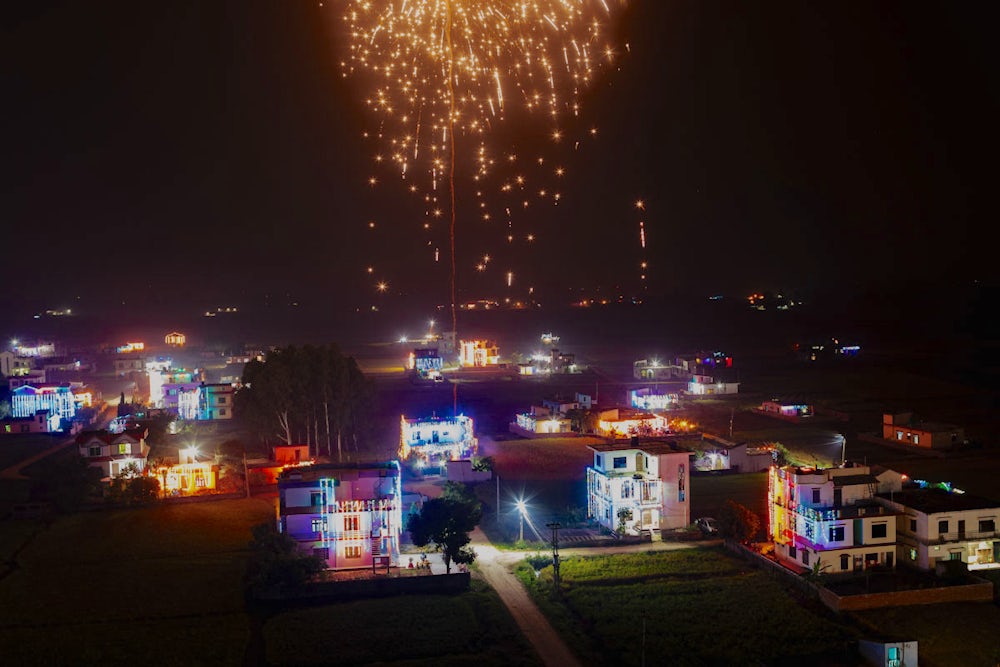 Known as Diwali in neighboring India, Tihar is a celebration honoring gods in Hindu mythology with days of dancing, feasts and animal worship. During the holiday — which begins Nov. 3 this year — houses are draped in string lights and intricate mandalas are crafted on streets using colored rice flour.
"For every kid growing up in Nepal and India, Tihar and Diwali is the season of firecrackers," said Regeena Regmi, a communications officer for Heifer Nepal who's celebrated Tihar every year for as long as she can remember. "It was the time of year that meant sneaking around to set them off."
Each day of the festival holds a different significance. The first day honors crows, which are believed to be messengers of Yama, the Hindu god of death and justice. Offerings of seeds and grains are thought to ward off grief and loss in the year ahead.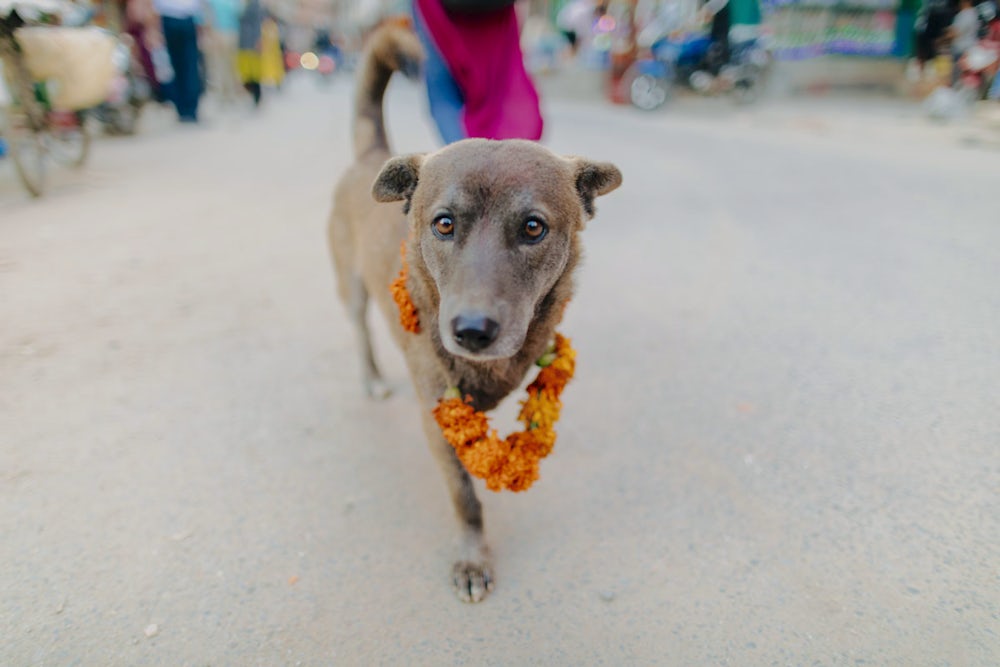 The second day is devoted to dogs, which have connections to several Hindu gods and are cherished for their loyalty, protection and companionship. Marigold garlands, so bright they almost glow, are placed around the furry necks of pet and street canines alike, and they are blessed with food and tikas, red dots placed on foreheads signifying purity of devotion.
The third and fourth days honor the cow and the ox, respectively. The cow is a sacred animal in Hinduism, revered as the incarnation of goddess Lakshmi, the deity of prosperity and wealth. It and the ox are worshipped for their uses in agriculture — the ox for its manual labor and the cow for its docile temperament, milk and fertilizer, especially important as almost 70% of Nepal's population earn their living from agriculture.
The fifth and final day celebrates the bond between brothers and sisters. "On this day a brother and sister would put tika on each other's foreheads and pray for each other's long life and good health," Regmi said.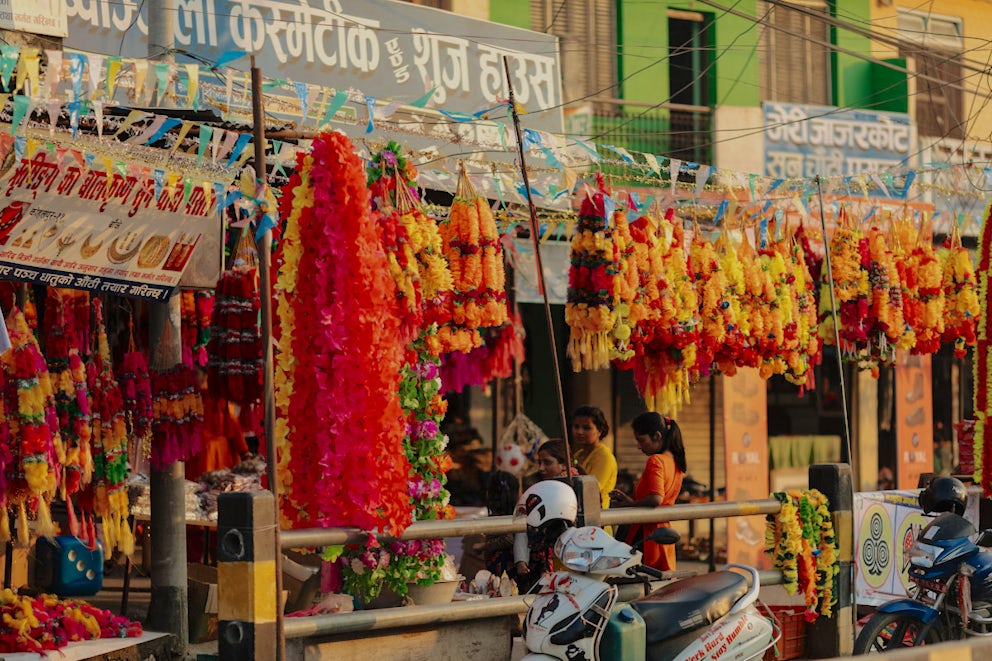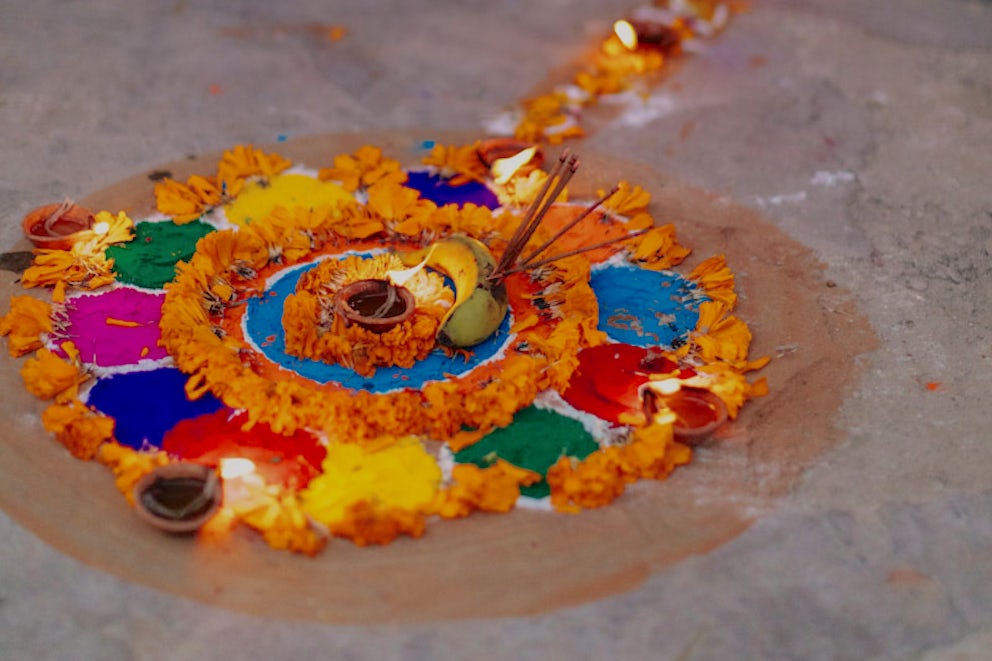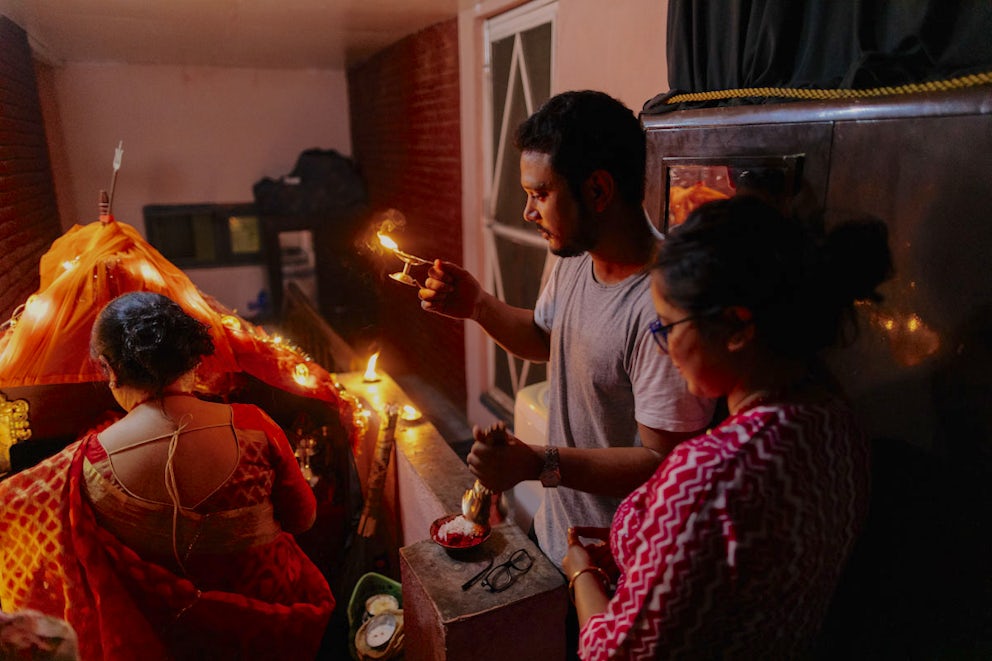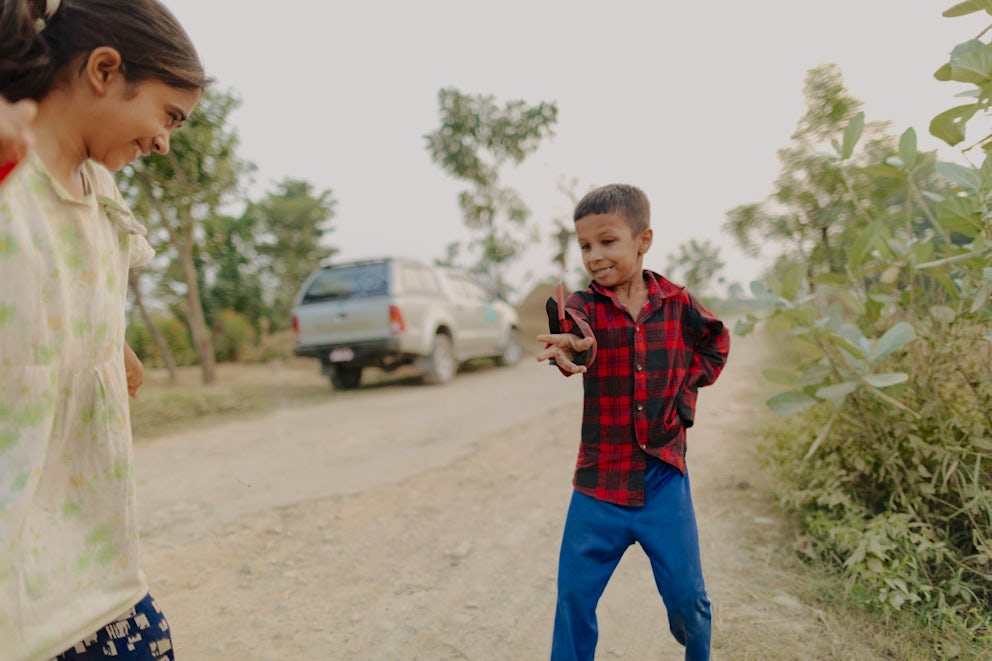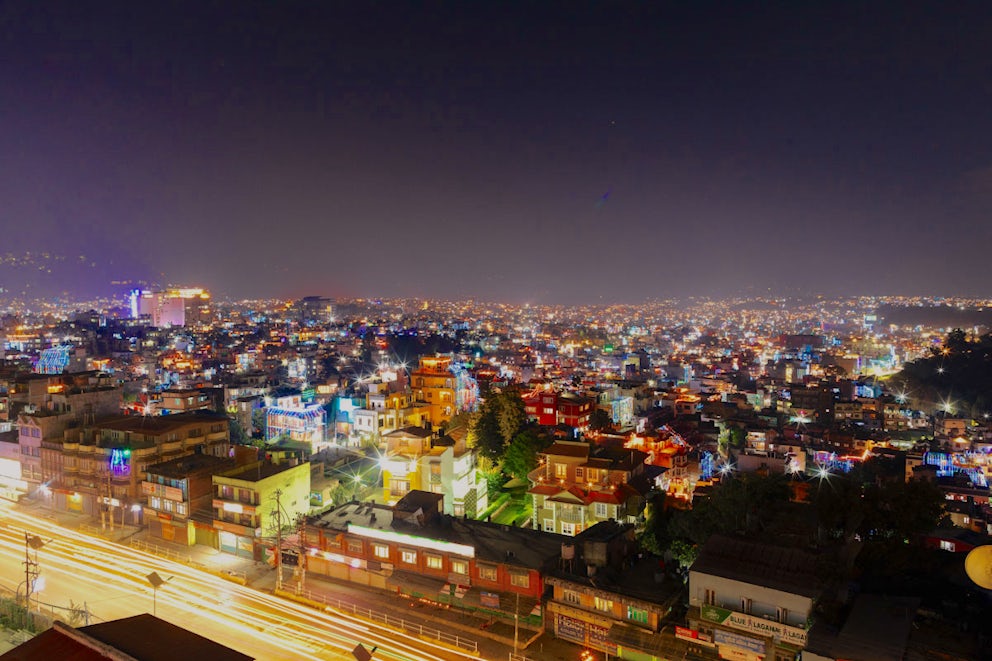 But this festival isn't just a time of reverence and reflection. For many smallholder farmers in Nepal, it's the moment toward which they have been toiling the entire year: Many goat farmers earn up to half of their annual income during the monthlong festival period, which includes Tihar.
"In Nepal, it's like a hidden agreement that if you go over to someone's house, you expect good food," Regmi said, "and goat meat is an important part of that."
Heifer Nepal supports rural goat farmers to help them earn a living income — the amount of money needed to lift themselves out of poverty and lead a dignified life — and connecting them with buyers during the festival period is key to this work.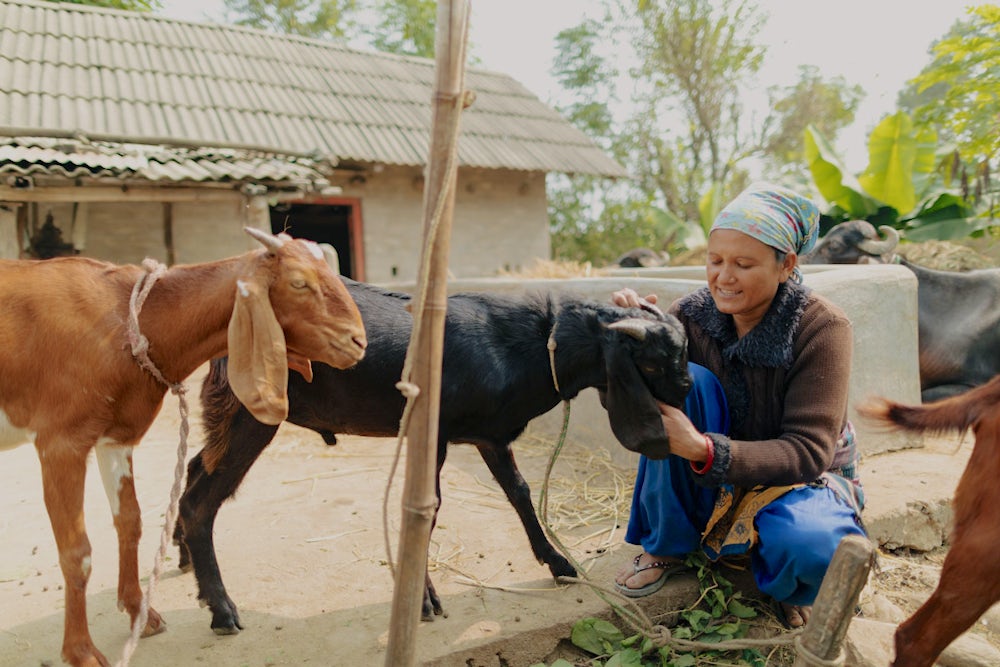 After a dip in demand in 2020, Heifer projects its farmers will earn a staggering $20 million this festival season from bringing their goats to market, according to Mahendra Lohani, senior vice president for Heifer's Asia programs.
"The wealth flowing to the rural communities is creating all kinds of economic development," Lohani said. "And it has a snowball effect. There really is a movement going on."
While Tihar is a reminder to give thanks and embrace hope in the year ahead, this movement — toward a future where Nepal's farmers earn enough to keep themselves and their loved ones fed, healthy and safe — is another thing worth celebrating.