In This Article
Sales-based subsidies help small-scale farmers in Nepal grow their agribusinesses and earn a living income.
More money at the point of sale incentivizes production, improves food security and makes farmers more competitive.
Heifer Nepal is connecting municipalities with farmer cooperatives to boost farmer income using this model.
So far, 24 municipalities have disbursed $270,000 in grants to mostly livestock farmers — and that number is growing.
In the shadow of the Himalayan peaks, Nepal's southern plains are regularly flushed with fertile sediment from a winding river system, rendering the region especially favorable for farming. In fact, agricultural jobs provide livelihoods for 68% of Nepal's population and account for almost 35% of its gross domestic product.
But despite the sizable portion of Nepalis working the land and rearing livestock, limited production and food insecurity persist as major problems for small-scale farmers.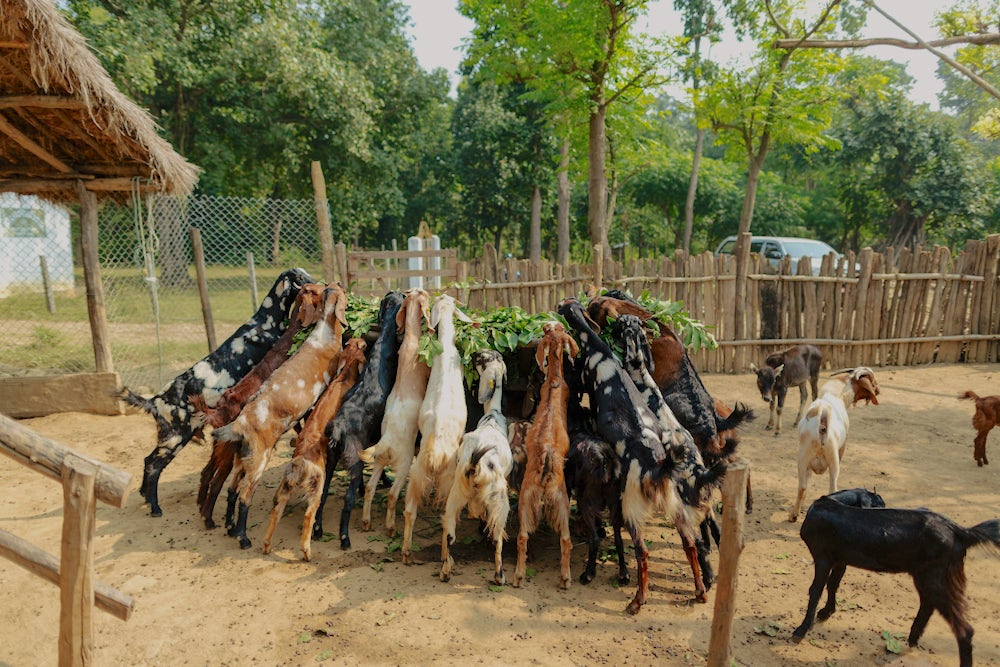 A sales-based subsidy program facilitated by Heifer Nepal is proving successful in tackling the issues that stifle growth for agri-entrepreneurs — and it's scaling quick. Cooperatives are partnering with local governments for assistance awarding grants to farmers based on their sales figures.
Investing Now for Future Growth
The funds, unlocked through Heifer's investment, provide opportunities for farmers across Nepal to grow their agribusinesses. Additional capital at the point of sale allows smallholder farmers to expand production and become more competitive in the marketplace. The subsidies boost self-sufficiency, encourage formal record-keeping and further motivate residents to take up agri-entrepreneurship as a respectable career.
"As an agricultural country, the government has always had a priority of helping farmers improve their agricultural production," said Neena Joshi, director of programs for Heifer Nepal. But public subsidies in the past often struggled to reach vulnerable farmers, the process hampered by poor record-keeping and other challenges.
"This was a new approach and it offers local municipalities an opportunity," Joshi said, "that this could be a good way to actually reach the farmers." To date, Heifer Nepal has collaborated with 24 municipalities to disburse more than 20 million rupees, or $273,000, to mostly livestock farmers through 50 farmer-owned agribusinesses.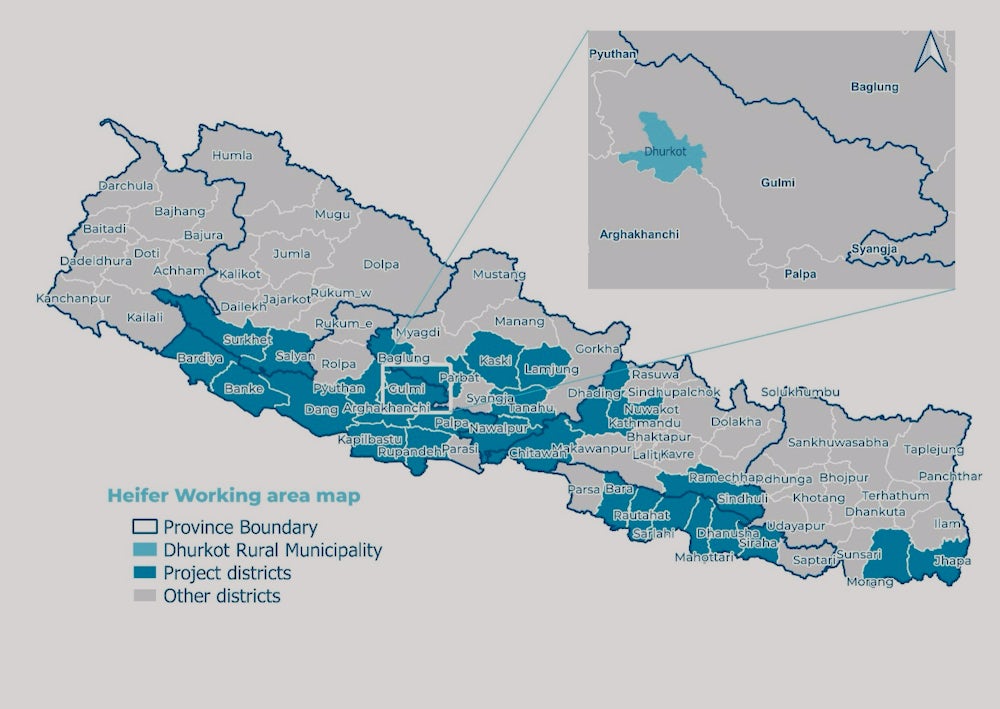 Collective Action Means Collective Benefits
The model is simple: Heifer Nepal collaborates with local municipal leaders to manage the grants through cooperatives, mostly women-led. Once small-scale farmers join the co-ops, they are trained in diligent record-keeping of their animals and sales to improve their accounting as well as make them eligible for the public subsidy. After an auditing process, each farmer's work is remunerated through their co-op — a process which benefits them independently and collectively.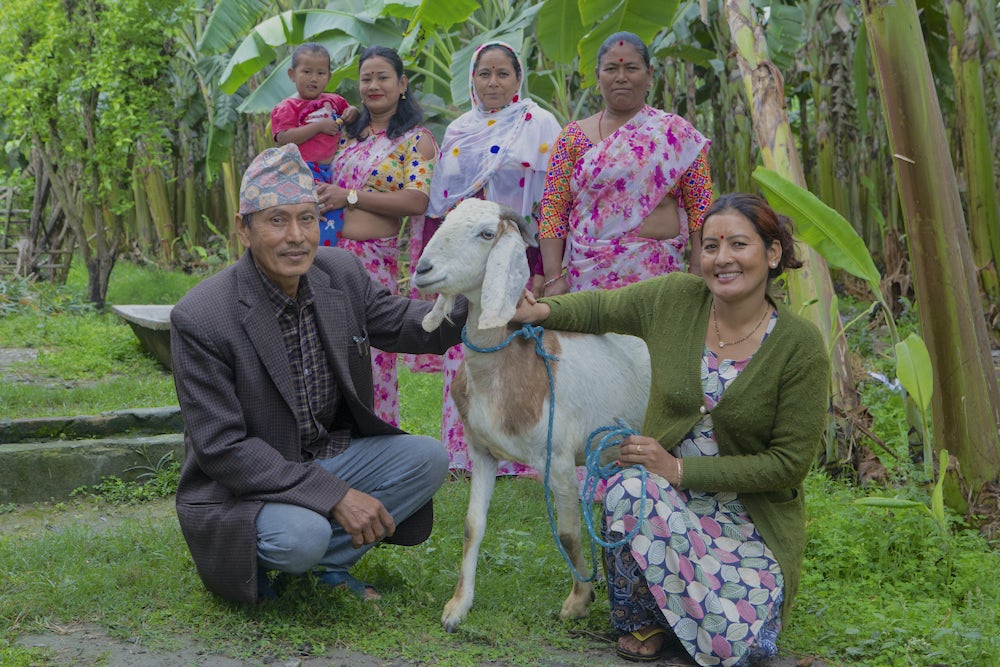 "This scheme relies on quality and on quantity," said Bhupal Pokharel, chief of Dhurkot Rural Municipality. "The production of goats has increased, and the farmers have scaled up their enterprises." Pokharel and his team partnered with Heifer Nepal to initiate subsidies for goat meat, dairy, vegetables and honey to bolster his community's agricultural economy.
Many of the small-scale livestock farmers rear goats, an animal rich in quality nutrients and vital to the livelihood of many resource-poor producers in Nepal. According to a recent Heifer paper, The Importance of Goats in the World, the smallholder goat value chain "works well with a focus on improved goat production, increasing business and entrepreneur skills and organizing communities for strong social capital." Goat value chain focused development led to an increase in the average goat productivity by 42% in Heifer Nepal project areas in four years.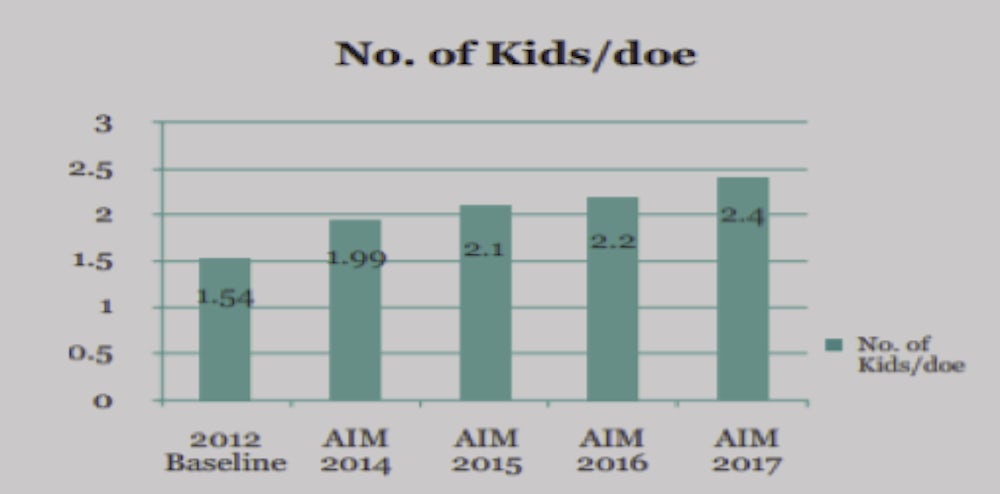 Incentivizing greater production is just one of the subsidy initiative's benefits; getting money into the hands of those who need it most is another. Smallholder farmers in rural Nepal often struggle to earn a living income, or the amount of money each person in a household needs per day to live a dignified life. In Nepal's hilly region, the living income is $2.08, and in Terai, the lowland, it's $1.90.
Through the Pandemic and Beyond
And as Nepal grapples with a second surge in coronavirus cases and a lockdown in Kathmandu and surrounding regions, family savings are critical to purchase food, afford health care and more. Leveraging the networks and relationships strengthened through its programs, Heifer International recently approved a COVID-19 relief fund of $13,000 to support Dhurkot Rural Municipality in procuring medical equipment and serving community members.
"Goats generate income and savings, especially for women, enhancing their capacity to cope with economic emergencies," write Dilip Bhandari, Heifer's director of program & livestock technology, and Mahendra Lohani, Heifer's senior vice president of programs, in a joint paper. Amid the pandemic and beyond, lacking funds for basic needs has far-reaching effects for farmers and their families. Heifer research found a clear association between diet quality over time and better development in rural Nepali children. Access to nutritious foods is near impossible without adequate financial means — a deficit this initiative aims to address.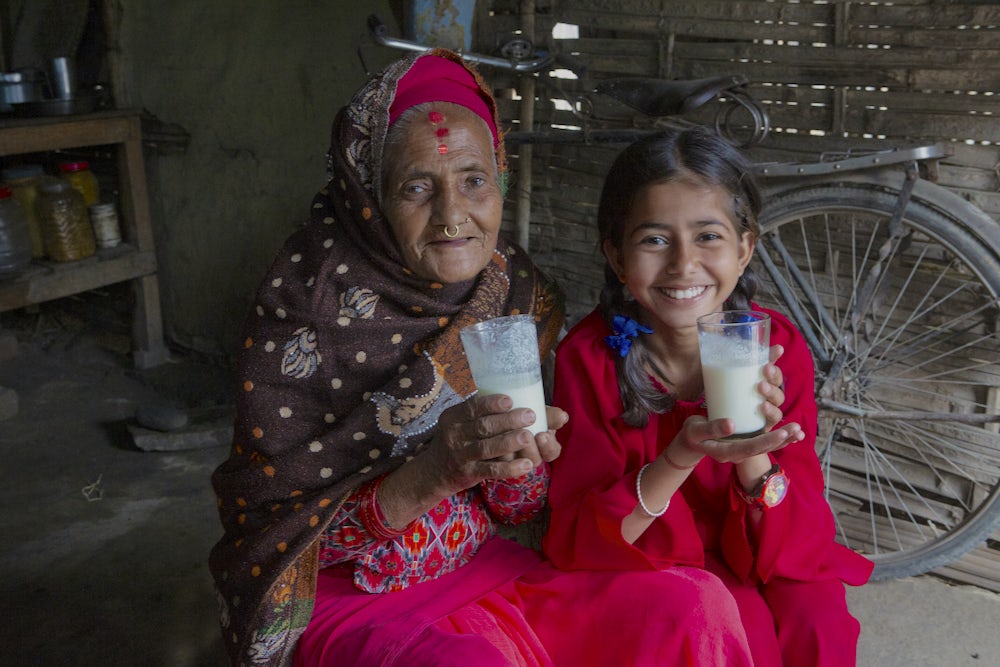 "Much ease has been brought to us by the cooperative and the grants have been a great motivating factor for our work," said farmer Karuna Kunwar, who began her goat business three years ago, with just five goats to her name. This year, she earned $5,800 solely through her goat sales thanks to the grants. This income will greatly improve her and her family's quality of life.
And the future looks promising: Heifer Nepal is currently working with more than 30 municipalities to expand the model, and the Nepali government has set aside $7.5 million for future investment in 25 municipalities.
"As the results become more visible to wider areas, there's a lot of potential that this could be adopted by other municipalities as well as provincial governments," Joshi said. "Our pilot has the potential to benefit way more farmers than we have on record right now."