In This Article
A group of women in rural Nepal are transforming the community where they live.
Previously, the area suffered from poverty, gender injustice, a lack of sanitation and illiteracy.
Now, with the help of training and goats from Heifer Nepal, the women and their families are thriving.
Nestled in the mountains of Western Nepal, Thaprek is a resource-rich community that is also plagued with illiteracy, poverty, gender injustice and a lack of sanitation. But it's also home to the bold women of Ratanpur, a self-help group started in conjunction with Heifer Nepal, and those women have transformed the face of their community in less than five years.
Thaprek has traditionally suffered from poor sanitation and hygiene. The women of Ratanpur credit Heifer training as the motivation for them uniting and creating a lasting change, not only in the appearance but also the attitude of each community member. Once limited to household duties, the women now participate in social events, plan together and learn to earn.
"I can make my choices and fulfill my needs without asking anyone else now, which I never hoped for." Til Maya Gurung, farmer
Engaged in their subsistence farms, the farmers never sold what they produced but often gifted it to the neighbors. They had no investment, no options, no savings and didn't dare to dream big. They depended on men and parents with pensions for even a meager amount of money. In this dire situation, the women struggled to feed their children, educate them or pay for decent health services. Festivities were never possible without loans from landowners or neighbors. Men from most families had gone to cities or abroad for work to earn income, which increasingly aggravated family life. Some women shared how they tried to move to the city to educate their children, but money sent from abroad was never sufficient to pay fees or buy food.
Today, those circumstances have changed for the good. In 2015, Heifer Nepal proposed goat farming as a business opportunity for the women of Ratanpur. While not many were engaged in goat rearing — and those who explored it as an opportunity to make some income were adopting traditional and inefficient practices — Heifer knew that with training the women would be successful. When Heifer began gifting goats to women in the community, many took up the profession, thinking that might be the change they needed.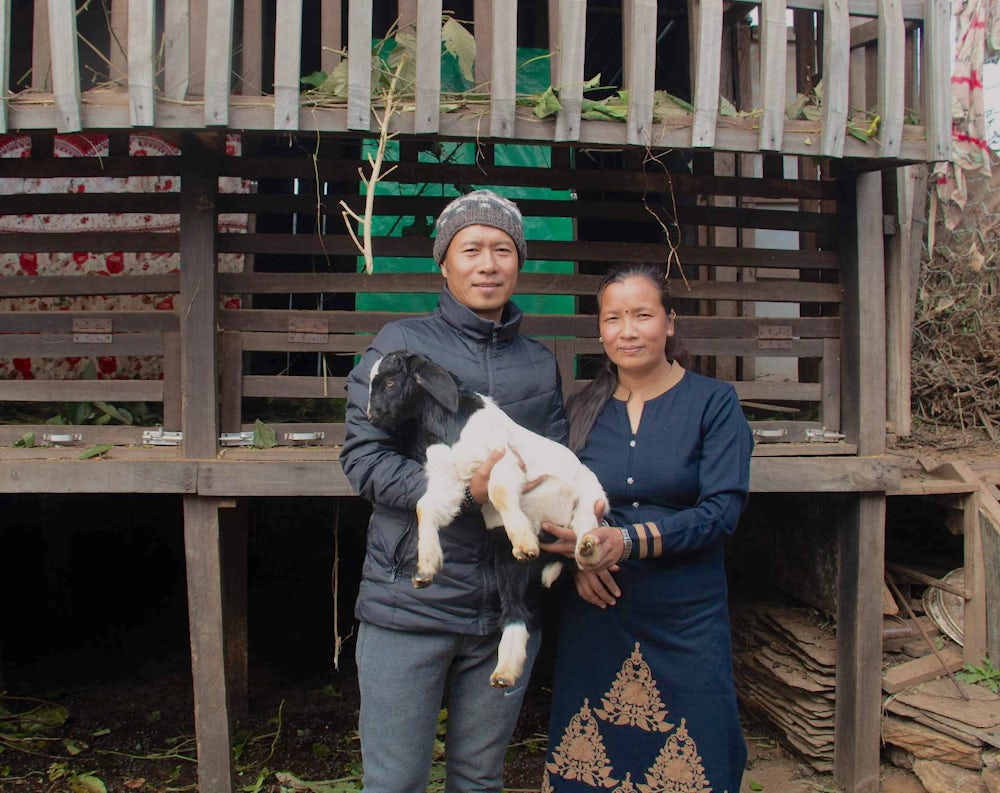 Mamita Gurung, 36, moved to the community after marrying the love of her life. Soon after, she began to realize the extent of the lack of access to sanitation, poverty, caste discrimination and gender inequalities in the area. With her husband headed to the Gulf nations to seek a decent chance at employment, Gurung joined the self-help group and began her journey with hopes for positive change. Mamita Gurung recalls the days when the economic condition of the community was so fragile that they would beg to make ends meet. With Heifer's trainings, Mamita Gurung and the other group members ran a campaign to building improved livestock sheds. All the sheds were built through parma, a traditional practice where everyone helps everyone else, turn by turn, with each project.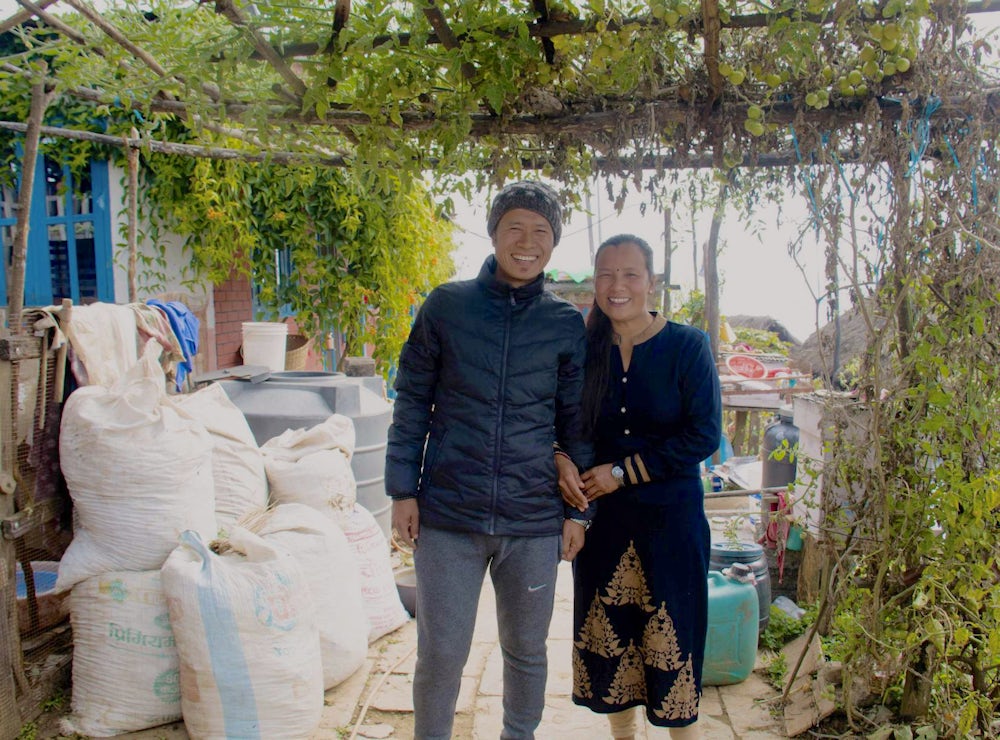 Mamita Gurung received two goats as a gift from Heifer and was provided with seeds and saplings for fodder and forage, which proved pivotal in providing for the nutritional needs of her animals and reducing the cost of production. Animal well-being practices, previously unheard of, also started taking hold in the community.
A first-time goat farmer filled with spirit and vigor, Mamita Gurung and her husband improved their sheds and increased their flock size to around 35. Gurung said, "I finally have money in my hands; [previously] I had no hope to make my own earnings."
The couple say that the village's transformation is exceptional. The status of women has increased dramatically. Now men do not hesitate to cook or do household chores so the women can leave the house to participants in social activities. Mamita Gurung and her husband are convinced that selling goats can fulfill their needs all year and hope to increase their flock size and earn more income from their enterprise.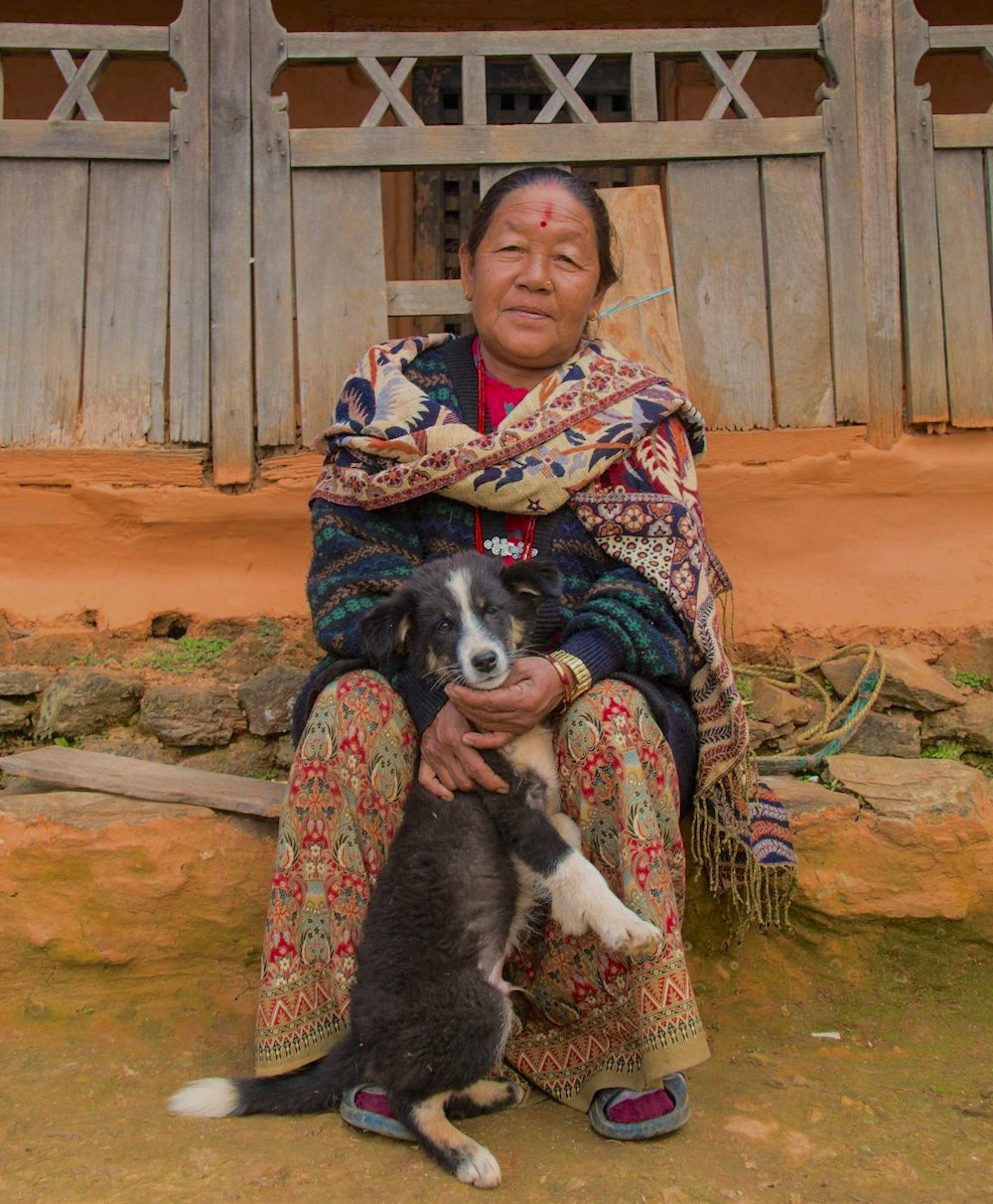 Til Maya Gurung felt helpless when her husband abandoned her with their three sons. With her parents' support, she was able to raise them, working long hours in the fields to support her children. She struggled for years, never imagining she might one day have her own choices and dreams. But now things have changed. Til Maya Gurung is a happier thanks to her goat farm. She is generating her own income and making her own choices. "I wish someone had told us about goats as an income source earlier," Til Maya Gurung said. "Many things would have changed. I no longer have to ask for money [because] goats help me earn enough for myself. I can make my choices and fulfill my needs without asking anyone else now, which I never hoped for."
Sunsari Gurung is from the same community. "We didn't even have the means to eat fresh vegetables, now not only do we eat fresh veggies throughout the year, we also make a decent income from them. I plant chiles, potatoes, maize, tomatoes, cauliflower, coriander and so on," she said. "The moment we changed our habits and started selling our extra produce, we realized that a viable income could be made from it. I have also sent my kids to the city to get a good education and have been saving in the nearby bank."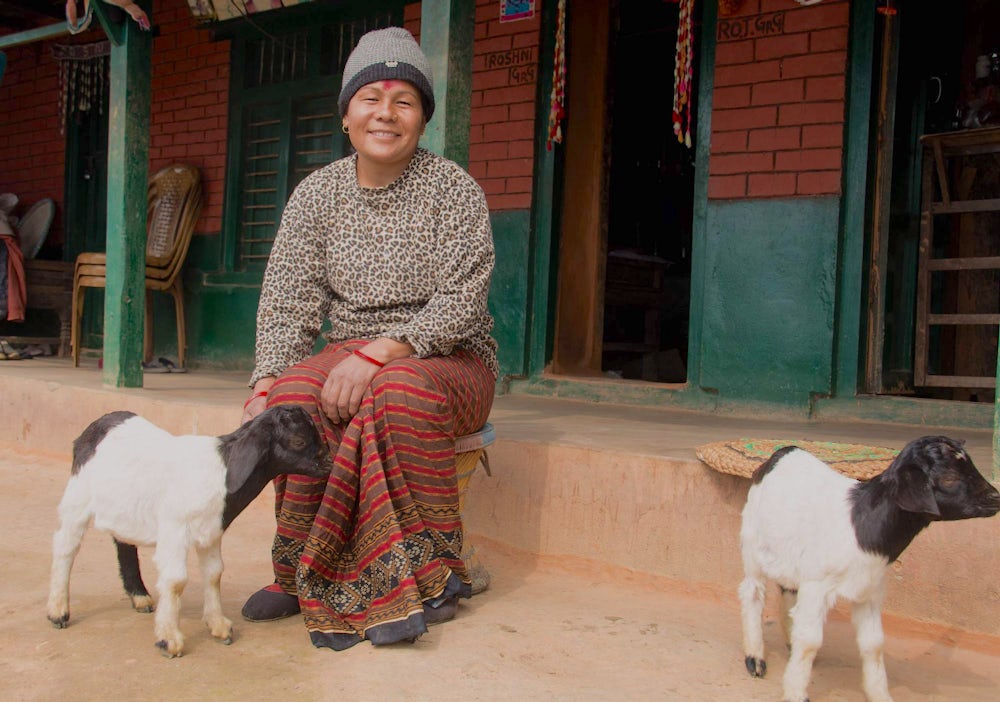 Sunsari Gurung's husband used to leave Nepal to earn money as a migrant worker. She recalled the days when she received just 5,000 rupees, or about $44, to sustain the household for three months. Now, she said, "I am so happy I don't have to lower my esteem and ask [for] money from people anymore. I am so happy that my knowledge has increased. I can invest in my child's education and family's health with my earnings and save some for future too."
Saraswoti Gurung felt similar economic constraints. With no income of her own, she was living on her mother-in-law's pension and the meager money that her husband sent from Malaysia. She felt helpless when she had to ask for money. After joining Heifer's program, she now spends her time tending to her goats and growing vegetables. She said, "I am pretty sure I earn more than my husband does in Malaysia, and he is proud of me, too. With the income I make, I take care of the household and also pay for the education and health of my children."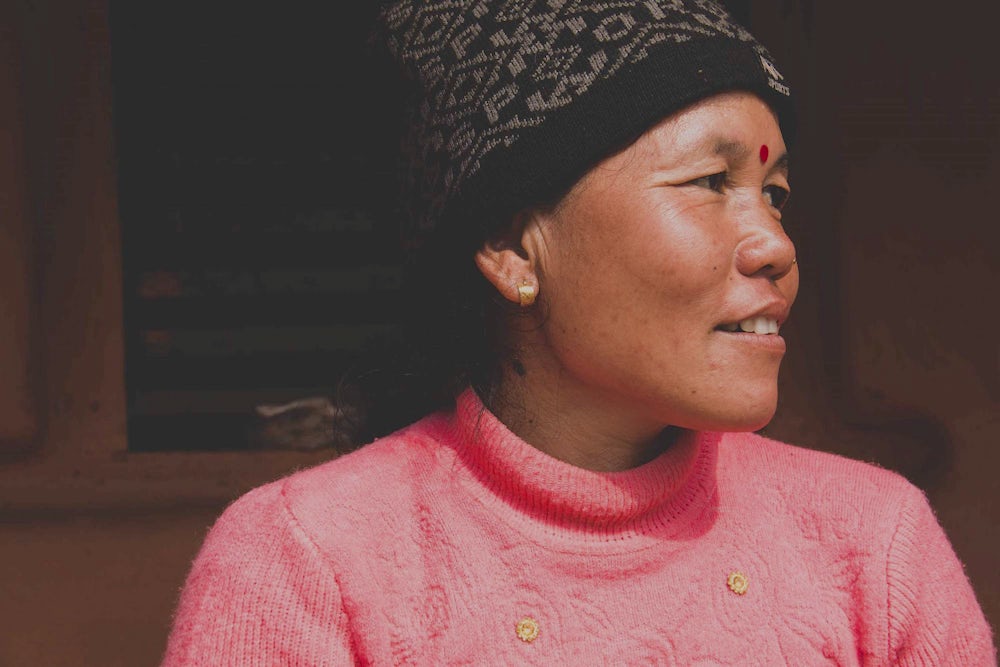 As the women have taken on leadership roles, there has been an exponential change in the community. Women are investing in education, health, nutrition and animal well-being. Social stigmas associated to gender, caste and ethnic groups have decreased, creating a greater sense of unity in Thaprek.
Written by Regeena Regmi, associate communication officer for Heifer Nepal