In This Article
A lack of skills and resources make it difficult for Cambodia's smallholder farmers to provide for their families, let alone build promising businesses.
With support from Heifer Cambodia and her local agricultural cooperative, mother and farmer Tor Pon Louk has launched a poultry enterprise to feed her children and build a better future.
Tor Pon Louk, 34, never believed she could start a business; she could hardly feed her family.
Until recently, the mother of two provided for her children by raising a few chickens and, like many others in her farming community in central Cambodia's Kampong Chhnang province, growing rice. But she'd regularly come up short, without enough grain for the family's meals.
Food was scarce and Pon Louk also didn't have enough income to support her household's daily needs. Her children frequently fell ill due to insufficient nutrition. She didn't know how to start a better livelihood and, even if she did, she didn't have the money.
Cambodia's agriculture sector is made up largely of smallholder farmers, like Pon Louk, whose lack of finance, access to markets, and technical and business skills prevent them from thriving beyond subsistence-level production — and much of Pon Louk's community faced similar struggles.
Pon Louk's neighbors, familiar with her challenges, introduced her to a farmer's group and agricultural cooperative supported by Heifer that was offering resources to strengthen local farmers' operations. She joined soon after — and was welcomed into the fold of a supportive cooperative that could inspire her to dream of a better future for herself and her children.
Through the cooperative, Pon Louk received guidance on raising poultry for business and participated in Heifer's values training, which educates farmers on nutrition, animal management, self-reliance and other principles that support sustainable progress. After demonstrating her passion and commitment, she took a $500 loan to launch her own enterprise, which would enable her to participate in the cooperative's larger poultry operation.
With the financing, Pon Louk purchased more chickens, constructed secure housing for them using the instruction she received through the cooperative, and began selling her birds' eggs to the cooperative's hatchery, which supplies the poultry market.
"My family economic status [has] now moved up from poverty," Pon Louk said. "I have enough food to support [my] children and have enough money to save. … I really appreciated the support I gained, knowledge I learnt and income I generated, because it can support my family [in] getting us out of [the] hardship we experienced."
Her achievements don't stop at the household level. When the cooperative members noticed Pon Louk's knowledge and active involvement, they offered her an official role overseeing administrative, finance and marketing tasks for the organization. She is now a leader and an example to other farmers in her community.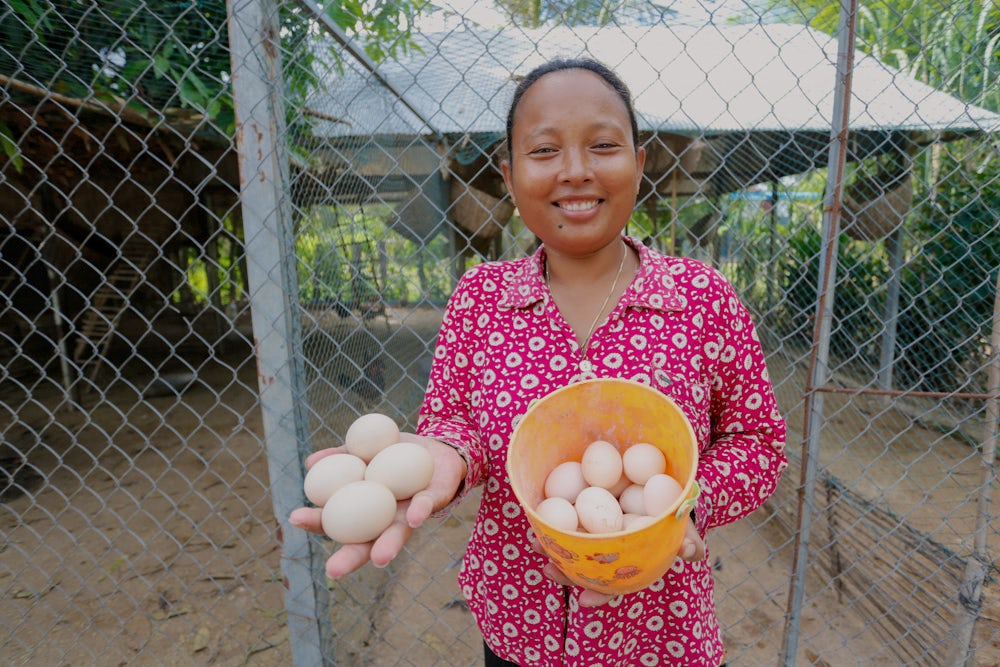 "I am open to share to other producers or coach new members if they need support," Pon Louk said. "I want to see other farmer families getting out from hardship too."
With her family secure and the encouragement she needs to transform hope into reality, Pon Louk now has a bigger vision for the future. She plans to grow her flock and double — or even quadruple — her income, and she's continuing to work with Heifer and the cooperative to commercialize her business and educate other farmers.
"I will dream for [it]," she said.