Editor's note: Following the Second World War, a group of young farmers who volunteered to accompany shipments of livestock into devastated communities in Europe, Asia and even behind the Iron Curtain. These young men and women become known as the Seagoing Cowboys. This is part two of an ongoing series. Start learning about this unique piece of history from the beginning in part one.

Like many other Seagoing Cowboys, Merle Crouse was following in the footsteps of a family member when he signed on for his overseas adventure in 1952. His father went to Poland to deliver animals when Crouse was in high school, so when he graduated from college, Crouse left the family farm in Maryland bound for Bremerhaven, Germany, to deliver 63 heifers. He was assigned to a merchant ship departing New York in November, when cold temperatures and choppy waters make for a tumultuous crossing.
Despite the "raucous" passage, Crouse retained his sense of humor.
If you like to feed dusty hay to confused cows who are sliding around on a layer of fresh manure that has greased a floor that is rocking four ways at once from 40-foot North Atlantic waves, while you are so seasick there's nothing left in your stomach to throw up and you almost wish you were dead, and you almost wish you had stayed home on the farm instead of volunteering to be completely miserable, then welcome. Welcome to the experience of being a seagoing cowboy. Retired minister Merle Crouse, to an audience at Heifer headquarters
The details he shares are so vivid: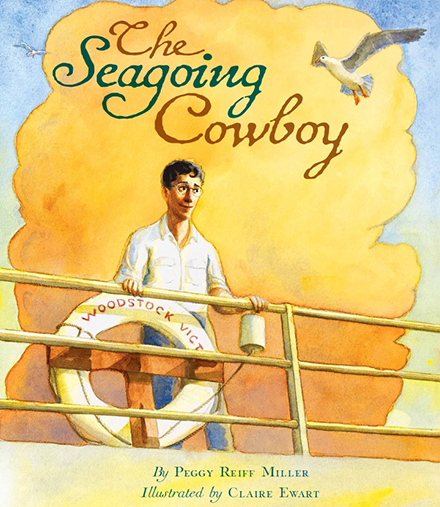 Share the story of the Seagoing Cowboys with a new generation
The story of the Seagoing Cowboys is being shared with a brand new generation in the form of a children's book released this month. This beautiful adventure book for children ages 4 to 8 tells the story of Heifer International's earliest days, when young men crossed oceans to deliver livestock to people suffering the effects of World War II. If you're in Little Rock, visit the shop at Heifer Village to pick up your copy.