Creatures both weird and wonderful call the Galápagos Islands home.
Iguanas cling to volcanic rocks as blue-footed boobies — marine birds aptly named for their sky-blue feet — ride wind gusts overhead. Like slow-moving relics from a prehistoric past, giant tortoises spend their days munching on cacti or wallowing in mud, the first having drifted to the islands on Pacific tides over 2 million years ago.
Brimming with biodiversity, this cluster of islands located 600 miles from the Ecuadorian coast has shaped human understanding of the natural world and long drawn visitors to its sandy shores. As a result, the tourism sector provides jobs for many of the islands' 30,000 residents.
But the archipelago faces a unique set of challenges producing nutritious food to nourish its people while protecting the Earth, from invasive species to an over-reliance on imported food from the mainland. Alongside the local government, Heifer Ecuador is working with farmers to build a sustainable food system for one of the most revered places on the planet.
"We have to remember that the Galápagos is a natural heritage of humanity and therefore requires agriculture commensurate with this recognition," said Rosa Rodriguez, Heifer Ecuador's country director. To combat the unpredictable climate and pests, Heifer constructed 10 greenhouses on San Cristóbal, one of the four inhabited islands.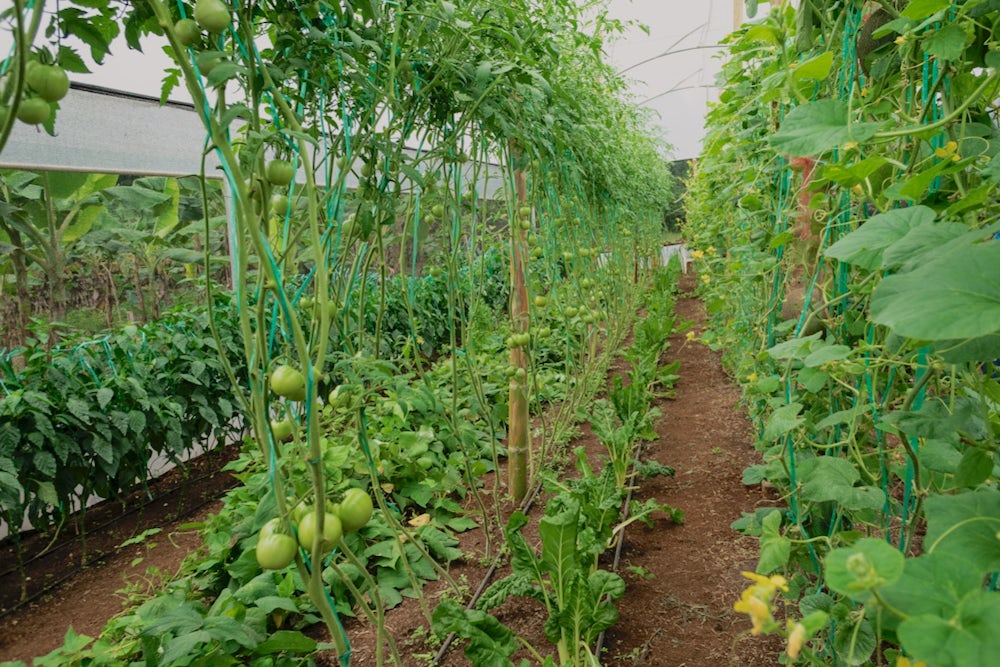 "Greenhouses have bolstered local vegetable production year-round," Rosa said. In the cooler months of May through September, these climate-controlled spaces let farmers continue to grow produce, earn an income to support their families and supply their food system.
"The greenhouses drip irrigation systems also improve water resource use in an area where fresh water is vital not only for production but for human drinking water supply," Rosa added.
For farmers like Irma Carrión Paz, who tends to 3.7 acres of land, the greenhouse is transformative. Through a minga, an Indigenous tradition of communal work, a team constructed her greenhouse in a day and a half, and Irma set to work immediately planting seeds.
"I started sowing cilantro, white onions, lettuce, peppers, basil, watermelon, chard and cucumber," she recalled. "And in just 15 days, I had already harvested the cucumber."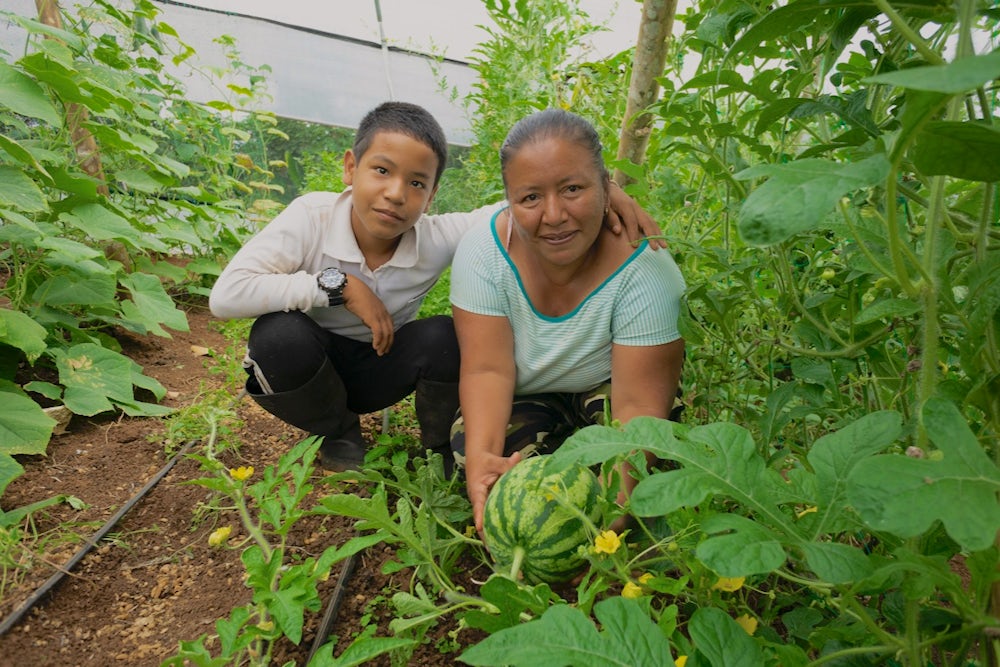 Every Saturday, Irma takes her produce to the Eating Our Local Foods fair on the lower part of the island. Established four years ago by Ecuador's Ministry of Agriculture and Livestock, the fair enables producers to participate more effectively in local value chains, selling their goods directly to consumers. Heifer Ecuador supported 38 farmers at the fair, including Irma, by providing scales, crates, coolers, tables and, when the pandemic hit, personal protective equipment.
Irma's hard work is paying off. Before the greenhouse, she used to make $200 a month selling her crops. Now, she earns double that amount.
"Until recently, I depended on my husband's work," said Irma, whose husband travels daily to work on a larger farm to supplement their household income. "Now, with this greenhouse, I have income that covers food, electricity and the phone."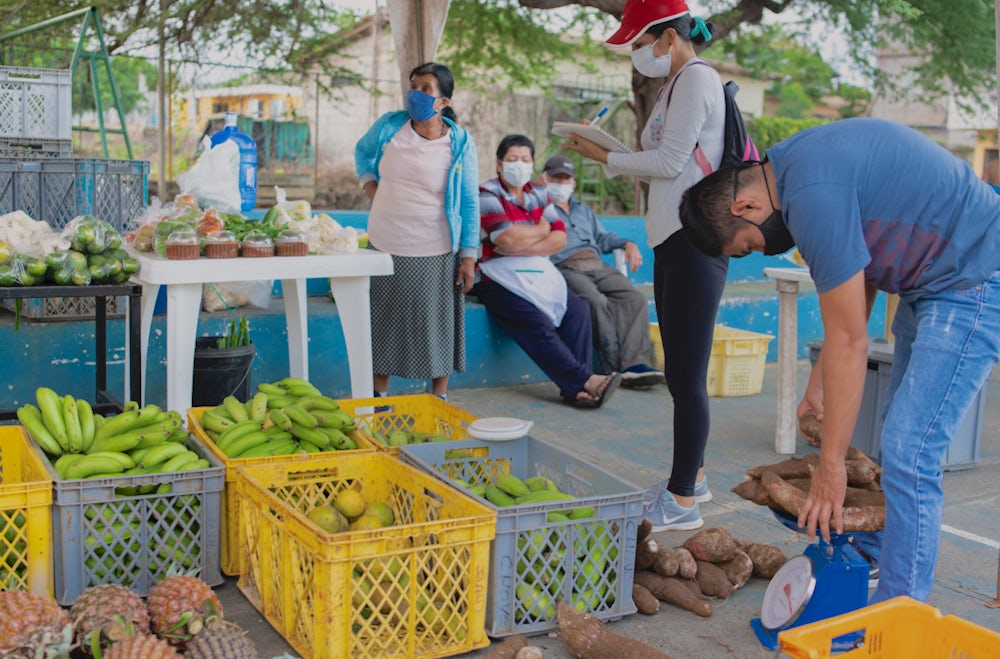 Equipping local farmers with the tools and skills to provide for themselves is especially important in the Galápagos, where food imports from mainland Ecuador constitute 75% of the islands' food supply. This sometimes weekslong journey decreases the shelf life of produce and inflates prices.
"Among other benefits, if we produce local food and consume local food, the carbon footprint is reduced," said Jimmy Alfredo Bolaños Carpio, district director of the Ministry of Agriculture and Livestock. "Ships that travel with [imported food] are also a potential risk of fuel spills."
It's not just emissions that threaten the islands' environmental well-being; pests and invasive species also hitch a lift on food imports. For producers growing melons or cucumbers, minute slender insects called "thrips" suck the fruits' juices; for those growing corn, the grey, grub-like "fall armyworms" gorge on plant matter; and "coffee borer beetles" drill holes in coffee fruits to lay their eggs.
Pests like these, and invasive species like the prolific blackberry shrub, threaten this fragile ecosystem and farmer livelihoods with outsized consequences.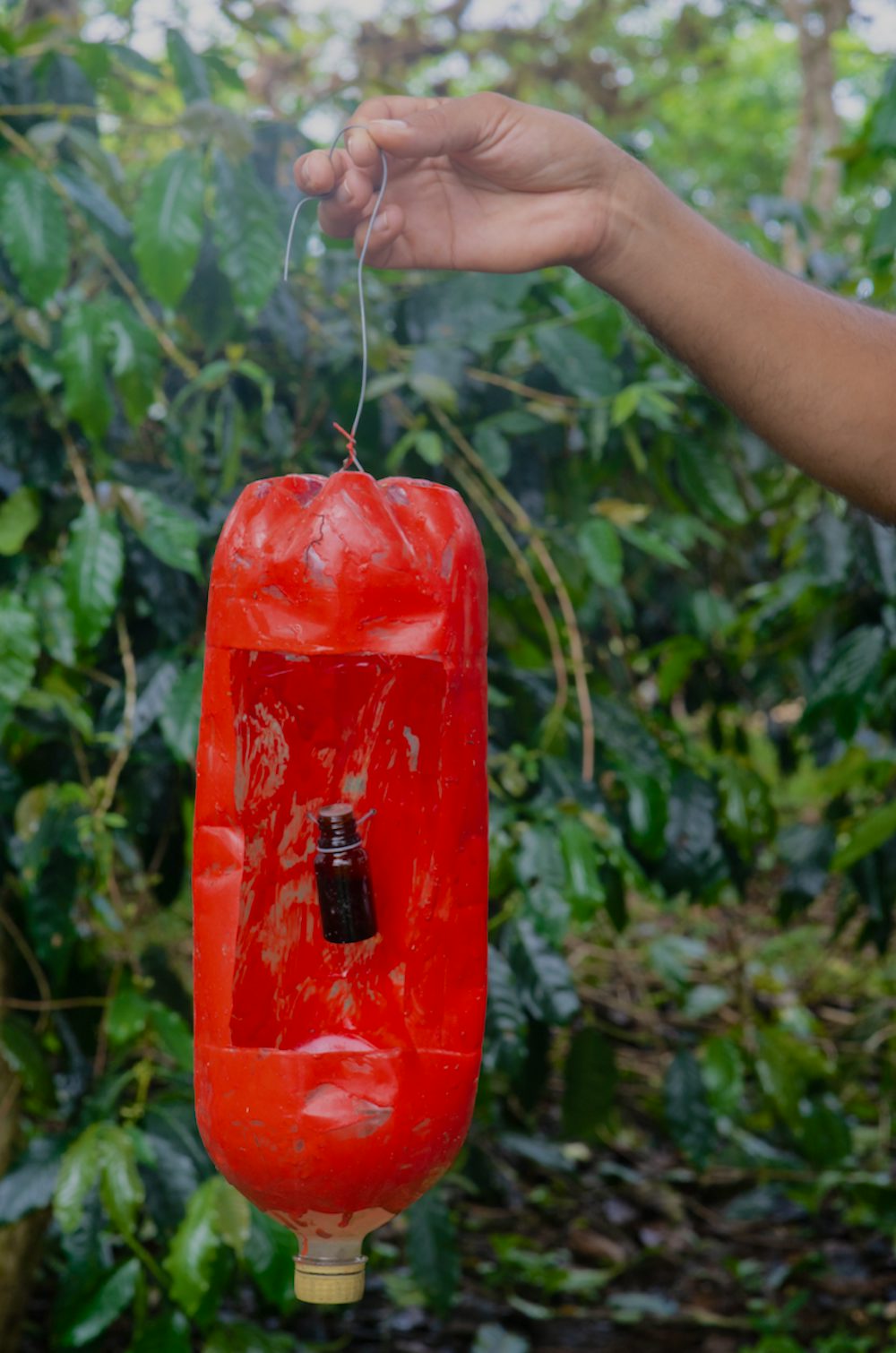 "A pineapple takes so long to grow and then a rat arrives and eats it when it is almost ready to harvest, which is terrible for the producer," said Marilyn Cruz, executive director of the local Agency for the Regulation and Control of Biosafety and Quarantine. "The rat is a species that eats everything, so an open field is a treat for them."
With a research program featuring 40 San Cristóbal crop and livestock farms, Heifer and partners are identifying the most destructive pests, evaluating and replicating the most effective traps and, from there, devising and implementing pest management plans.
Heifer Ecuador also provided farmers with 65 weed wackers to cut away plant pests, like the blackberry shrub, and 29 backpack sprayers to treat coffee groves and crops with homemade, organic fertilizer. Avoiding the use of chemical inputs and working to eliminate pests protects the planet alongside farmers' produce.
It's something Galápagos residents like coffee farmer José Vicente Yépez value deeply.
"Living in the Galápagos is a responsibility because the Galápagos isn't ours," he said. "It belongs to the world, and we have to take care of it for the world's sake."
Join us in growing a better world this Earth Day by supporting farmers who are protecting the planet.