In This Article
July 14 marks the date that Heifer sent its first shipment of cows to help impoverished communities
As soon as World War II ended, Heifer immediately began shuttling aid to war-torn countries, even Germany and Japan
As the decades have progressed, so has our work
We remain committed to our work to end hunger and poverty for good
On July 14, 1944, a shipment of 17 cattle left the port of Mobile, Alabama, bound for Puerto Rico in a campaign to help impoverished communities that would grow into Heifer International and transform the lives of millions.
As 2019 has progressed, I've been imagining what that day must have felt like for our founder, Dan West, and other Midwestern farmers as they outlined plans to donate their cows to families in need
Instead of short-term relief, Heifer would offer livestock to provide people with continuous nutrition. What must it have been like for West to see his vision of "a cow, not a cup" come to fruition?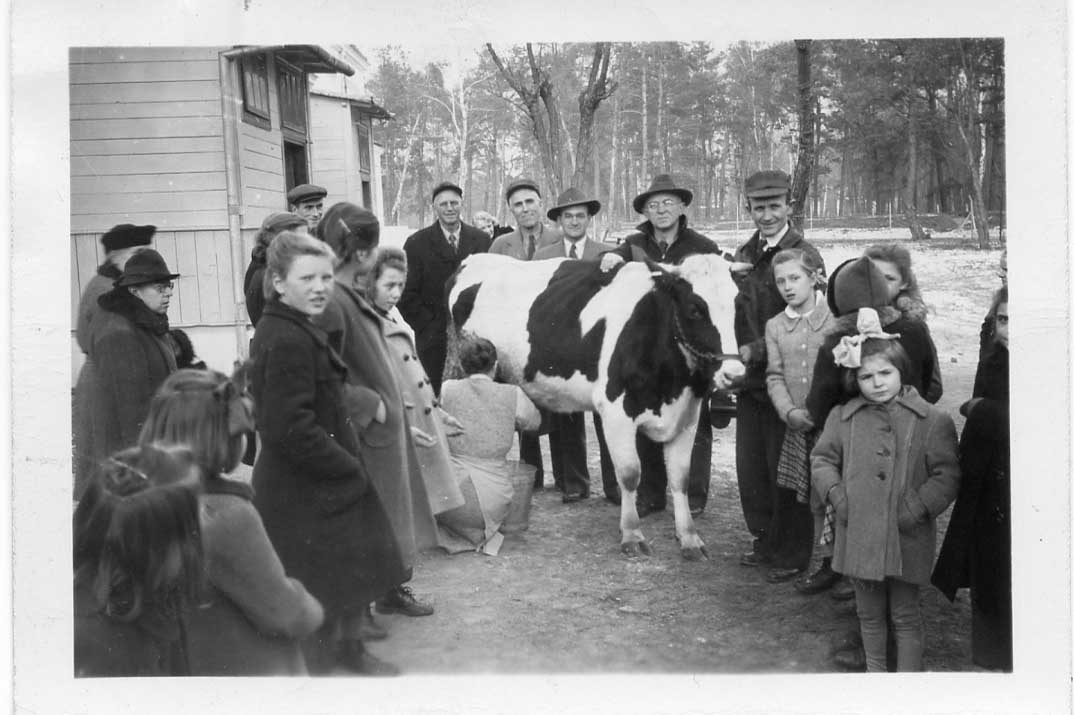 Though we have humble beginnings, it didn't take long for others to realize that West's simple idea could be incredibly effective. His initial efforts were quickly backed by the Church of the Brethren Service Committee and the United Nations Relief and Rehabilitation Administration. Soon, we were delivering livestock to people in countries decimated by World War II, including France, Germany, Poland and Japan.
As the decades progressed, so, too, did our work. Gradual shifts in our approach to feeding those in need had profound effects.
We chose to source animals locally, an approach we began in the 1960s and solidified in the '80s – at times buying livestock from past project participants. This change not only improved the longevity of the animals, but also helped boost local economies. Where we once served small communities of 25-30 at a time, we now reach thousands in the regions we work and have been doing so for the last 10 years.
In recent years, we set a refined goal within our mission to end hunger and poverty: Move small-scale farmers to a living income, meaning we're not satisfied unless the farmers in our projects earn enough to lead a dignified life. A life with nutritious food, access to resources, education, healthcare and savings for emergencies.
It's an important differentiator for Heifer, as we've long been known solely as the charity that gives animals. This shift is also important for another reason: it unites us with all those who have pledged to help achieve the United Nations' Sustainable Development Goals, specifically ending hunger and poverty by 2030.
Get a decade-by-decade look at our work
Throughout these 75 years, our constant drive has been working in partnership with project participants to equip them with the skills and connections necessary to improve their own lives and to transform their communities for decades to come. To this day, our focus remains on community transformation grounded in societal values that encourage farmers to use their collective strengths to change their futures.
It's hard to believe how much the world has changed since our inception, and consequently, how much our work has evolved. I ask myself how West was able to maintain optimism for his endeavors in the midst of global instability. I see parallels between the struggles he faced during our organization's inception and what we face now. Though West was confronted with a world war, we're battling instability in weather patterns, immigration and border crises and economic volatility. Climate change, in particular, is making life more tenuous for the world's most vulnerable — including the small-scale farmers in our programs.
I choose to remain as optimistic as West, though. His enduring legacy and our global network of enterprising, hardworking individuals committed to change, keep me hopeful. And hope springs eternal.
Our Heifer family won't stop until we achieve zero hunger and zero poverty. It's an audacious goal, but one that I feel is attainable, especially as I turn to the words of our founder: "If we can catch the imagination for heroic service, we can double our impact and learn to live together on a shrinking planet."
We're grateful to each and every one of you who has been part of our journey at any point in the last 75 years and we look forward to continuing to empower communities around the world with you by our side.