In This Article
Although it's illegal in India to marry before the age of 18, Panchu Devi was married at 17.
Like a sizable portion of girls in India, Devi lacked access to schooling and faced restrictive gendered social norms.
Connecting with a Heifer India project dramatically altered her and her family's life — in more ways than one.
Gender and justice training and a growing goat herd allowed Devi to carve a new path for herself and her daughters.
When Panchu Devi was 7 years old, her uncle decided who her husband would be. By 17, she was married and living in a two-room stone house with a slab roof and mud interiors in the Indian village of Janewa, in India's northwestern Rajasthan state.
Her story is one of many.
Though it is illegal in India for girls under the age of 18 to marry, the country accounts for one-third of global child brides, the largest number in the world according to UNICEF. And in the district of Nagaur, where Devi and her family live, 30% of girls are married as minors.
It's a troubling trend made worse by COVID-19 lockdowns, school closures and loss of livelihoods. In June and July 2020, for example, India's children's helpline "Childline" reported a 17% increase in distress calls related to early marriage of girls compared to 2019.
Alongside not earning money and the risk of domestic violence, girls married young are more likely to be out of school. This held true for Devi. Although she wanted to study, she never had the opportunity, and only one of her siblings, her younger brother, received an education.
"Everyone used to say that we should try it and I also felt I should learn how to write," said Devi, now 46, with six children of her own. "I wanted to learn how to write the names of my family members."
It was after joining a Heifer India project in 2013 that Devi finally learned to write — and to rethink, together with her family, long-held beliefs about the role of girls and women in the household and society at large.
A Path to Equality
It was her youngest daughter, Jumma, now 17, who taught Devi how to write her name. Like her mother and many girls living in Rajasthan, Jumma faced obstacles of her own when it came to education.
"At one time my father said he would not allow his daughters to study past eighth standard," explains Jumma, who is tall and bright and wears her long hair in a high ponytail. "Now I'm in tenth standard and my mother said I could stop school, but my father said I must complete my education and study further."
Like many lower- and middle-income nations, access to education in India is often cleaved along gender lines. In Rajasthan, illiteracy rates for women are among the highest in the nation, with 47% of the state's girls age 7 and above unable to read and write.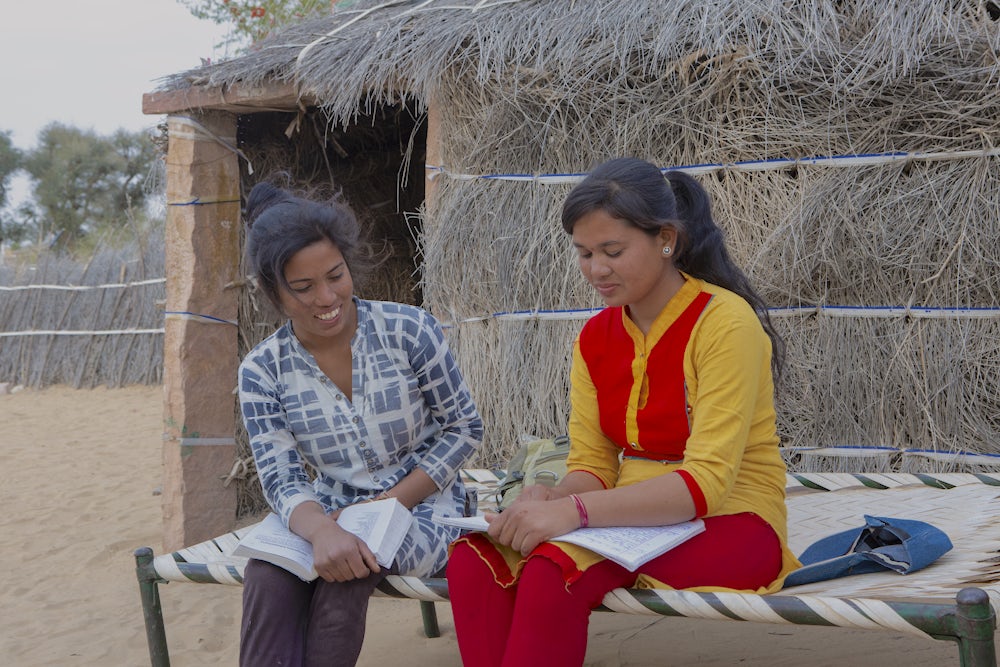 "There has been a drastic change in my life after joining Heifer," said Shrawan Ram, Jumma's father and Devi's husband, who is as open about his previous attitude as his daughter. "It is equal to the difference between day and night."
Jumma described her home life as "toxic" before her family connected with Heifer. "But once my parents started the program," she said, "they got direction and they are more in harmony now."
The project Devi and Ram participated in, which ran from 2012 to 2017, sought to empower its participants through livestock ventures, facilitating the formation of women's groups to aggregate production and improve access to markets. But it wasn't just the added income and better business practices that drastically changed the family's everyday.
"There has been a drastic change in my life after joining Heifer. It is equal to the difference between day and night." — Shrawan Ram, Heifer India participant
Devi and Ram credit their transformation to the program's gender and justice training, which works to directly address the constraints women farmers face, increase their agency and decision-making power, and challenge the sociocultural beliefs around gender roles.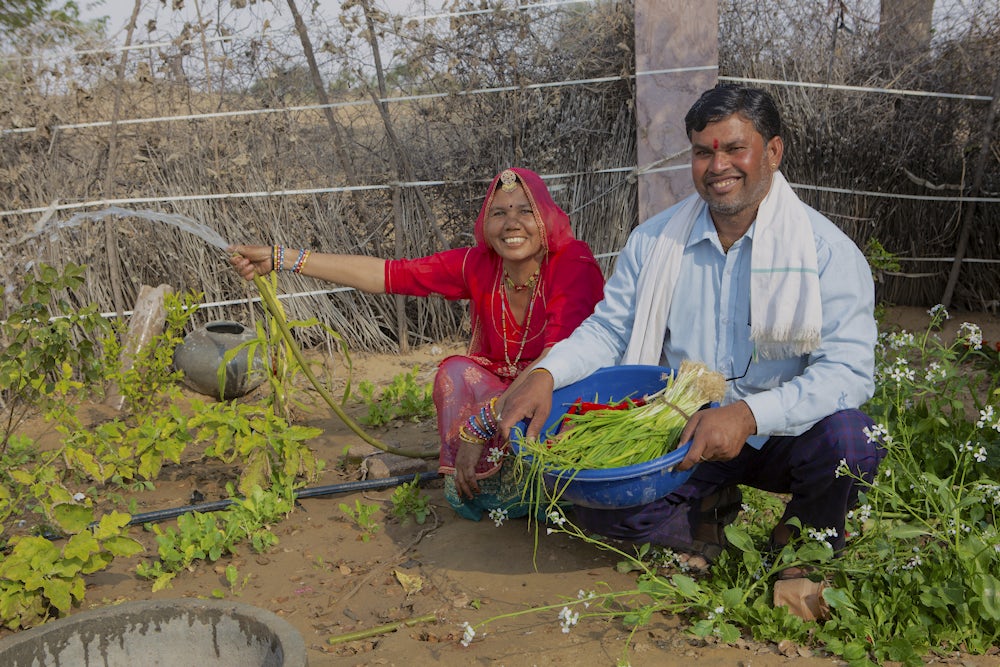 "Our trainings are participatory," said Prabaharan Rajarathinam, Heifer India's program director. "Through different role-playing scenarios, our project families challenge their existing systems and cultural beliefs, especially schooling, which is a major issue for young girls."
It's work that is urgent in Rajasthan, where crimes against women are the fourth highest in India, and in a country that stands to reap immense benefits from empowering half its population. Though female participation in the labor force fell from 26% in 2005 to 20% in 2020, encouraging girls to study and participate in the workforce could add $770 billion to India's GDP by 2025, according to McKinsey's 2018 gender parity report.
At Heifer, ensuring the involvement of boys and men — like Devi's husband — in equality efforts is central to fostering community commitment to gender issues, like equal distribution of household responsibilities and treating women with dignity and respect. It was through this training that Ram came to examine the restrictions he had long practiced, such as not allowing his wife to leave the house on her own.
"People used to question and point fingers, 'Why is she traveling?' 'Why is she going to a meeting?' and it affected me earlier," Ram said. "But then later I decided I won't listen to them and I will allow her to do whatever she wants to do."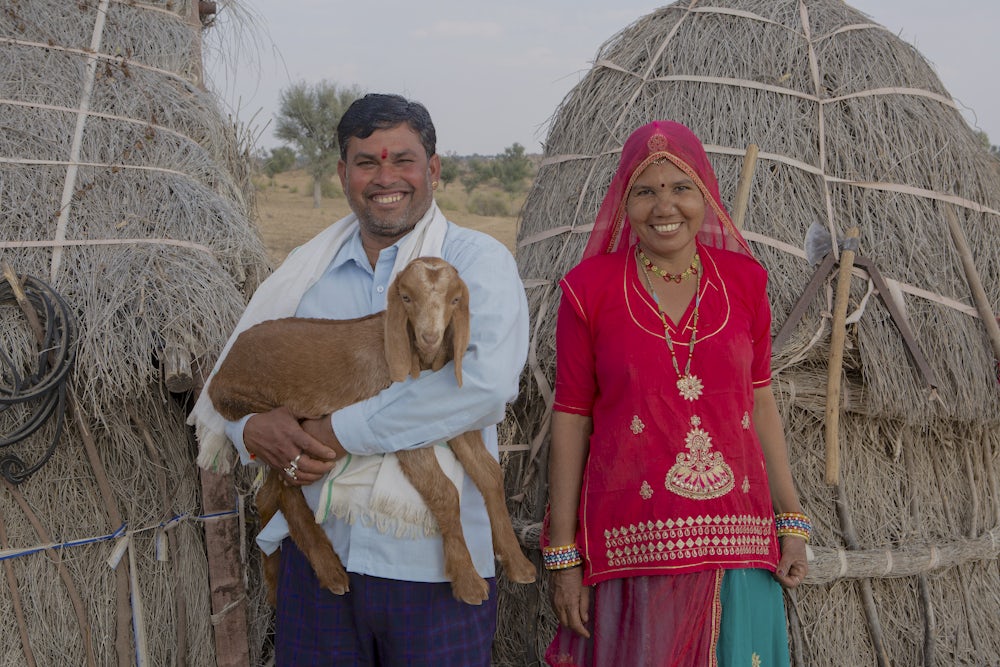 Devi explained how limited her life became after she married and moved into a home where she was not allowed to speak or show her face in front of her in-laws.
"I was not allowed to talk to strangers, I had to cover my face and go inside," she says. "Now, if someone comes, I talk with them, I interact with them, I sit with them, which was not the case earlier."
Rebutting societal expectations and shifting behavior is neither quick nor easy. But Devi and Ram have committed to the change, and their children notice the difference.
"Earlier, my father didn't listen to my mother, he used to just order: 'You should do this, not do that.' And she would obey," Jumma said. "Now they have a discussion and decide mutually."
Transforming Against the Odds
Though restrictive social attitudes impede access to education for girls like Jumma, a lack of income can be as great a barrier. Devi's family understood firsthand how a limited livelihood stood in the way of achieving their daughter's schooling dreams.
Although Jumma went to school before the family joined Heifer, there were times when her parents couldn't afford to buy her a school uniform. And though winter temperatures in Janewa dip very low, her family lacked cold weather clothes and the children would often end up sick. Jumma once fell so ill she missed three months of school.
"There were hard times in the family when my kids did not have food to eat or clothes to wear," Devi said.
Their situation is not unusual. In Rajasthan, India's largest state by area, 10 million of the state's 69 million people are poor and about 18% are born to the lowest group in the caste system, one of the world's oldest surviving social stratifications. Devi and her family, which includes her children and her mother-in-law, are ranked here.
Although they raised six goats before they began working with Heifer, their income was minimal. Everything changed when Heifer gifted Devi with two goats, both Sirohi breed, different from the local kind they owned.
Devi noticed the difference immediately. The Heifer goats had longer, shinier hair and birthed healthier kids. Introducing Sirohi stock into her goat herd not only produced animals that sold for a higher price, but they also produced more milk — enough for Devi to make ghee, a form of butter, to sell at the market and feed to her family.
"We are healthier also because we are able to buy soap and detergent," Devi said. "Earlier there was not money to buy all these things."
As for her children? Devi puts her newfound income toward their education, school uniforms and exam fees.
"There is a saying: 'If you educate a girl, you are educating two families,'" Rajarathinam said. "Because the girl can educate her immediate family, and, when she grows up and gets married, she also educates a family of her own."
Against the odds, Devi's family are breaking the cycle of illiteracy and overcoming the obstacles to ensure a hopeful future for their children — both their sons and daughters.