Editor's Note: This story was written by Zannia Romero, a volunteer for Heifer Peru
Teófilo Flores Chunga is one of thousands affected by the heavy rains, flooding and mudslides in Peru.
Flores lives in the village of Huapalas, in Piura province, and he is a Heifer farmer who raises cattle and grows a variety of crops. Since the devastations caused by El Niño, Flores has been forced to find work where he can. To pay his bills, he now drives a "mototaxi," or motorcycle taxi. Sometimes the money earned still isn't enough to cover his family's expenses.
Before the disaster, Flores farmed about 15 acres; it was a shared property among his father, his brother's family and him. There, he cultivated mangos, lemons, cacao, bananas and plums. But the Piura River overflowed, affecting half of that land. Crops decayed due to excessive water, and plant diseases have become persistent.
"Every night it rains hard, there has not been a day the rain has stopped," Flores said. He added that the roads are severely damaged, which makes him impossible to get his crops. "The plums are rotting or turning yellow because of the rains. It's supposed to be the time of production."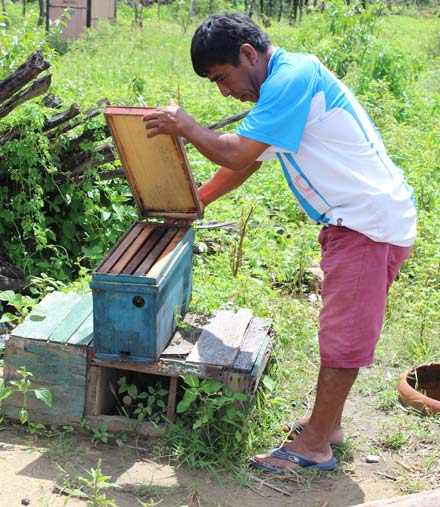 Flores' animals have not yet suffered the anthrax virus like some in the area, but he has lost five sheep and a horse. His apiaries also have been affected; no trees are blooming, which makes it impossible for the bees to get food. Among the 18 beehives he had, eight were dragged into the river.
You can help families affected by disasters by donating to our Disaster Rehabilitation Fund.
The adobe house where he was living has collapsed due to the flooding. Now, he and his wife live in their son's house. Since the city is unreachable because of the damaged roads, the price of food products has risen, and food is becoming scarce for the family.
"Sometimes have nothing to eat," Flores said. "I work where I can, and I get to eat according to what I earn and put in my pocket."
Flores said that the mayor has been helping the community, but the help has not made it to everyone. To be able to start life over, Flores said he needs food, roofing material, plywood, shovels, etc., in addition to new plants, livestock and beehives.

Heifer International works with 4,200 families in Peru. At least 1,000 Heifer families have been affected by torrential rains that triggered flooding and mudslides. The affected are in the Piura region in northwestern Peru, said country director Alfredo Garcia.
"Many of the projects involve beekeeping and livestock that have become isolated in higher areas. The flooding has created large bodies of water that are blocking the farmers from reaching their hives and animals," Garcia said. "There's going to be an immediate need for assistance in replacing animals, seeds for crops and bee hives."
Please consider making a donation to our disaster rehabilitation fund to help farmers like Flores and others affected by natural disasters.