Research Shows Hope Amid Destruction
Researchers conducting a randomized controlled trial of Heifer's Smallholders in Livestock Value Chain (SLVC) project in Nepal have shared preliminary findings that may draw hope from the destruction. Read the post detailing how the earthquake necessarily changed the research project, about the findings, as well as about the research team's future plans in Nepal.
Today marks the two-year anniversary of the Nepal earthquake that devastated communities in the hill and mountain districts, taking lives of more than 9,000 people and injuring another 22,000. While many here are recovering, Heifer Nepal has worked relentlessly towards making this a quick process. Still, the trauma and horror plague many of the affected.
Livestock remains to be a very important asset even on such small plots as it is a source of nutrition, income and as a coping mechanism for the financial losses incurred, through the sale of animals and their byproducts.
Keeping this in mind, Heifer Nepal, along with partner NGOs started the Earthquake Recovery Project, which distributed a sum of $150 per family in urgent need, in 18 out of 39 districts where we have ongoing projects.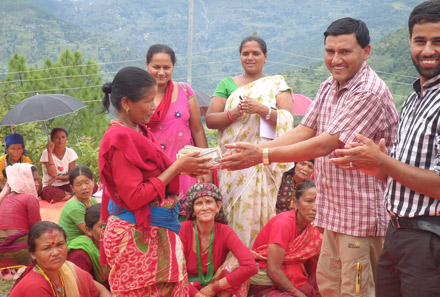 The money, disbursed through revolving loans run by self-help groups and cooperatives, was used to fulfill basic livelihood recovery needs such as housing for both livestock and families, livestock services, agriculture inputs, etc. Through this fund, Heifer Nepal supported the families to get back on their feet by rebuilding their livelihood.
For Sarita Thapa, 38, of Kabilash, Chitwan, the earthquake was just another setback in a life full of misfortune.
Abandoned by her husband after 20 years of marriage, she was just picking up the pieces when the earthquake struck and destroyed much of her house and goat shed. She is one of the recipient of Heifer Nepal's Earthquake Recovery Project. She has used her loan to repair her shed and start a small grocery shop. She expresses her gratitude and appreciation toward Heifer Nepal as a small support like that helped her climb out of the misery the earthquake brought along.
Thapa is also raising nine goats with Heifer's help, two of which she recently sold for an extra $260. After receiving training on improved goat rearing, she has also planted forage to be able to use as feed for her goats and a kitchen garden for her family's nutrition needs.
While the earthquake shook the lives of many, it was not able to shake the motivation and enthusiasm. Heifer families are better prepared and more resilient for the days yet to come.