Since 2008, our Tanzania program has focused on helping dairy farmers increase milk production. And we've seen incredible success with demand for milk rising at a rate of 7 percent per year.
Now, we are broadening that focus to create more viable and diverse markets for these farmers. With the help of our farmers, government agencies, and school districts, we've created a school milk feeding program to encourage a generation of milk-drinkers and increase the well-being and nutrition of eager students. It will also create and expand a reliable market to deliver milk to kids in need of the vitamins and minerals milk provides.
Here's how it works: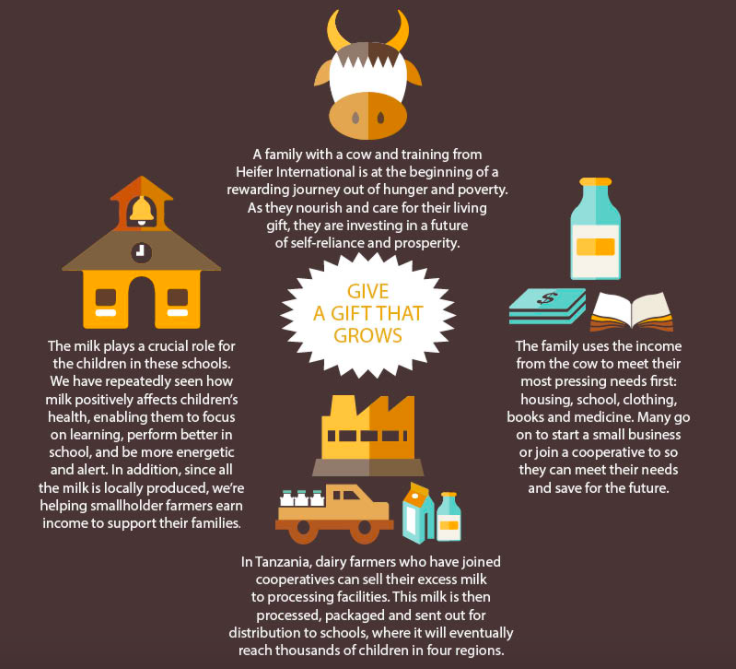 Why Milk?
Milk packs a nutritional punch that many children in Tanzania don't get elsewhere in their diets. According to the National Dairy Council, the essential nutrients in milk have numerous benefits to our health. The highlights include:
Protein as a source of energy and build healthy muscle
Calcium to build healthy bones and teeth
Vitamin D to help absorb that calcium and maintain bones
Vitamin A for a healthy immune system, vision and skin
The benefits don't end there. We know that when school milk feeding programs are given the right kind of support, children have improved growth, development and health and increased school performance and school attendance.
We also expect to see benefits to the community, including:
Parents who take over the role of educating others on the benefits of milk
Vibrant dairy value chain due to increased milk consumption
Overall economic growth, thanks to better local markets
Are you ready to promote healthy bodies and minds for kids in Tanzania by donating milk money? Donate right here.