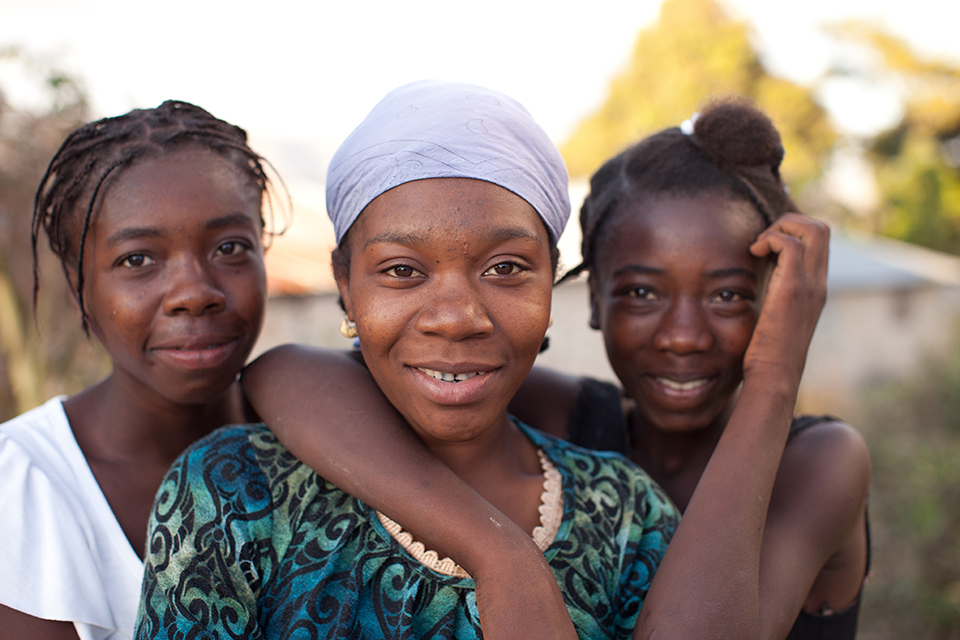 Since Heifer's work began nearly 70 years ago, women have played an integral part of everything we do. From project partners, project participants, staff, leadership—the role of women is inextricably linked to all things Heifer. Every Heifer project on the planet today has specific objectives and planning around women's empowerment and the Cornerstone of Gender and Family Focus.
For us and many other NGOs who promote sustainable solutions to ending hunger, working with women is a no-brainer. Mountains of evidence suggest, prove, and promote the fact that true transformation at every level can only occur when women, their voices, and their interests are made front and center in every discussion about ending hunger and poverty and changing the world. Heifer's Theory of Change asserts that it "…contributes to feeding the world and securing sustainable livelihoods, by enhancing the capacity of vulnerable and smallholder farmers, especially women. These accompanied by strong social capital and women's empowerment will have multiplier effects, and result in a sustainable reduction in world hunger and poverty."
That is where the power of WE comes in. Women Empowered and Women Entrepreneurs. They are the ones who will end world hunger and poverty. Women entrepreneurs always rise to the occasion, take charge, and create change. The same time-tested Heifer model and approach, utilized in every corner of the world, still yields the same result: Empowered women changing the face of their communities. We can't do it without them.
So for the month of October, Heifer will be featuring superstar women that we work with. We'll also share new partners we're working with who support women and share our belief in the power of WE.
Our first example comes from Asia where our China program has 24 years of experience in working with women.
Jibu Guoguo lives in the sleepy village of Gudu where there are very few men around. Most men are migrant workers in the construction field—leaving the women in the village to do the farm work and take care of the family. Guoguo takes care of her family, her grandchildren, her mother and her mother-in-law. Life is tough on their tiny plot of land and dilapidated, one-room house where the entire income comes from whatever her land can produce.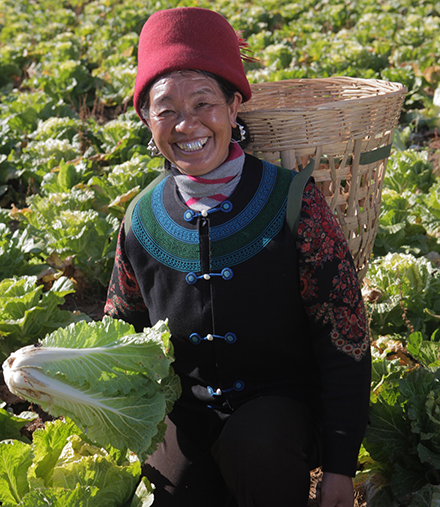 Heifer's work began in her village in 2009. Guoguo was deeply moved during her Cornerstones Training at the beginning of the project. While many villagers were hesitant to adopt some of the ideas, Guoguo had no fear. She was one of the few willing to pioneer new methods for farming and began leading and training others. Under her leadership and encouragement the village has seen major changes: biogas units have been installed so women don't have to gather firewood from the mountains anymore; training in better farming practices to increase fruit and vegetable production has led to vastly improved nutrition for the entire community, especially the children; improved pigsty design now makes them easier to clean and eliminates the chronic spread of disease; newly installed irrigation systems provide fresh water and keep the women from carrying buckets for miles on their shoulders.
Personally, Guoguo received many trainings and resources through the project: Cornerstones, Participatory Self Review and Planning, livestock rearing, small garden training, improved sanitation training. She initially received two sows and three piglets in addition to veterinary medicines, a plethora of seeds, shovels and pigsty supplies. Life improved quickly. She can now afford to send her kids to school, buy shoes and clothes, install indoor plumbing and reinvest back into the project.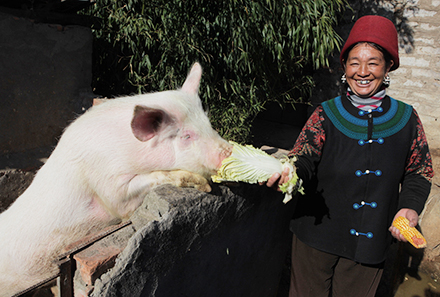 She now leads the Mu Endi Self Help Group, one of the four groups created by the Heifer project. She organizes trainings and even hosts meetings and events in her clean, improved home. Through her leadership, all the group members have participated in every Heifer training, improved their pig-raising skills and have reconstructed pigsties. After just two years, the income for every member had increased from 1,000 yuan to 6,000 yuan (about $163 to $980). Even though she is illiterate, it hasn't stopped her. Nothing can. The spark that Heifer lit has grown into a powerful flame lighting the way for the entire community.
Ask Guoguo what she thinks of all of this and what her favorite part of the project is? "Passing on the Gift!" She passionately exclaims. "Because more families can receive and their lives will be changed."
"But it wasn't my animal that changed me the most; it was the new knowledge, the self-confidence, self-esteem and the idea that I could be self-reliant. That was the real gift that Heifer gave me—the opportunity to change my life and destiny."
And that is the essence of Heifer. That is what a Woman Empowered and a Woman Entrepreneur can do for herself and all those around her. And that is how WE will end hunger and poverty.
So follow along this month to hear more about how Heifer is changing the world through the power of women, the power of WE.

Make a donation today to help promote women's empowerment.