The Garden Spot is a half-acre, organic food production plot that helps supply Boone, North Carolina's F.A.R.M. Cafe with fresh, seasonal produce.
Feeding All Regardless of Means Cafe, or F.A.R.M. for short, is named for its mission of providing those in need with a healthy meal, often in exchange for an hour of volunteer service.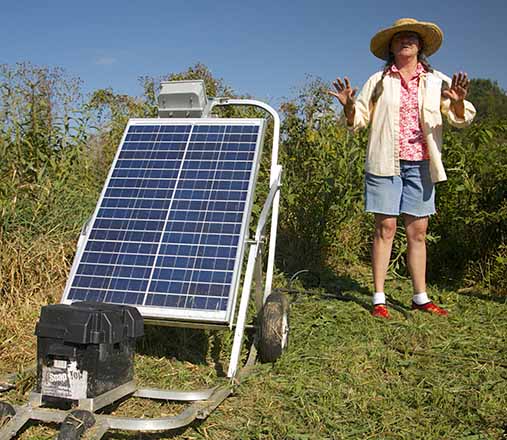 Heifer International, through the local nonprofit Blue Ridge Seeds of Change, gave the F.A.R.M. Cafe a small grant that was used to create the garden. The garden provides fresh fruits, vegetables and herbs directly to F.A.R.M. Cafe, which strives to source the majority of its food locally.
After decades of organic farming, Susan Owen's foundational involvement with the Garden Spot earned her the 2014 Women in Agriculture Award at the Watauga County Farm City Banquet Nov. 6.
"Susan has tirelessly worked for the creation of a local food system through her farming and gardening, her fundraising for the Garden Spot and her promotion of sustainable food production in the community," said Lynn Getz, Blue Ridge Women in Agriculture board member, as she nominated Susan. "She is well deserving of the recognition of Women in Agriculture for 2014."
For Susan, creating an organic garden was not a new venture. When she purchased her own property in the 80s the land had not been farmed in years. She had a tobacco allotment that she rented out to Charles Church, a local sustainable agriculture advocate and farmer. Susan saw the importance of organic agriculture while the tobacco funding was coming to an end and began experimenting with growing broccoli in the tobacco's place with tobacco equipment. She received a grant from Golden Leaf to see her experiment through fruition. She planted the broccoli seedlings in the ground with Charles' tobacco setter and it worked perfectly.
Susan received her organic certification in 1988, being the first in Watauga County, while growing Echinacea for the Watauga Herb Company.
At that time medicinal herbs were the only market for organically grown products, and she was the largest producer in the Southeast with her three-acre plot. She strapped her young daughter to her back and began her venture as an organic farmer planting Echinacea seeds by hand. This and the broccoli seedlings sparked a community interest in organics, and together Charles, Susan and Richard McDonald started New River Organic Growers, a farmer marketing cooperative based out of the High Country that now has more than 80 members.
Despite individuals telling Susan she would not be able to successfully farm this way, she "set out to prove them wrong."
"I thought, 'Yes, I can do this,'" Susan said. "This is the way we are supposed to be farming."
And she did do it. Today, along with running a successful farm in Vilas, North Carolina, Susan serves as the Garden Spot coordinator.
While Susan was looking into potential sites for the garden, a friend at Mast General Store generously offered the half-acre plot behind the original store in Valle Crusis, North Carolina.
The Blue Ridge Conservancy holds a conservation easement on the Cooper property where the Garden Spot is located.
In the fall of 2012 Susan, along with a group of Appalachian State University's Sustainable Development students, worked with the Blue Ridge Conservancy to ensure that the garden would continue to promote the local conservation effort. The garden is 100 percent volunteer run, managed by Susan and the countless volunteers who come out to help her.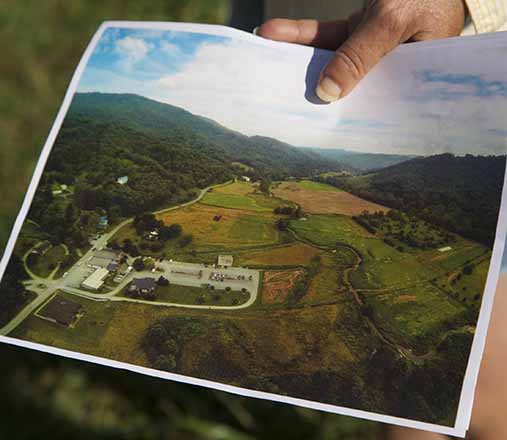 Susan designed the butterfly wing-shaped garden to spark a conversation about how important pollinators are to growing food. The beauty of this design is that there are no straight lines in the butterfly wing, showing that there is not necessarily a linear path to protecting our pollinators, which works as a metaphor for the establishment of the garden and Susan's personal journey of organic farming.
Due to the garden's proximity to the historic Mast General Store, tourists from all over the world have visited the garden, allowing Susan to share her passion for organic gardening and the importance of protecting pollinators. She is also able to share the real issue of food insecurity that the High Country faces.
She quotes, "One in four people, in this area of Appalachia are food insecure," meaning that they do not know where their next meal will come from. This issue enforces the need for organizations like F.A.R.M. Cafe to exist and need the communities' support to succeed.
The concept for F.A.R.M. Cafe began in 2009 when a group of members from High Country United Church of Christ expressed their concerns about the issues of hunger in High Country and were eager to find solutions for their community. The group discovered One World Cafe, a successful community kitchen in Salt Lake City, Utah.
This group believed that a similar model could work in the High Country so they formed a Board of Directors and started community awareness and fundraising campaigns to open the doors to F.A.R.M. Cafe. The founder of One World Cafe, Denise Cerreta, visited the group in Boone to offer her advice on operating a successful kitchen.
In May 2012, F.A.R.M. Cafe opened its doors and has continued to offer healthy and delicious food to community members, regardless of means, joining the ranks of 48 other One World Everybody Eats community cafes.
Susan spoke at the 2014 One World Everybody Eats conference in Austin, Texas, her session titled "If I Can Do It, You Can Do It" about starting community gardens in areas of need.
During our conversation, Susan told me countless stories of individuals she has seen at the F.A.R.M. Cafe who you would never guess are homeless or food insecure.
"The line is so blurred and poverty can happen to anyone really quickly," Susan said during our early morning phone call. "I want to use my gift [of farming] to give back."
Her passion for organic agriculture and providing a healthy meal to those in need through the F.A.R.M. Cafe sparks a fire in her that keeps her growing regardless of this being completely volunteer run.