UPDATE 05-26-2020, 4:00 p.m.
The fallout of cyclone Amphan, the super cyclone that slammed the coast of east India and Bangladesh on May 20, continues to unfold. Millions have been affected by displacement, destruction of property, injury and even death. Heifer is monitoring the situation continually to follow up on the wellbeing of staff and project participants.
In Bangladesh, cyclone Amphan has left behind a trail of destruction in the country's coastal areas, affecting more than a million people in south-western and north-western regions. According to some reports, at least 12 people were killed and nearly 220 thousand houses were damaged.
The storm also destroyed standing crops, vegetables and seasonal fruits on 176 thousand hectares of land, uprooted millions of trees and damaged fish farms. More than 200 bridges and culverts were damaged in the coastal districts, according to local officials.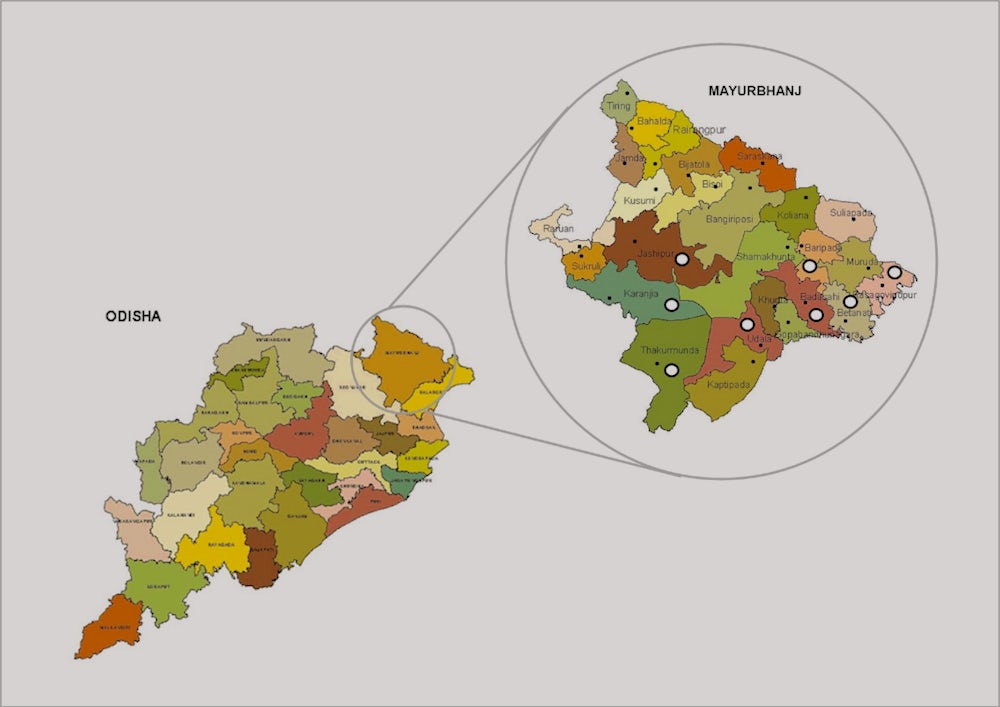 In India, two Heifer projects in Mayurbhanj, part of the larger Odisha region, were hit by the cyclone. 300 project participants were evacuated from their homes and taken to nearby school buildings. As per reports, all social distancing norms and preventive measures against spread of COVID-19 were stringently followed. There was moderate to heavy rainfall in these areas with windspeed of 100-120 km per hour. Rasgovidpur, Betnoti and Badsahi are regions closer to the coast and have incurred comparatively more damage. There have been reports of uprooted trees and broken electricity poles completely barring access to certain villages, so electricity and communication lines in most areas have broken down. Roads blocked from the trees and poles is expected to obstruct transportation of essential commodities to remote areas.
3 project participants have damaged homes where roof and walls collapsed due to the downpour. The family members are safe, and no casualties have been reported. Approximately 46 chicken coops were completely destroyed, and around 44 chicken coops incurred partial damage due to the cyclonic winds. 500 birds died from the damage to the coops.
Almost 350 families have reported extensive damage to their kitchen gardens. Kitchen gardens have been a major source of vegetables for families in the time coronavirus-related food scarcity. Loss of kitchen gardens is expected make it even more difficult for these families to obtain enough nutritious food.
Approximately 200 families experienced damage to their paddy fields due to the heavy downpour. Farmers have been under stress to harvest their fields due to restriction on movement and labor shortages due to coronavirus lockdown measures. Rice is the staple diet in the region and is stored for household consumption as well as sale in the market. The husk and broken rice is also fed to poultry birds. Damage to harvest is suspected to adversely affect the income as well as the nutrition of the families in the coming months.
There has been continuous power outage in some areas since Tuesday evening. While power supply has resumed in the cities, it is suspected that supply in the villages will not resume even in the next 4-5 days, which will hamper information collection. Since lockdown restrictions are still in effect due to COVID-19, our field team is primarily gathering information by phone.
---
UPDATE 05-20-2020, 2:45 p.m.
Cyclone Amphan (pronounced UM-PUN) made landfall Wednesday in West Bengal near Kolkata, dropping torrential rain and powerful winds on parts of India and Bangladesh. Super Cyclone Amphan became the strongest storm ever recorded in the Bay of Bengal on Monday night, after intensifying with sustained wind speeds of up to 270 kilometers per hour. This is the first super cyclone storm in the Bay of Bengal since 1999, when 9,000 people were killed in Odisha.
Millions in this high-density, low-development region are being displaced and facing the challenge of finding shelter or evacuating in the midst of the intensifying COVID-19 crisis.
The regions hit by the cyclone include Heifer projects. In the Mayurbhanj district of Odisha, the wind speed in the affected areas is around 100 to 120 km per hour with moderate rainfall. These conditions are expected to intensify by the end of Wednesday, with heavier rainfall by night, and then improve Thursday. Some villages where Heifer project participants live have been evacuated, and evacuees have been shifted from thatched houses to nearby government school buildings for safe shelter.
There have been some reports uprooted tree and electricity poles in the city areas of Betnoti and Badsahi. There is no concrete information from the village areas. A prolonged power outage in large swaths of the Mayurbhanj district has been in effect since Tuesday evening. This is hindering communication with field level staff and implementing partners as they have limited battery to run their mobile phones until power resumes.
We are continuing to monitor the status of Heifer staff and participants and will share more information as the situation unfolds. See below for more information on how this natural disaster has unfolded this week and the damage it could deal to vulnerable communities.
---
05-20-2020, 11:00 a.m.
The strongest storm ever recorded in the Bay of Bengal has made landfall in West Bengal, dropping torrential rain and powerful winds on parts of India and Bangladesh. Heifer projects located near the affected areas could be in danger.
Communities in India and Bangladesh must now face disaster on two fronts: the ongoing COVID-19 crisis, which continues to worsen in both countries, and the threat of super cyclone Amphan, which made landfall in West Bengal today. The cyclone became the second super cyclone and the strongest storm to ever form in the Bay of Bengal Monday night when its sustained wind speeds reached 270 kilometers per hour (165 miles per hours). A cyclone of this strength is equivalent to a Category 4 hurricane in the Atlantic Ocean. It has since weakened slightly.
Heifer projects in Mayurbhanj and Odisha are at risk from the cyclone, though they are not on the coast and are not under evacuation orders. Coastal districts in are being told to evacuate, an endeavor made even more difficult with social distance and lockdown rules still in effect as these regions continue to wrestle with the coronavirus pandemic. Much of the area in danger is highly populated and underdeveloped, making the millions in the path of the storm that much more vulnerable to disaster.
Potential dangers for Heifer project participants and millions of others in India and Bangladesh include:
Extensive damage to thatched houses
Potential threat from flying objects
Extensive uprooting of communication and power poles
Disruption of rail and road link at several places
Extensive damage to standing crop, plantations, orchards
Uprooting of large trees, damage to palm and coconut trees
Large boats and ships getting torn from their moorings
Disruption of railways, overhead power lines and signaling systems
Increased exposure to and transmission of COVID-19 while seeking evacuation or shelter
We are monitoring the status of Heifer staff and participants and will share more information as the situation unfolds.