Culture
Long-time Volunteer Group Recounts Dedication to Heifer
Editor's note: Mark Nestleroth is a former Heifer board member and co-chair of the Southeast Pennsylvania Heifer Volunteer Committee. The committee has been hosting a banquet to raise money for Heifer over the past 23 years and within the past two years started a fundraising team to develop a more online presence in hopes of engaging a younger generation in their fundraising efforts. Fundraise for Heifer is a fun and easy way to engage those you know to help lift families in need out of hunger and poverty. By simply creating a fundraising page, setting a goal and asking others to join, you can create sustainable change for families and communities around the world. Donate your birthday, dedicate your wedding, kiss a pig, or paint pictures. The options are endless. But whatever you decide to do you can be sure that you are making a difference.

By Mark Nestleroth
Since 1944, members in the Southeast Pennsylvania Volunteer Heifer Committee, based out of Lancaster and neighboring counties, have done various projects in education, promotion and fundraising for Heifer International.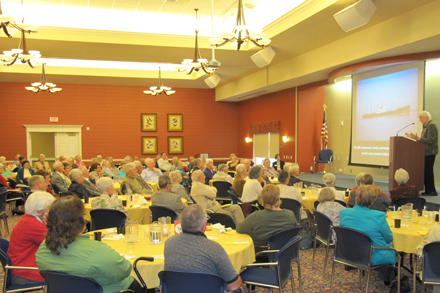 Over the first 46 years, many animals were donated and organized for shipments to Heifer projects. And in some cases, volunteers went along to deliver these shipments.
After funding for the shipments was cut, The SEPA Committee had to change direction. Instead of organizing shipment of animals, the Committee started to do more education and fundraising and one of these means was thru banquets. Heifer provided the speakers and the SEPA Committee organized different churches or restaurants for these events.
This started in the spring of 1992 with the first banquet of 280 Lancaster County supporters and the speaker was Umaru Sule, a recipient of Heifer from Cameroon. More than $11,300 was raised at that event.
Over the next 23 years, with years of at least four banquets per year, attendance rose to more than 750. These 23 years had speakers of Heifer recipients, Heifer staff, Heifer Board members and people who visited projects. Contributions in that time totaled more than $425,000.
As the last 10 years have gone by, attendance and contributions at these banquets has dropped. The SEPA Committee is now considering other methods and programs to achieve its mission of education, promotion and fundraising for Heifer International.
This spring we are hosting two banquets, April 28, 2015, 6 p.m. at Hempfield Church of the Brethren and April 29, noon at Brethren Village. The speaker will be Jay Wittmeyer, The Church of the Brethren representative on Heifer Board of Directors. Also Rev. John F. Dieterly will be honored for his 23 years of service as a Heifer International employee and the rest of his life as a volunteer for Heifer. For many of those years, he helped to support the SEPA Committee. If you are close, please join us at the banquets.
In 2014, the SEPA Committee has started a fundraising team to support Heifer called Butter on My Biscuits with a total presently over $40,000. This will be one of the methods that the SEPA Committee will continue to support Heifer, and we hope to get to $60,000.