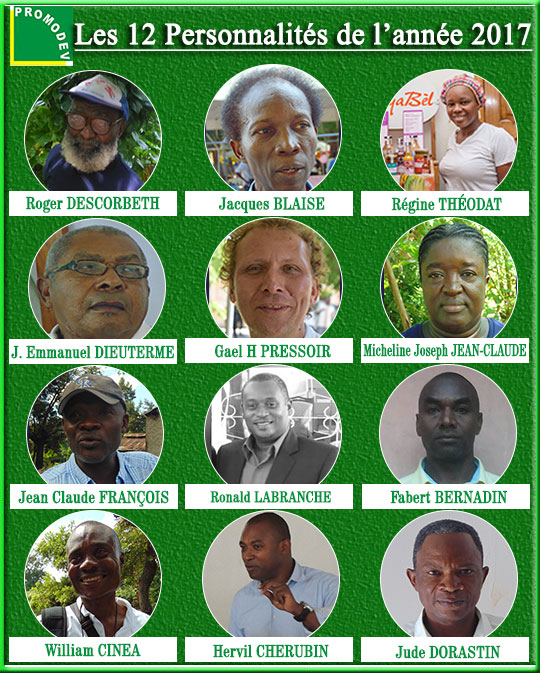 We are proud to share that Hervil Cherubin, our Heifer Haiti Country Director, and Ronald Malbranche, a Heifer project participant, have been recognized as two of the "12 Personalities That Marked the Agricultural Sector in 2017" as selected by PROMODEV, a non-profit organization aiming to promote sustainable development in Haiti based on agriculture, environment and education in rural areas and local development.
PROMODEV "has taken the initiative to choose surprising, inspiring women and men who have distinguished themselves by their actions in order to undertake sustainable actions to advance the Haitian agricultural sector" since 2014.
PROMODEV summarized Hervil and Roland's accomplishments in the field on their website along with 10 other recipients of this award:
Hervil Cherubin, Country Director of Heifer Haiti
Mr. Cherubin was educated in urban economics and public policy at the University of Louisville and health policy and management at Columbia University. Through Heifer International, he helps rebuild rural communities and improve economic opportunities for farming families in Haiti.
Heifer International has launched a flagship project in Haiti called "Rural Entrepreneurs for Agricultural Cooperation in Haiti (REACH). This $18.7 million project has targeted more than 20,000 families in Haiti, working in goat, cattle, poultry, hog and other agricultural sectors. The main objective of the REACH project is to move the targeted families out of hunger to self-sufficiency and then encourage them to develop small businesses.
Ronald Labranche, Agronomist and Agricultural Entrepreneur
A native of Port-de-Paix, Ronald Labranche studied agribusiness in Colombia. He started farming in 2009 with the establishment of an agricultural farm called PRODANO Farm. This farm is located about 8 km east of the city of Port-de-Paix. The main productions of the PRODANO Farm are: banana, lemon, shallot, garlic, papaya and vegetables. Cattle, goats and poultry are also raised for egg production.
Congratulations to Hervil and Roland for their relentless hard work.
Learn more about Heifer's work in Haiti

Top photo: Hervil Cherubin (left) helps stock a lake for one of Heifer Haiti's water projects.