Women & Girls
From the Front Lines to the Farm
Following deployments in Haiti and Iraq, veteran and first-generation farmer Cory Bryk, hung up his combat boots and picked up a plow. Well, mostly. It wasn't a straight path from the front lines to the crop rows, but following Cory's service in the United States Marine Corps in 2006, he and his wife, Jenny, eventually moved to Boone, North Carolina (her hometown), where he enrolled in Appalachian State University's sustainable agriculture program. He graduated in 2012—then he picked up the plow and started farming.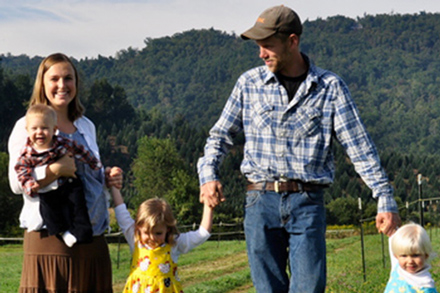 Now you can find the Bryks on their very own New Life Farm, feeding their family and community. Both are dedicated to providing North Carolinians with food that Cory and Jenny both believe is beneficial not just for the consumers who enjoy the fresh produce, but the environment in which it is grown.
For the Bryks, sustainability is not just a farming buzzword but a way of life. He and his wife are committed to raising their foods in the most environmentally friendly and humane way possible, while educating their children and others about where real food comes from and making sure that they're giving back as much as they're receiving from their local community.
The local farming community has taken notice. On November 6, the Watauga County Farm City Banquet honored the Bryks with the 2014 Charles Church Food and Farm Stewardship Award. Charles Church was a local high country hero and well-loved farmer in nearby Valle Crucis, North Carolina. He passed away in 2013, but the award is named after him for his important role in bringing innovation and education about local farming to the community. Church played a key part in forming a local growers group and was the first farmer in the county to receive an organic certification.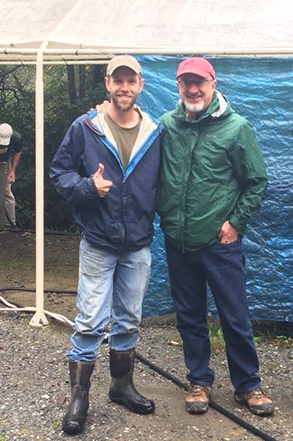 Watauga County Extension Agent Richard Boylan presented the Charles Church award, saying, "Cory has shown great initiative in beginning and sustaining a family-scale farm. The pasture-raised meats and organic vegetables he produces are top-quality, and his commitment to effective grass-roots marketing can be seen through his work…"
Cory and Jenny continue the local farming tradition and are paving a new way for local farmers and food systems. Cory serves on the board of directors for the Watauga County Farmers Market and he is a founding member of the local livestock group supported by Heifer USA, Raised Right Meats. The group focuses on food production transparency and GMO-free, pasture-raised meats with several other regional farmers. They're trying to officially establish themselves as a local livestock cooperative and help transform the food system in Appalachia.
Like another local High Country farmer, Ann Rose, Heifer provided Cory with a small grant to build a poultry tractor for his turkeys and chickens.
Last month, Heifer CEO Pierre Ferrari visited Cory at his farm, and he was impressed. "Cory continues to serve his country and community through his dedication to strengthening local food systems with an eye toward improving the environment. This is exactly what Heifer USA is all about."
Boone is a long way from Iraq or Haiti, and the plow is a far cry from this infantryman's M-16 rifle, for which Cory is grateful. After receiving the Church award, Cory said, "I was humbled to receive the 2014 Food and Farm Stewardship Award during the Farm City Banquet…I can honestly say I cannot imagine doing anything else with my life. In some ways, farming kind of saved me."