Sometimes it's discouraging how long it takes to progress the cause of gender equity, but take heart: there are women all around the world fighting to overcome oppression and defy the gender stereotypes of their cultures. You've never heard of them, but we've been lucky enough to meet them. Their stories are very real, powerful and just a drop in the bucket of women and men who comprise the ever-swelling wave that will bring us to an equitable world. Meet five people who are smashing the patriarchy around the globe: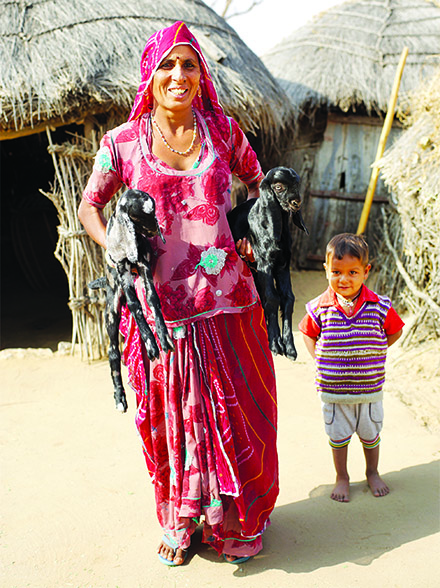 1. Buddhi Devi
When Buddhi Devi came to the desert village of Nosaria, India, as a young bride, she felt powerless and easily intimidated. This is difficult to picture. Buddhi Devi has the self-assurance and charisma of a natural-born politician, so much so that it's hard to imagine her as a timid homebody. But she was different then, she explained. "In that time if you had come here, I would be under my veil, unable to speak."
In those early years of her marriage, she worked hard in the fields for the two rainy months of the year. She spent the other 10 months mostly alone in her small home, cooking and caring for her three children while her husband worked as a day laborer. She could make out a few nearby houses, but she didn't know any of her neighbors. "There were no dreams," she remembers. "Just eating and sleeping."
Five years ago, Buddhi Devi changed course. She joined Baba Veertija, a Heifer-supported women's group that aimed to help members improve their goat-raising operations. Buddhi Devi, whose name aptly means "clever" in Hindi, showed up for every training she could and soon became a community animal health worker. Leaving the house to make calls on farmers who needed vaccinations or other health services for their animals was tough at first. Being poor her whole life left Buddhi Devi shy and insecure, and she was nervous to talk to people she barely knew. But she had a new set of skills and a head full of know-how going for her. "I had things to share. That gave me confidence," she said.
Of a lower caste and used to being shunned, discounted or simply ignored by higher-caste women, Buddhi Devi was nervous once again when she took on a leadership role in the self-help group. She was used to everyday humiliations, like not being able to drink water or tea with members of higher castes and being made to wait outside their houses when she came to care for the animals because they didn't want to let her in.
Buddhi Devi found, however, that her success suddenly made her quite popular. All group members began sitting together at meetings, rather than dividing themselves into their usual hierarchical groupings. And all the members deferred to Buddhi Devi's expertise.
What I say, they follow. Before, I was following what they say. Buddi Devi, Community Animal Health Worker
"What I say, they follow," she said of the group members from upper castes. "Before, I was following what they say."
When a potential member's husband is reluctant to let his wife sign on, Buddhi Devi goes to the family's home and makes her case. More often than not, she's successful.
Buddhi Devi's work supports her entire family, and she plans to use savings to help her son start his own shop. Her husband, Chatararam Ji, works alongside his wife to care for the animals and to keep the household running during the many hours Buddhi Devi spends arranging sales, administering vaccines, and taking care of the other jobs that come along with raising and selling goats.
The dramatic change in their lives was a surprise at first, Chatararam Ji said, but a welcome one. "I was not expecting that she could do this work. Now, I'm confident," he said.
In fact, he said more women should ditch their traditional role of sticking close to home. The whole family will be better off, he said. "Husbands, you should let your wife go out of the house," he said. "She can do anything."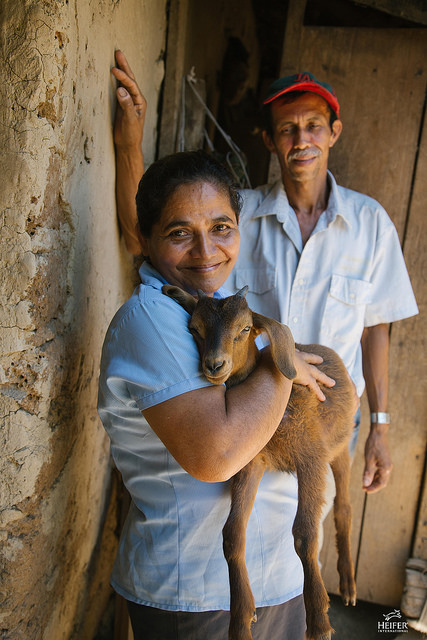 2. Guillermina Castro
Guillermina Castro is the lady of the house and the undisputed boss of her family's 40 acres.
The machismo culture that infects most of Nicaragua has no hold at Guillermina Castro's house. The mother of six is used to taking charge and has no trouble managing both family and farm.
"Sometimes men have no idea how to handle finances. Sometimes women are better at that," son Carlos Vargas said.
This seemingly obvious, common-sense attitude is actually quite rare in rural Nicaragua, where traditional gender roles often keep women from claiming overt positions of authority. Heifer International and its partners have a clever work-around: By giving gifts of livestock and training directly to women, Heifer empowers women with confidence, leadership skills and the raw materials they need to build a sturdy economic base for their families.
The strategy is working, Heifer Nicaragua Director Milton Castillo said. Even men reluctant to share power with their wives are coming around as women begin making money.
"I have seen a lot of changes in the lives of the beneficiaries," Castillo said. "Men and women are sharing the work of the house, and wives are less stressed."
Rain shortages and baking heat in Nicaragua's dry corridor are rendering traditional farming methods largely ineffective. So agriculture experts with Heifer International are helping Castro and other families adapt to hotter temperatures and drier soil by introducing new techniques and seeds. "We never had a project that helped us like this," Castro said.
Through the project, Castro learned how to tap a spring on her land and pipe water to her fields, an improvement that's doubling her crop yields because she can now grow food year-round and harvest in both August and December. The heifer she received two years ago has already calved, and the milk from her cow means her family has fresh cheese every day. Heifer's contributions here, simple as they seem, injected hope and momentum into Castro's farm. Her husband, Hector Guevara, and their six children, ranging in age from 11 to 26, are all benefitting from daily doses of animal-based protein that boost energy levels and health.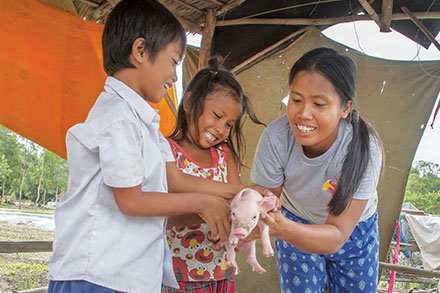 3. Ou Kongkea
Ou Kongkea lives in Cambodia and grew up in a culture of extreme marginalization and oppression of women. In traditional Khmer culture, which permeates Cambodian life, a woman's reputation influences not only her own social status, but that of her husband, father and sons as well. That reputation hinges largely on how well a woman can live up to the standards laid out in the Chbab Srey, a traditional poem written in the 19th century. Literally the "code of conduct for women," the Chbab Srey takes the form of a queen advising her daughter on the ideals of womanhood. Women should be demure and obedient, letting men take charge, the queen counsels. "Don't walk so fast that your skirt makes a sound. Don't go on a walk to someone's house. Don't sit on the stairs in front of your house—people will think you're waiting on a boy. Don't speak loudly. Don't laugh loudly."
Now, it seems like I'm leading the family. Ou Kongkea
Ou Kongkea dropped out of school after the 5th grade, but she was well aware of the Chbab Srey. Her parents wouldn't allow her to talk to boys, and she was rarely allowed to leave the house. The heavy burden of her family's reputation frightened Ou Kongkea so much that she retreated inward. When Ou Kongkea was 20 years old, her parents arranged a marriage and she moved in with her husband, but her story was still much the same. "I was scared to speak to anyone," she said. "When I went out in public, since I never had the chance to talk, I was afraid to speak or share ideas because they might be wrong."
Not so, now. Ou Kongkea bloomed in a community of women farmers, and she leaves her house regularly to attend trainings, meet with local government groups or sometimes just to check in on the neighbors. "What has changed is people acknowledge my ability," Ou Kongkea said. "I am really very comfortable to speak out. When I talk, people listen to me."
Ou Kongkea's leadership extends to family life as well. "When I propose something, my husband listens to me and follows along. He says, 'You have good ideas.' And we do it. Now it seems like I'm leading the family."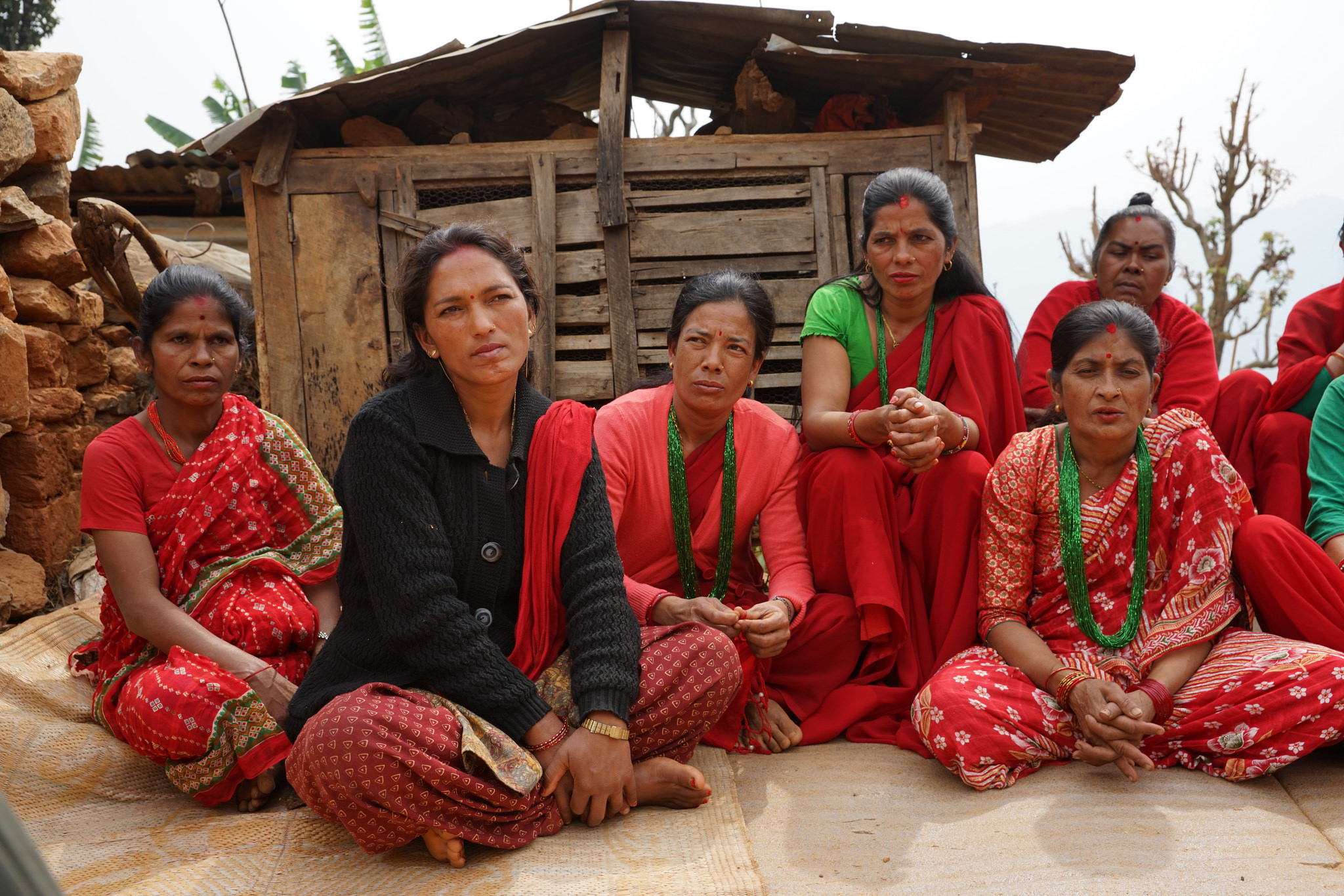 4. Pragatasil Women's Group
In the months following the massive earthquake that shook Nepal on April 25, 2015, thousands of women emerged from the rubble as incredible examples of strength and resilience.
In Tupche village, the Pragatasil Women's Group mobilized immediately. Just two days after the disaster — with 19 of the groups' 25 families living together under tarps strung between trees — the group called an emergency meeting. The earthquake had blocked the single path into the village, cutting off help for the many injured who needed medical attention.
So, the women decided to build a road. Together with six other Heifer-formed self-help groups, the women of the Pragatasil group divided the area into seven sections and got to work. They took whatever tools they had, shovels, wheelbarrows—even their bare hands — and began digging. Even with each woman putting in four or five hours of work a day, it took more than three weeks to finish the 4-mile road.
"Even though we don't have homes we have this road," said group member Devi Rijal, 33. Now you can see that not just ambulances but trucks and motorbikes can travel through the village. It makes us feel very proud."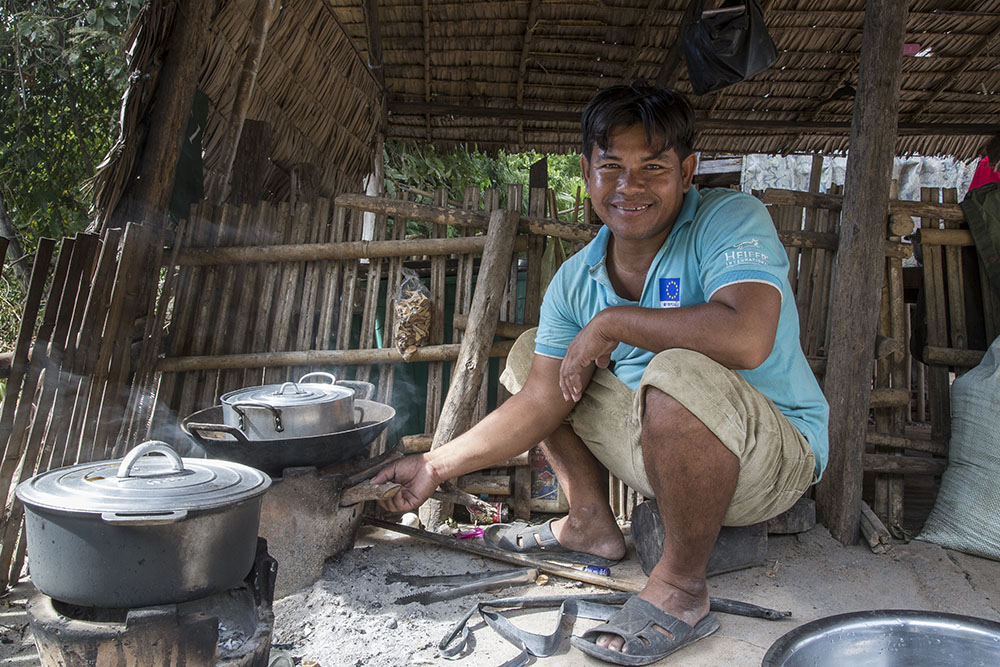 5. Soy Phe
Men are important in the fight for gender equity, and Soy Phe is demonstrating true vision by leading the way in Cambodia, a country where women are heavily oppressed and domestic violence is devastatingly common. A 2013 United Nations Development Programme report shows about a quarter of Cambodian women ages 18-49 said they had been a victim of domestic violence. In a 2014 study from British geographer Katherine Brickell, 75 percent of women and 55 percent of men said wives should keep quiet about domestic abuse to keep the family together. In the unlikely event violence is reported to local authorities, there will probably be no significant repercussions.
Soy Phe grew up thinking of traditional gender roles as mostly good things. After the joining a Heifer project, discussions in the trainings changed his mind. Heifer formed a farmer's community group in the area, and Soy Phe volunteered to be a gender peer educator for the group.
Now, Soy Phe is a familiar face in Andong Chros. Nearly every day, he walks to a neighbor's house to talk purposefully for a half hour or so, mostly with other men. After pleasantries, the conversation sometimes touches on the best ways to raise livestock or grow vegetables. But the main theme is always the relationship between women and men in the community.
You know you have a happy family when the wife and husband are working together. We have to respect each other. Soy Phe, Peer Educator
Before the project started, Soy Phe noticed signs of domestic abuse in the community fairly frequently. "Sometimes we would hear it, loud, from our house," he said. "You could hear the fighting and the shouting, cursing."
As a peer educator, Soy Phe discusses gender issues with self-help group members during meetings and home visits. His message is that domestic violence will destroy a family. "You know you have a happy family when the wife and husband are working together. We have to respect each other." Soy Phe also connects with police and local authorities regularly to make sure everyone in the community remains vigilant for the signs of domestic abuse.
The approach seems to be working. A few years ago, Soy Phe estimates that domestic violence was common for 20-30 percent of families in the community. Now he thinks the number is close to 1 percent. The early success is encouraging, and Soy Phe is motivated to continue the volunteer work. "I see a better future for my community," he said.