Collin Peters had a love for sheep. Many times he would stop and speak to them and the sheep often drew nearer to him. When Collin died in a motorcycle accident seven years ago at 19, his family decided they needed to do something unique to honor his memory, so they chose to raise money for Heifer to buy sheep in his honor.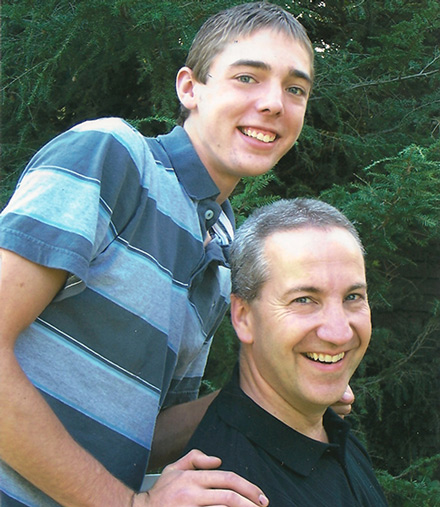 Now, Collin's sheep are spread across the world making a difference for communities by providing wool, fertilizer and milk for cheese.
The Peters family knew about Heifer International through their church and thought they would like to spend their first Christmas without Collin buying a sheep in honor of him. And as the seventh anniversary of Collin's death approaches, the Peters have raised more than $33,000 and purchased more than 275 sheep.

Give the gift of a sheep to struggling family.

Each gift is also passed on an average of nine times through Heifer's strategy of Passing on the Gift®, so Collin's sheep are out there helping families all over the world. Some of these donations are still coming from families they've never even met who read about Collin's story and wanted to help. What a great way to honor Collin's love for sheep and continue his legacy of helping others.
Recently at a Beyond Hunger event in Manheim, Penn., in October, Collin's parents Kent and Lori Jo Peters attended and were presented with a several gifts from Heifer's Donor Services team. They received five of Heifer's sheep ornaments, all different colors and styles to represent Collin's sheep.

"For the first time in seven years, we are inspired to put up and decorate a Christmas tree this holiday season! It was always Collin's favorite holiday and it was just too difficult for us to do at this time of year," Lori Jo said. "It's not the same without him, but now we will have a whole new tradition of a "sheep tree" thanks to Heifer and the team! And Collin would be proud of us for doing so."

What started as one boy's passion has now turned into many people's livelihoods. This year, "ewe" can help change the world as well!